It's true, home is where the heart is, but an up-styled version can also be found at the Sunshine Coast's newest destination homewares showroom, Alabaster Trader.
Housed in pop-up locations throughout Noosa for the past three years, Alabaster Trader—a brand that's synonymous with flawless interior style and design—has just revealed its brand new flagship store, and it's beautiful.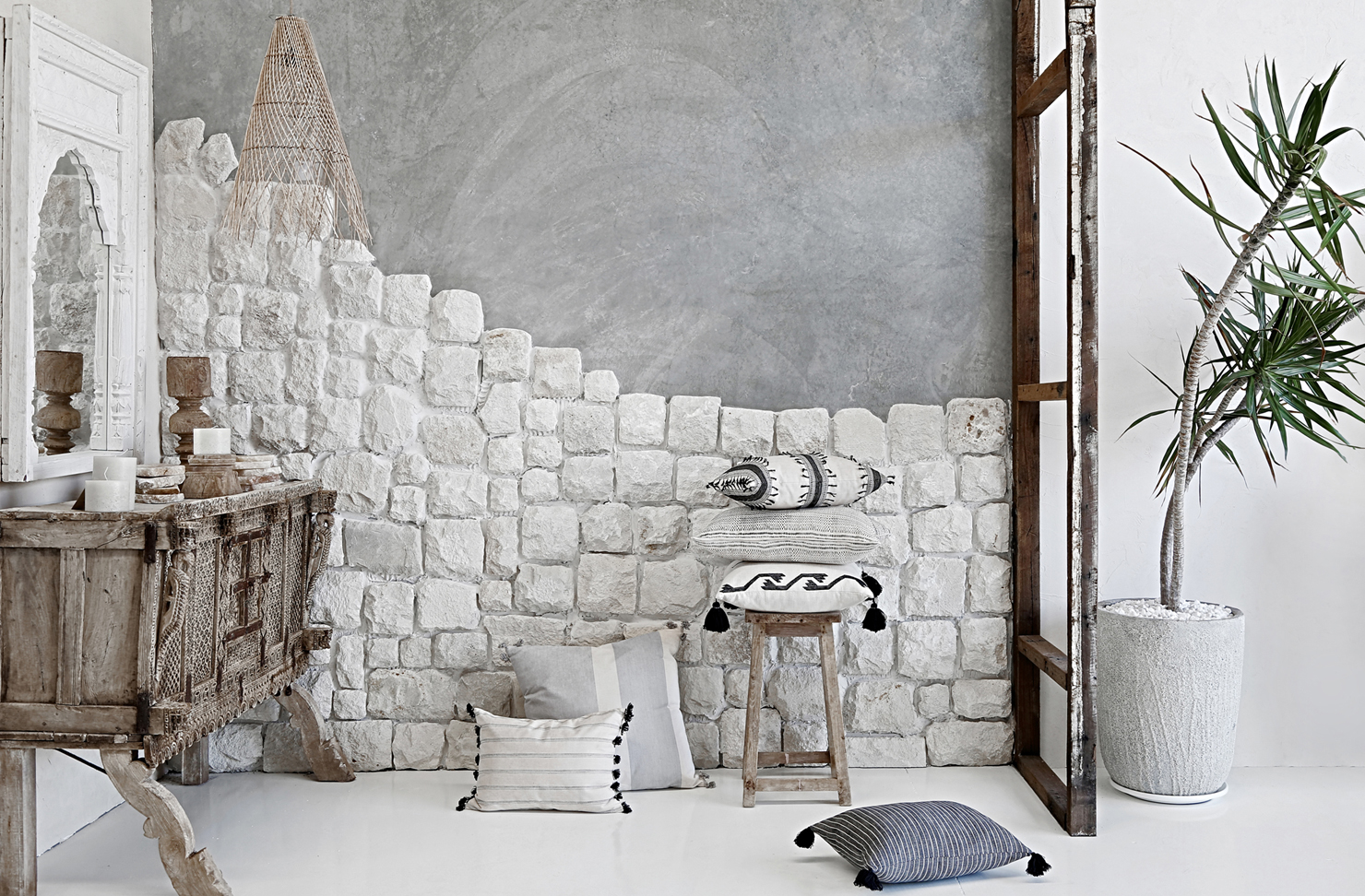 Found in a warehouse in Noosa's industrial warehouse, you'd be forgiven for not expecting much as you wind your way to Alabaster Trader's location. But, step inside and you'll be whisked into an ethereal world of Indian furniture and homewares, sourced by owner Karmin Kenny, and refinished in a palette of whites and neutrals by craftspeople in India.
The warehouse interior has been completely renovated by Karmin and draws inspiration from India, Bali and Ibiza, with a "broken down" limestone wall, thatched roof, pebble floors and plastered walls all featured throughout. Basically, you won't want to leave.
Plus, to help shoppers imagine the pieces in their homes, Alabaster Trader features several rooms allowing visitors to see mirrors and sinks in a bathroom and oversized timber bowls in a kitchen. There's even plans to create a lofted bedroom, for those who need a dose of inspo to change up their sleeping space.
But as much as we can't take the space itself home, the homewares and furniture we can, so let's focus a little on that.
Spread across the store you'll find one-off old Indian cupboards, day beds and chests in bleached out colours, perfect for a coastal abode. But what you might not realise at first glance is that each piece has a story, and if you ask, Karmin will happily re-tell them to you.
On our visit, we stop in front of an old, intricately carved door frame that has been repurposed into a huge free-standing mirror. It's stunning. Then, we oogle at one of several Damchiyas, which are rare and were once used as dowries, and a love seat that we'd happily swing in all day long. If small goods are on your hit list, then expect candleholders, kitchenware (think: bowls, chopping boards and more) old wooden pots, antique hooks and so much more to make it hard to leave empty-handed.
Now open Tuesday to Friday from 10am to 3pm, and Saturday from 11am to 3pm, we totally recommend making a day of it, and ducking across the road for a gin cocktail at Land & Sea post-shopping spree.
The Details
What: Alabaster Trader
Where: 4 Vision Court, Noosaville (across the road from Land & Sea)
When: Open Tuesday to Friday 10am to 3pm and Saturdays 11am to 3pm
Image credit: Anastasia Kariofyllidis (Supplied)