If you aren't already dumpling mad, you will be after sinking your teeth into this delicious hit list of the tastiest dumplings on the Sunshine Coast.
Whether you're a pork fanatic, a seafood connoisseur or a veggie hype man, these creations will have you hooked in a single bite.
Hold on to your chopsticks, it's about to get steamy.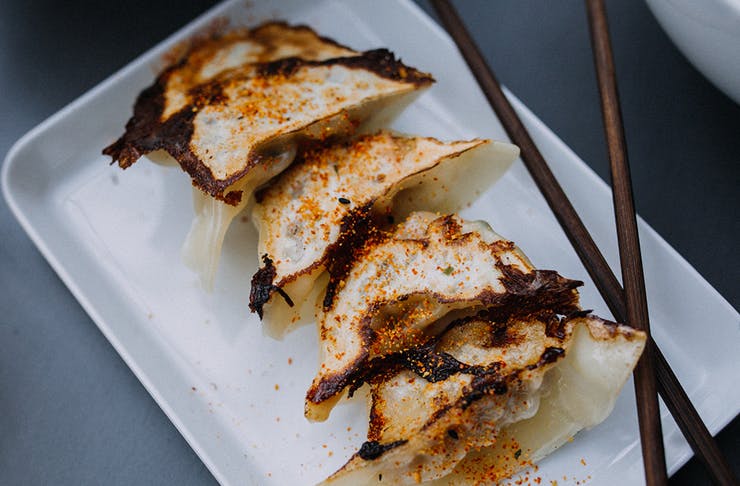 O-Ren Brewhouse
Noosa
From the clever creators of Copperhead Brewery, O-Ren Brewhouse is a modern (and mouth-watering) take on Asian share-style cuisine. The menu is impressive in size and quality with the steamed pork and scallop dumplings the star of the show. Served with ginger soy, these tasty little parcels will leave you wanting more, so be sure to order a double serving. Enjoy alongside a specialty craft beer for a classy late-afternoon session.
Ginger Japanese Restaurant
Maroochydore
It's a common known fact you should always eat where the locals eat, right? Well, look no further than the very popular Ginger in Maroochydore. Offering an extensive yet affordable menu, the pork gyoza will fast become your favourite eatable friend with the ideal mix of chew and crunch. Keep Tuesday nights in mind if you're looking to snag a bargain, as you'll be able to nab five delectable morsels—your choice of pork, prawn or vegetarian—for $5.
Rice Boi
Mooloolaba
Described as THE spot to find the Sunshine Coast's best dumplings, Rice Boi is a local favourite for its delicious Asian street food and grungy interior. Dine in the restaurant, kick back in the waterfront beer garden or head 'Upstairs' to the Japanese-inspired dive bar for an unrepeatable experience. All areas offer the full menu of culinary delights, including the heavenly pork and ginger dumplings. Are you drooling yet?
Coast Dumplings
Sippy Downs
Highly recommended, this authentic Chinese restaurant boasts a large menu with an entire section devoted to their handmade dumplings. For under $15 at Coast Dumplings, you'll receive 12 pieces of steamed or pan-fried parcels of deliciousness. Choose from five delightful flavours, each with the perfect filling proportion. Our pick? The vegetarian chive and egg—unlike any other.
Embassy XO
Sunshine Beach
One of the best restaurants on the Sunshine Coast, Embassy XO is Asian fusion at its best. Dine in the restaurant or pick on scrumptious eats in the unassuming wine bar. The Yum Cha lunch feast, the wine bar menu and the dinner menu, all feature a number of equally delectable dumplings. Do pan-fried duck and chive dumplings tickle your fancy? Surely you can't shy away from Moreton Bay Bug crystal skin dumplings with coconut bisque and salmon caviar. Or, how about pan-fried roast pumpkin dumplings? We'll stop there. But if you're not keen on getting dressed up, you'll be pleased to know you can find Embassy XO and their famous dumplings at the Noosa Farmers Markets, every Sunday from 7am to 12pm.
Sang's Asian Cuisine
Alexandra Headland
Sang's has been serving up satisfying and aesthetically pleasing dishes on the Sunshine Coast for 15 years. They have a dine-in menu and a takeaway menu, both featuring their iconic dumplings accompanied by their special dipping sauce. We totally recommend doing the grab and dash, across the road for a sunset picnic overlooking the beach. Each mouthful of dumpling is bursting with flavour—trust us, you'll want to duck back across the road for more.
Looking for more foodie hit lists to work your way through? Here's where you can find the best breakfasts on the Sunshine Coast.
Image credit: Caitlin Hicks and Hayley Williamson for Urban List