You know those days you wake up and the world just feels a little too big and a little too annoying?
There are generally two things that'll fix that. Coffee. And then, another coffee. On these said days the best thing to do is - yep, you guessed it - go find yourself a sweet and forgiving coffee. This is where a cosy spot or simple hole in the wall comes in handy. Perfect for keeping a low profile or just grabbing a quick takeaway and walking it off. The Sunshine Coast is scattered with a full range of these sweet gems and we'd love nothing more than to share them with you. 'Coz heaven knows - no one want to be dealing with your grumpy ass all through the day.
Here are a few of our favourite teeny, tiny hole-in-the-wall coffee spots on the Sunshine Coast:
Catalina
Noosa
The Catalina's been impressing us with its sexy boat cruise parties for a while now. But what really won our hearts was when they put a little hole in the wall and passed us a cup of sweet loving coffee. Aah, true love. Now also serving brekkie, the pretty little Catalina is the cutest darn coffee and breakfast spot on all the land and seas of the Sunshine Coast.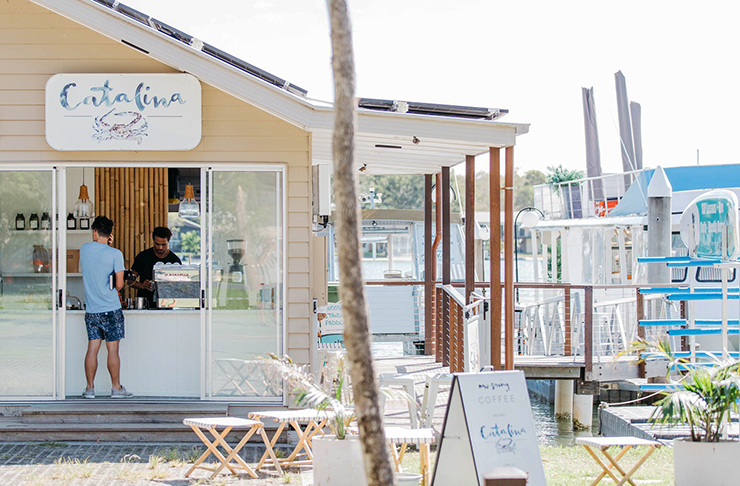 Winnie
Woombye
Even the name is cute as! But Winnie is more than just a name, it's also a perfect little spot to eat the most beautifully made all-day brekkie while you drink the coffee. Hang out on one of the few tables inside or chill under the island-style umbrellas out on the deck. With a gorgeous menu packed with quality local produce, there's nothing you won't enjoy about this little Woombye gem.
Humdrum Espresso
Eumundi
Every time I step into Humdrum Espresso I think to myself - there's absolutely nothing humdrum about this place. With super friendly baristas and plenty of cosy spots to settle, you could spend half your time browsing all the bits and pieces on the surrounding walls and shelves. And apart from the gorgeous smells of coffee and freshly baked goods, you occasionally get a waft of the gorgeous flowers set up in the adjoining florist of Heavenly Blooms. There's also the option to set yourself up on the front step where you can people watch to your heart's content. It may be small - but there's a lot happening in that lovely place!
Collective Haus
Yandina
If you haven't been to Collective Haus, AND you call yourself a vintage maven, we're highly doubting your self-labelled prowess right about now. Because this vintage everything store in Yandina pretty much gives us the butterflies as soon as we walk up the steps. It might not help that we also knock back a cup of their coffee before heading in for the kill, so we're totally on a caffeine high, which manages to up the eyesight from bordering on blurry to impressive…so all the more take-me-home treasures for us.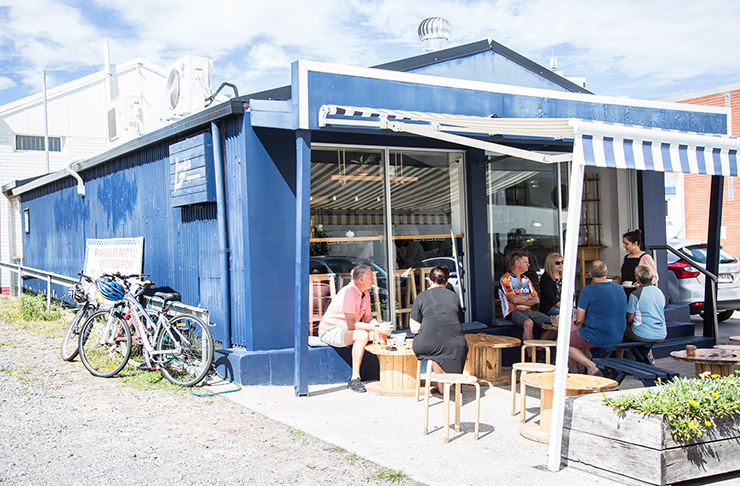 Fox and Hound Espresso
Cooroy
Grabbing a coffee from Fox and Hound Espresso is like bumping into a great old friend. You're just walking down the bustling high street of Cooroy and suddenly you're like - "Oh hey, Fox and Hound. How are ya' mate? I'll grab a large cap and apple danish thank you. Good on ya'. Take it easy and see you around." And then you carry on your merry way with a bit of a kick in your step (that's the caffeine) and a sweet appreciation for good people and great coffee. We couldn't compile a list of best hole-in-the-wall coffee spots on the Sunshine Coast and not include Fox and Hound Espresso.
Lamkin Lane
Caloundra
Hidden in a little laneway in the middle of Caloundra, this place might be easy to miss if you didn't know it was there. But that's what we're here for, right? Am I right??? Anyway, Lamkin Lane is not a place to be missed, because although they're small, they're also packed full of character, some of the best coffee on the Sunshine Coast and even some tasty delectable treats. Definitely a little laneway worth seeking out.
Rue Bourbon Coffee
Buderim
If you haven't paid these guys a visit yet then you'll wanna put it on the top of your 'must-do' list - today! Recently opened in Buderim, Rue Bourbon Coffee is some of the best coffee in a shipping container you're ever gonna have (yep, you read that right - it's a shipping container and we're calling it some of the best brew with a view). With good vibes and great coffee, what more reason do you need?
The Island Surf Espresso
Mudjimba
The Island Surf Espresso has been making waves in the little seaside town of Mudjimba for a while now - which says something, don't ya' think? Nobody's gonna keep going back to where the coffee ain't sweet and the vibes ain't sweeter. Home of Uncle Scooters Cold Brew and packed full of sweet delights and inevitably a pretty cake made by a prettier girl who goes by the name Katie, this great spot also stocks some gorgeous clothing accessories made by some very talented Sunny Coast locals. And then there's the beach across the road… need we say more?
The Pocket Espresso Bar
Moffat Beach
The Pocket Espresso Bar may be petite - but it sure packs a punch. Pop in for coffee (sourced from our lovely friends at Guru Life), some food, or drinks, a cocktail, live music, dancing, trivia - you name it, these guys are bringing it. Head down to Moffatt and soak up the vibes of this sweet spot today.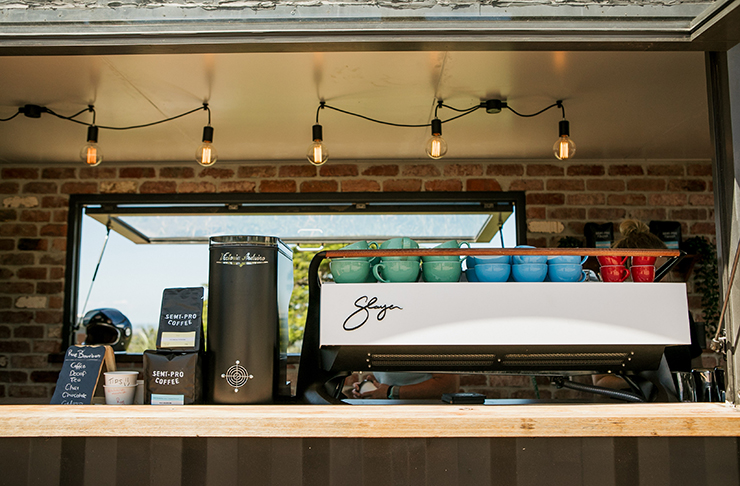 The River Read
Noosa
Sometimes all you really want is to cosy up with a good book, a hot cuppa joe and a nice view. Cue - the River Read. Just across the road from Noosa River, this little haven is packed to the rafters with best sellers and can't-put-downers; while the outside patio offers up some cute stools and a hole in the wall that serves up some of the tastiest coffee on the river. Sounds awful, doesn't it?
Compound Espresso
Coolum Beach
Compound Espresso have more than a few good things going for them. They may be compact but they undoubtedly have some killer clothing merch, rad vintage threads, great coffee (hello Padre) and a love of surfing. And for all that - we love 'em right back.
Now that we've revealed the best hole in the wall spot on the Sunshine Coast. What about the best breakfast on the Sunshine Coast? We've got you covered here. What about getting out and about? We've rounded up 50 Awesome (& Cheap) Things To Do On The Sunshine Coast. What about some things to do on the Sunshine Coast with out-of-towners? We've got you covered here.
Image credit: Amy Higg, Claire Plush and Bianca White for The Urban List