Spring has sprung and the skies are blue—so what better spot for a chilled Sunday arvo sesh than a lush garden with amazing views?
We've got your back with the best picnic spots across the Coast—some secret, and some local faves. So pack your hamper and see how many you can work your way through before cyclone season hits!
Noosa Botanic Gardens
Cooroy
One of our all-time faves, this spot just ticks all the boxes. You can get all nerdy and check out the hundreds of different plants on display, bring out your inner nature lover and feed the turtles in Lake Macdonald, channel Meryl Streep and perform at the Grecian-style amphitheatre, or just recline by one of the ponds and wait for Mr Darcy to emerge…
Muller Park
Bli Bli
If you like your Sunshine Coast picnic spots with a bit of cultural heritage, head to this park and playground, inspired by local traditional owners, the Kabi Kabi people. There's plenty of space to spread out your picnic, but the whole park is an off-leash dog area, so make sure you keep your BBQ chook safe from drooling Labradors (this warning may or may not be based on personal experiences!)
Mary Cairncross Park
Maleny
Waaaay more than just a park—this epic nature reserve covers a good chunk of the Blackall Range in subtropical rainforests and native wildlife. Grab a spot near the BBQs for lunch, chill to the sounds of birdsong, and if you're feeling motivated, you can even walk through the tracks to work off that wine and cheese. The full walk is a couple of kilometres long, but you can just head over to the butterfly viewing platform and bask in nature. How's the serenity?
Point Cartwright
Point Cartwright
If the crowds at Mooloolaba are a bit much for you, dig out that bottle of champers you've been saving for a special occasion, grab a kilo of prawns and a lemon from the fish markets, plus some snuggly blankets and head down to Point Cartwright with your bae to watch the moon rise.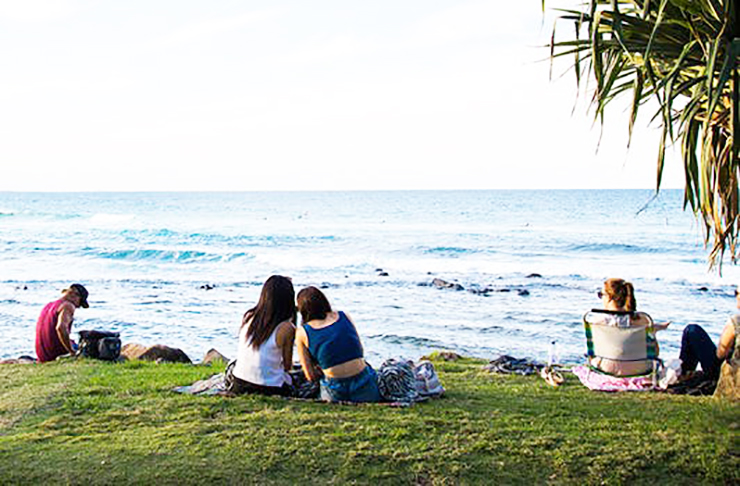 Cotton Tree Park
Cotton Tree
One of the best parks on the Sunshine Coast, Cotton Tree Park is always buzzing and busy with people. While you're unlikely to get any opportunities for romantic canoodling in a secluded corner, you're guaranteed plenty of open space to kick a footy or a game of backyard cricket. If you can't be arsed cooking your own lunch on the BBQs, (and let's be honest, picnics aren't for cooking!) the fish and chip shop near the swim centre does a mean fish and chips.
Mothar Mountain Rock Pools
Mothar Mountain
We won't lie to you, this spot is a bit of a trek—tucked away on the edge of the Mary Valley, down a long dirt road. But the trade-off is that if you come on a weekday, you'll often have the whole place to yourself (except from cheeky kookaburras who will steal your lunch, fly about two feet away from you and proceed to eat it, while making menacing eye contact with you the whole time). The rock pools are crystal clear and rubbish-free, and icy cold if you want to dangle your feet in after a bit of a bushwalk. Spread out a towel on the rocks, pop in your earphones and forget about the world.
Chambers Island
Maroochydore
We love a lazy picnic spot—one where you can literally park the car, walk a few metres and be on a deserted island! Okay, it's not quite deserted, but it IS an island that you can get to by foot (or by swimming if you want to impress someone). It's perfect for throwing in a line, dangling your toes in the water and chilling in the sun.
Gympie Terrace
Noosaville
This stretch of riverfront is technically home to loads of different parks, but the thing we love most about it is that you can walk from one end to the other in less than half an hour, and there's loads of places to choose from. If you've got kids in tow, get there early to snag a BBQ near the Pirate Park, or if you want a bit more privacy, throw your blanket down at a secluded spot up near Munna Point. And if you burn your snags or get sand in the dip, just head to Red on Thomas or Flux for a sneaky bevvie and some tapas!
Shelly Beach Park
Caloundra
If your idea of a picnic involves getting your feet sandy, then this spot will be your new home. Perched right on the edge of the beach, you can build a sandcastle, explore the rock pools, or just lie in the sun while you get willing admirers to refill your drink and curate the tunes on your portable speaker.
Serenity Falls
Buderim Forest Park
One of the Coast's favourite spots for Insta nature shots, you can't go wrong here. There's all the usual picnic set-up—BBQs and picnic tables and a pretty walk through the rainforest, but the pay-off at the end is epic. Buderim Falls are gorgeous and they're worth every step.
Noosa North Shore
Noosa
If you've got to get there by boat, then it MUST be good, right? Noosa North Shore is a bit of a trek to get to, but as soon as you cross the river from Tewantin, it feels like you're in the middle of nowhere. You'll definitely need a car to get around, but you can either head to the beach side, where, if you're lucky, you'll see a 4WD amateur get stuck in the sand on an incoming tide. Or, you can find a quiet clearing on the river side and share your picnic with kangaroos and sea eagles.
Need some nosh for your hamper? Check out the best hikes on the Sunshine Coast. We've also rounded up the best running tracks on the Sunshine Coast here.
Image credit: Amy Higg and Brooke Darling for The Urban List