Food. It makes us do crazy things. Like, hop behind the wheel on a 40-degree day, all in the name of heading to some of the best Sunshine Coast cafes to grab the smoothest coffee or that serve of eggs benny that no-one does better.
With that in mind, here are our current favourites when it comes to Sunshine Coast cafes that are totally worth jumping in the car for.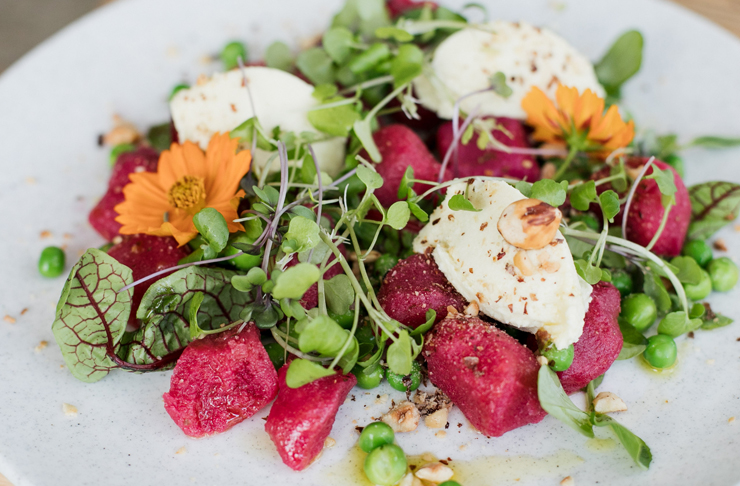 Mill St. Kitchen & Pantry
Nambour
Mill St. Kitchen owner James Ostridge wanted to open a local cafe and pantry that would benefit both the environment and patrons' health, as well as serve the local community by supporting local Sunshine Coast farmers and businesses...and he's definitely succeeded. The all-day menu consists of all sorts of fresh dishes like pan-fried Noosa scallops and chorizo on sourdough, three-cheese brunch gnocchi, smoked Yandina tempeh with cashew cream and lots more. Most definitely worth a drive.
VanillaFood
Noosa
Increase your overall wellbeing one mouthful at a time at VanillaFood's flagship store at Noosa Junction. With a strong focus on creating wholesome food using ethically sourced local ingredients, VanillaFood serves up seasonal meals with a rustic twist. Gather your mates for brunch and take over the five-metre-long communal table, with plates of charcoal waffles and avocado, cashew and pea smash. Delicious.
Flying West Roasters
Doonan
If you're going to hit the road, you want there to be epic food and can't-fault-it coffee at the end of it. And Flying West Roasters delivers both. Away from any main café strip, this Doonan haunt is more of a destination than somewhere you just happen to stroll past. Don't leave without trying the brioche French toast with poached strawberries and blueberry and vanilla ice cream or the lime and mint smashed avocado served on a mouth-watering rosti.
Flinders Lane
Maroochydore
An all-day brunch and cake joint that deserves a spot on your Sunshine Coast café bucketlist, Flinders Lane is the go-to in Sunshine Cove. From the minimalist interior to the smell of freshly-roasted coffee wafting through the front door, there's no way you'll drive by without stopping. Go hungry and feast on maple and coconut sugar granola or a ground wagyu cheese burger with bacon and shoestring fries. Or, keep it rich, and slurp coffee in between bites of dark chocolate cake adorned with petals and gold shavings.
Guru Life
Rosemount
Guru Life comes to you out of Rosemount and from the guys behind The Pocket Espresso Bar in Moffat Beach. This roaster, café and bar serves up an incredible cup of joe and awesome options for brunch (and dinner on weekends).
Homegrown
Palmwoods
Head here for coffee and you'll end up ordering breakfast too. That's just the way it goes at Homegrown. Super relaxed with a pretty garden area, these guys use locally grown produce to create innovative yet homely dishes that your tastebuds will love. The menu isn't massive, but that'll only help you be a little more adventurous with your choices. And before you get straight back in the car and head home, give little old Palmwoods a bit of your time. There's some cool things popping up 'round these parts.'
Hand of Fatima
Peregain Beach
Craving flavours that aren't on the stock-standard café menu? Steer toward Peregian Beach and pull up in the beach car park. Now, wave your nose in the air like you just don't care, and inhale deeply. Follow the Middle Eastern scents of Spiced Harissa Chicken or Baked Lamb Kibbeh to Hand of Fatima. And if that doesn't work, you'll find it across from the surf club buzzing with chatty locals from about 5am.
The Velo Project
Mooloolaba
The retro queen of the middle coast, The Velo Project has a menu packed with some of the best breakfasts in Mooloolaba. But if you've already got the morning mapped out, this off-the-beaten-track café also serves up a mean feed for lunch. Try the Flip the Bird, for a toasted brioche roll loaded with grilled Cajun chicken, bacon, haloumi, lettuce and a lashing of wasabi and turmeric mayo. Trust us, you'll be back.
Combat those full-stomach feels with one of the best beach walks on the Sunshine Coast.
Image Credit: Amy Higg and Ariana Gillrie for Urban List