Freelancers, work-from-homers, creatives and everyone in between, it's time we introduced you to the Sunshine Coast's cutest and newest creative co-working space.
Common Collective threw open its doors in Maroochydore late last year but they've just found a brand new home down the street from their old digs. And it's plush to say the least. After posting countless awesome pics on their Insta page and hosting fabulous events showcasing local talent, we knew we had to check it out IRL. So that's exactly what we did. Located on bustling Aerodrome Road right in the middle of Maroochydore, we were more than a little stoked when we pulled up to this space. Did we mention it's directly across the street from Stoker Coffee? #lunchdate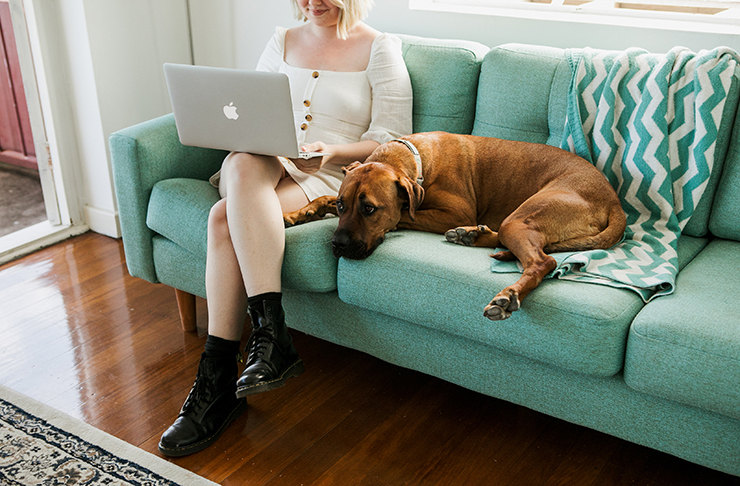 Yep, this isn't some sleek, shiny co-work space, it's ever so slightly industrial, a little bit grungy and a whole lot, well, our vibe. Run by super-cute couple Shawnee and Joel (and their office doggo with a job, Kobi), we booked a desk for the day to really see what Common Collective is all about.
Our first impression? LIGHT, bright and really, really airy! You will not feel like you're working in a dungeon when you visit the Common Collective. This place is windows aplenty and we're loving it. You enter by climbing up a staircase before you walk into the main working area where you'll find an array of desks where you can work and hot-desk for the day.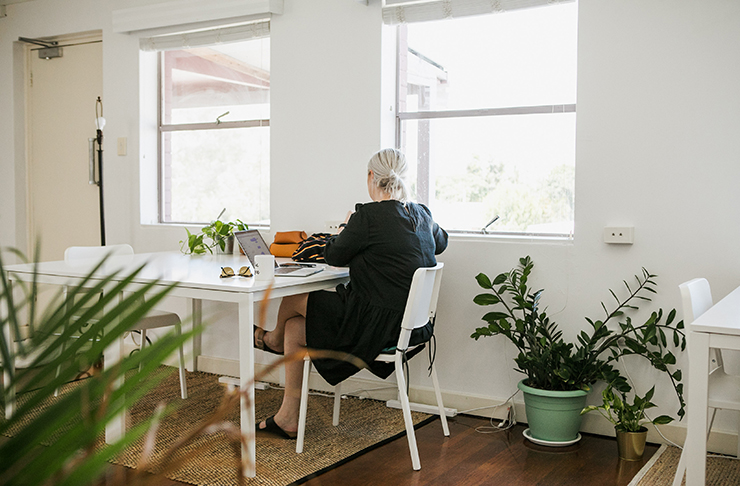 Off the main area is an even larger open space used for daily Pilates classes taught by Shawnee herself aptly named s.c.pilates. Yep, multi-talented is a word that fits right in with this place. The floor is covered with an eclectic mix of rugs, white washed walls and festoon lights-and we're already convinced that only crazy people wouldn't want to work outta here. The internet is hella fast and the vibe is a mixture of chilled and upbeat.
There are plenty of desks inside the Common Collective available to hire permanently or as a hot desk for the day. Unlike workspaces where it's all heads down, bums up, Common Collective promotes conversation and collaboration. So, if you're looking for somewhere to zone out with earphones and tap your computer keys at 10,000 miles an hour…this may not be the place for you. On the other hand, if you want to meet like-minded people who may end up becoming sounding boards or even better, new business partners, then you really oughtta check it out.
But the best thing in the whole place has to be the pink cabinet! Cause who doesn't love a baby powder pink cabinet?! We also will admit to lovin' their mini garden wall too.
Open Monday to Friday from 9am to 5pm, you can book your desk or Pilates class here. And with plans to start introducing regular movie nights, popup shops and talks, all aimed at bringing the local creative community together, we're confident this isn't the last time you'll be hearing about Common Collective from us.
The Details
What: Common Collective
Where: Level 1,103-105 Aerodrome Road, Maroochdore
Image credit: Amy Higg for The Urban List