For all the fashion boutiques and homewares stores on the Sunshine Coast, there's nothing quite like Mooloolaba's latest recruit, El Badi.
Intriguing, luxurious, a treasure trove; just some of the words we'd use to describe this vintage-filled space.
Created by a talented trio of women—photographer Kelli Black, second-hand gatherer and owner of Collective Haus in Yandina, Suzy Mackinnon, and stylist Bel Birch—El Badi, meaning 'the incomparable', opened its doors early September.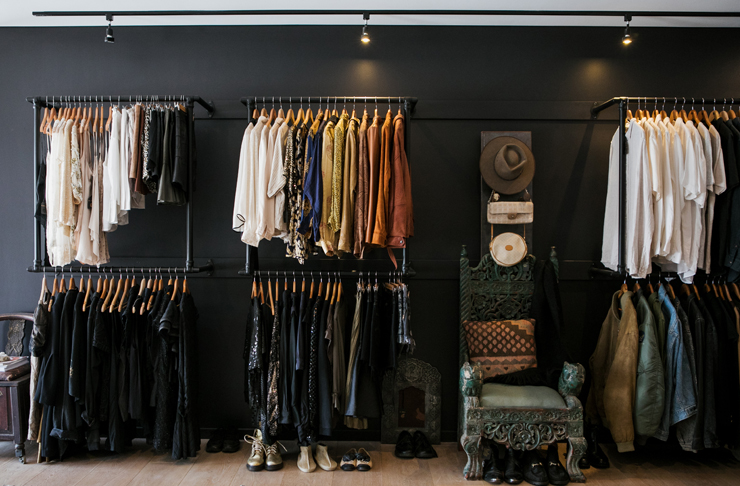 An idea that surfaced over lunch between friends at Spirit House, quickly turned into the signing of a lease on a prime location in Mooloolaba and a two-month-long renovation spent painting, laying new floors and building shelves to house curios. It happened fast, but sometimes the best things do.
Step into El Badi and the first thing you'll notice is the all-black interior, providing a moody backdrop for a worldly collection of well-curated vintage, designer and locally-made clothing and accessories for both men and women, second-hand furniture and unique knick-knacks.
It's full of cosy nooks with antique lounges, chandeliers, oversized ornate mirrors and brass candelabras, sourced from the likes of France and India. Plus, racks upon racks of pure silk slips, linen shirts and perfectly-worn leather jackets and, for top-end label lovers, you'll see classics such as Gucci and Yves Saint Laurent. In short, this place is a gold mine for those who like to buy second-hand, well-made pieces that you'll probably have forever.
To complement the vintage finds, a range of locally-made, ethical brands will be landing in-store shortly, and you can expect to see ceramics from our favourite Elke Lucas, must-have slides from Woven Palm and jewellery from Lee Brennan.
Beyond the shopfront, El Badi also offers a styling service, allowing Sunshine Coasters to hire or purchase from a special collection of vintage pieces, for shoots, weddings and other special events. Is there anything this trio can't do? We think not.
Open from weekdays from 10am to 4.30pm and weekends from 10am to 3pm, drop into El Badi stat to check out why we've fallen hard for this lifestyle store, and be sure to give shop dog Mr Chow, a French Bulldog, a pat from us. He'll most likely be sprawling on one of the vintage Moroccan rugs, and who could blame him.
The Details
What: Elbadi
When: Open Monday to Friday from 10am to 4.30pm, and Saturday and Sunday from 10am to 3pm
Where: Opposite Raw + Rice and Acai Bros on River Esplanade, Mooloolaba
Image credit: Lumea Photo for Urban List