You've got a special occasion just around the corner. And anyone who knows anything about special occasions, knows that they call for cake.
To save you making a mockery of yourself by handing out the same wedges of dry, tasteless, BORING sponge cake you've been making forever, we're giving you the lowdown on the best cake shops on the Sunshine Coast.
Here's where you can have your cake and eat it too: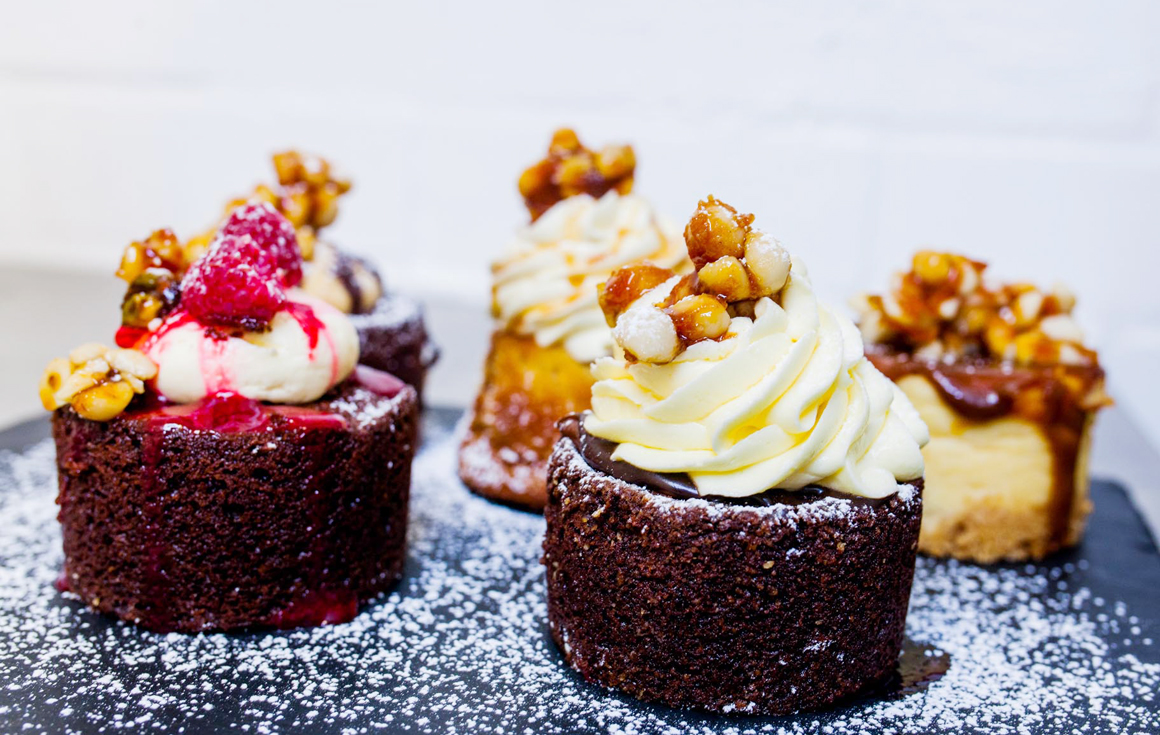 Tome
Yes, we shower these guys with lashings of love across the site, but that's 'cause their cakes are so dang good. Unlike books, you can totally judge Tome's cakes by their impressive "cover"—think: impressive eatable towers decorated with clusters of nuts and the most perfectly dripped icing we've ever seen. The average sweet-tooth Sally will have no hope of walking past this Maroochydore café without first making a detour into it. The best bit? You can wash down one of their mini cakes (most of which are gluten-free) with one of the best coffees on the Coast.
Where: 21 Ocean Street, Maroochydore
Sweetness Contained
Brides, look no further. Grooms, thou shall not eat thy cake before the big day. Got it? Sweetness Contained is a cakery that specialises in occasion cakes—you know; birthdays, anniversaries, weddings—all those moments that are only properly celebrated if there's a cake to messy with nearby. This super talented mother and daughter team, nail the homemade flavours minus the #epicfails. Plus, they've found a way to show up The Simpsons and totally win friends with salad.
Where: 95 Eumundi Road, Noosaville
Chocolate and Wholefood Provisions
Attention health nuts (with a weakness for cakes), clock a weekend jaunt to Kawana or Noosa Farmers Market and you'll come face-to-face with a smorgasbord of health-conscious raw and baked sweets at the Chocolate and Wholefood Provisions stall. We don't want to force you into anything but the Pumpkin Persian Love Cake is from another world. Oh and the Superfood Caramel Blondie with dark chocolate is to die for and pretty much free of everything—gluten, grain, dairy, and refined sugar. We could totally get used to this healthy living thing.
Where: Kawana Farmers Market and Noosa Farmers Market
The Silva Spoon
If you don't yet have a weekly Cake Day scheduled into your calendar, we'd advise you to get on it. If only to make your way through the delicacies at The Silva Spoon. As much as this Cotton Tree café is known for its massive tea selection, it's also one of the best cake shops on the Sunshine Coast. Showstoppers are whipped up daily, but some we struggle to look at without creating drool-pool at our feet include the Coffee and Walnut Bundt piled high with espresso buttercream, meringue kisses, and praline shards, and the Banana Fosters Layer Cake topped with nuts, white chocolate, and drizzled with caramel. Good God, they're DIVINE!
Where: 1/27 Cotton Tree Parade, Cotton Tree
Contact: 07 5443 8822
Stormie D's Cupcakery
A list of the best cake shops on the Sunshine Coast, wouldn't be complete without mention of cupcake specialist, Stormie D's. Tucked along Caloundra's main drag, this girly funhouse has been opened less than a year. Already a local favourite for serving up delicious cupcakes and some of the craziest maxed out milkshakes around, don't leave without grabbing a lemon and lime or jaffa macaroon for the road.
Where: 17A Bulcock Street, Caloundra
Contact: 07 5491 5812
Is your go-to cakery missing from our round up of the best cake shops on the Sunshine Coast? Let us know! There's always room for more cake.
Image Credit: Matthew O'Brien and Ariana Gillrie