After a weekend of tacos and margaritas (and hangovers), or a few too many nights in the grips of pillowy baos, this is the list you need to call on.
Delicious and guilt-free food is an art our little region has mastered, so we promise it won't be too hard to swap the pizza for a loaded salad or superfood smoothie.
Not convinced? Try our pick of the best healthy cafes on the Sunshine Coast and you will be—promise.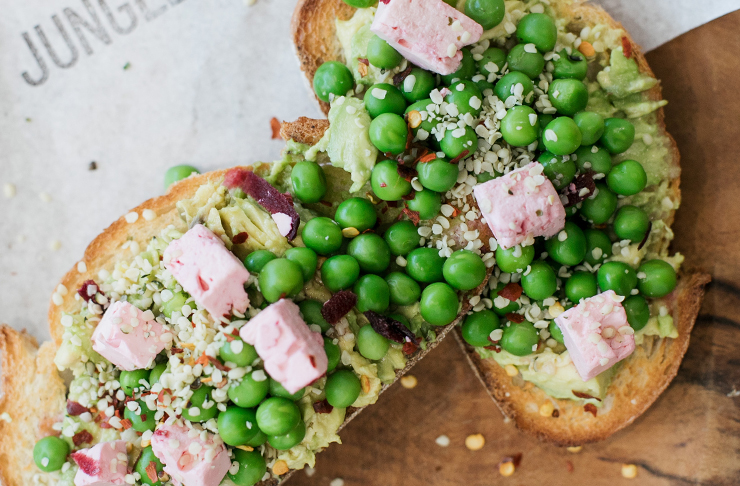 Evolution Fuel
Maroochydore
Trust us, you'll feel good just reading the menu at Evolution Fuel, it's that healthy. Taking the bar up a notch, their dishes are packed with the good-for-you stuff, can be eaten in or taken away, and, the best bit, they're pretty cheap. We're obsessed with their Protein Packed Salad Bowl, jammed with free-range chicken, egg, quinoa, beetroot hummus, avo and sweet potato, on a bed of shredded kale and topped with vegan crackers.
Greenhouse Cafe
Caloundra
Southerners on the Sunshine Coast are well taken care of in the healthy-eating stakes by the lovely peeps at Greenhouse Cafe. Tucked down a pedestrian laneway in the middle of Caloundra, Greenhouse serves up some of the tastiest dishes around, made with organic, locally-sourced produce. You won't feel a smidge of guilt about loading up on breakfast here, with the likes of Kasbah Eggs—beetroot pesto, dukkah, balsamic, herbs and fetta all piled on toasted Turkish bread with two poached eggs—and the Greenhouse version of avo on sourdough, complete with cashew cheese.
Elixiba
Maroochydore
This vegan and gluten-free hotspot needs no introduction, but we're going to hit you with a refresh anyway. If you're a big believer in 'you are what you eat' and drink then Elixiba is your jam. Not only do these guys serve up a range of incredible vegan eats—from burgers and macro bowls to a whole lot of tapas—their drinks list is actually good for you and unlike any other on the Sunshine Coast. Start with their Bush Tucker range, where you'll be sipping on cocktails made with Australian natives, before working your way through a herbal liqueur tasting paddle. Too early to get your booze on? Order a fresh coconut with your choice of essential oil.
CK Coffee Bar & Wholefoods
Mooloolaba
Where do we even start with CK Coffee Bar & Wholefoods? This lot really are the jack of all wellness trades. Part cafe, part grocery store, part events space (keep an eye on their Facebook page for some killer health talks), Mooloolaba got lucky when this place opened its doors. With kombucha on tap, bulletproof coffee, smoothies and cold-pressed juices, CK is your go-to for a quick beach break. And that's without even getting into their all-day breakfast and all-day lunch menus.
Raw Energy
Various Locations
With five stores scattered across the Coast, Raw Energy is a bit of an old hand when it comes to serving up food that'll make you feel good. Covering breakfast, lunch and those sweet treats you'd be crazy to resist, a roundup of the best healthy cafes on the Sunshine Coast wouldn't be complete without a nod to this local franchise. A few of our faves? We thought you'd never ask. When in doubt order the Brekkie On The Fly smoothie, the zucchini and corn fritters for an AM feed, or the macadamia and lentil burger for a midday stomach-filler.
Raw + Rice
Caloundra, Mooloolaba and Noosa
The first dedicated poke bar on the Sunshine Coast, Raw + Rice has shopfronts in Noosa, Mooloolaba and Caloundra. And we're sold. With their philosophy being "every bowl has a story", the folks at Raw + Rice take their poke bowl construction very seriously. And the story doesn't begin when your order your bowl; in fact, it goes all the way back to when the ingredients in your bowl were planted, nurtured and harvested. That's what makes the food at Raw + Rice so good. Everything is hand-picked, the fish is freshly caught and everything is supplied by local producers. Delish!
Cafe Nurcha
Maroochydore
Your one-stop shop for nourishing plant-based food and vibes that are always spot-on, Cafe Nurcha is one of the best healthy cafes on the Sunshine Coast. Offering an extensive vegan menu with a range of gluten-free options too, every dish at this Maroochydore cafe has been made from scratch with seasonal local produce. For first-timers, try the quinoa curry, margarita pizza on a wholemeal base with housemade almond cheese, or one of their vibrant smoothies or acai bowls. Really though, you can do no wrong here.
VanillaFood
Noosa Junction and Noosaville
VanillaFood's philosophy is simple: increase your overall wellbeing one mouthful at a time. Nilla Tomkins, the mastermind and chef behind the delicious and healthy creations believes in the power of food as medicine—one bite of her creations and you'll agree. With a strong focus on creating wholesome food using ethically-sourced local and organic ingredients where possible, VanillaFood serves up meals with a rustic twist. Spanning over two locations in Noosa, this healthy cafe has just launched its spring menu, so it's the perfect time to pull up a chair and dive in.
New Earth
Coolum Beach
Tucked out of sight in Coolum Beach, New Earth is our favourite hidden gem in this list of the Sunshine Coast's healthiest cafes. You know these guys practice what they preach with owners Sarah and Ben also hosting yoga and healthy cooking classes at their home in Ninderry. But back to the cafe. With a menu boasting raw, organic, gluten-free and dairy-free dishes and smoothies, New Earth makes eating out good for you. Open Monday to Saturday from 7am to 4pm, do not leave without trying the protein pancake stack with apple, pecans, caramel sauce and vanilla bean nice cream. It tastes so divine, you'll find it hard to believe it's actually good for you.
Kunara
Forest Glen
Found in Kunara Organic Marketplace, this certified organic cafe already gets our vote for being coeliac, vegan, vegetarian and Paleo-friendly. Open for breakfast and lunch, you'll find everything from brekkie rolls and smoked salmon stacks to vegan nachos and a steak burger, complete with hand-cut sweet potato chips. Better yet, when you've finished feasting you can hit another bird with the same stone, buying all your bulk foods, vegetables and fruit in-store.
Jungle & Co
Noosa Junction
Jungle & Co is Australia's first ever gut health bar, and while it doubles as a creative workspace and public workshop area, the hero of this place has got to be the great-for-you food and drinks. Made from locally-sourced ingredients, all their eats, freshly-blended juices and smoothies are made in store and will help your body retain its balance. On the menu, you'll find smoothie bowls, build-your-own salads infused with prebiotics and probiotics, flower essence-infused juices, collagen smoothies, botanical elixirs and even collagen-infused coffees. Or, if you're looking for something more substantial, there's a range of gut-healthy toast options, open melts and wraps, and even smashed avocado with pink beetroot feta, peas, chilli, hemp oil, hemp seeds and eggs served on gut-friendly toast.
Image credit: Amy Higg for The Urban List