It's time to get your culture on at the epic multi-arts event that is Horizon Festival.
Having handpicked the crème de la crème of local, national and international artists for your viewing and listening pleasure across the 10-day fest, get ready to immerse yourself in visual art, music, performance, film and creative workshops from 23 August to 1 September.
To help you navigate this year's lineup, we've plucked some of the best from the bill.
Festival Central
Ever been curious to peek behind the temporary fencing framing the new Maroochydore City Centre? Well wonder no more and step into the belly of the beast as Horizon Festival takes over, transforming it into the thriving creative hub of this year's festivities. Presented in partnership with SunCentral (the people delivering the new Maroochydore City Centre) Festival Central is all about conjuring of interesting ideas for our creative future within our future city. Come along and explore the 10-day program boasting loads of free entertainment, creative workshops, live music and pop-up galleries. And if you're peckish, pay a visit to the festival cafe and bar.
When: Friday 23 August to Sunday 1 September
Where: Festival Central, Corner First Avenue and South Sea Islander Way, Maroochydore
Cost: Free
A Galaxy Of Suns
This choir performance needs to be seen (and heard) to be believed, in what we think is described as the science and arts worlds colliding. Featuring our very own locals, Oriana Choir, A Galaxy of Suns is an incredible 36-part performance–in real time–of the stars rising and setting over 360˚ of the horizon. Tracking the Earth's motions through space, it documents the audience's exact position in relation to the stars and uses GPS data to pinpoint the stars' location on the horizon, brightness, size, age and chemical composition—this info is then translated through rhythm, pitch, volume, colour and light intensity. Still not sure how it works? Stick around after the show to listen to artist Micheala Gleave explain. Prepare to be star struck.
When: Saturday 31 August from 4 pm. Artist talk at 6.30 pm.
Where: Bankfoot House, 1998 Old Gympie Road, Glasshouse Mountains
Cost: $38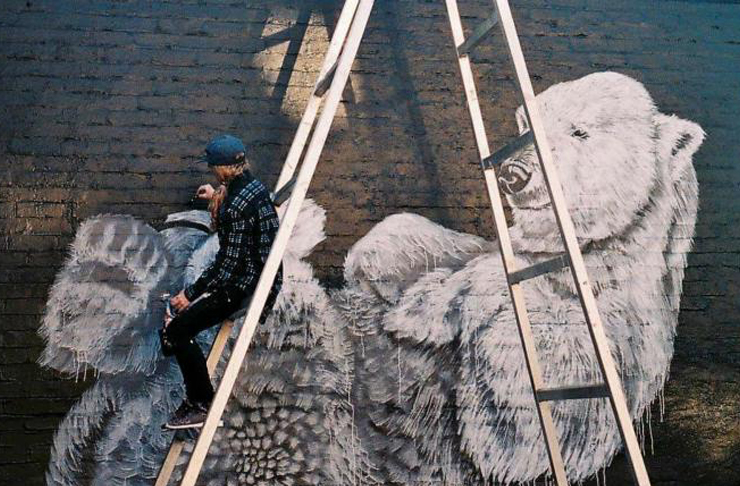 Mountain
Ready to be totally awe-inspired? Mountain is a stunning aerial theatre show combining acrobatics, dance and aerials with cutting-edge interactive technology to create a seriously captivating performance. Presented by Stalker Theatre, Mountain is set to transform Festival Central into a multi-coloured landscape of immersive light and sound, as it explores society's dependence on technology and the effect it's having on the world around us. Don't skip off after the show, because there will be an opportunity to play with the insane interactive projection system while a DJ spins some tunes.
When: Friday 23 August to Sunday 25 August, 6.30pm and 8pm shows
Where: Festival Central, Corner First Avenue and South Sea Islander Way, Maroochydore
Cost: Free
[In]Place
Embark on an interactive art trail across Nambour, where five visual artists take you on a sensory journey. Start at Nambour Train Station and follow the signs through the streets of Nambour to The Old Ambulance Station. [In]Place is a culmination of the creative output of artists Kellie O'Dempsey, Pamela See, Claire Matthews, Carley Cornelissen and James Muller and their collaborative work with legendary animator Helena Papageorgiou to transform their work into an interactive motion experience, supported by the Eye Jack app. Explore the fluid nature of the environment, both individually and collectively, as the [In]Place artists search for presence, transition and transformation through augmented reality. Prepare for your mind to be blown.
When: Saturday 24 August to Sunday 1 September
Where: Nambour
Cost: Free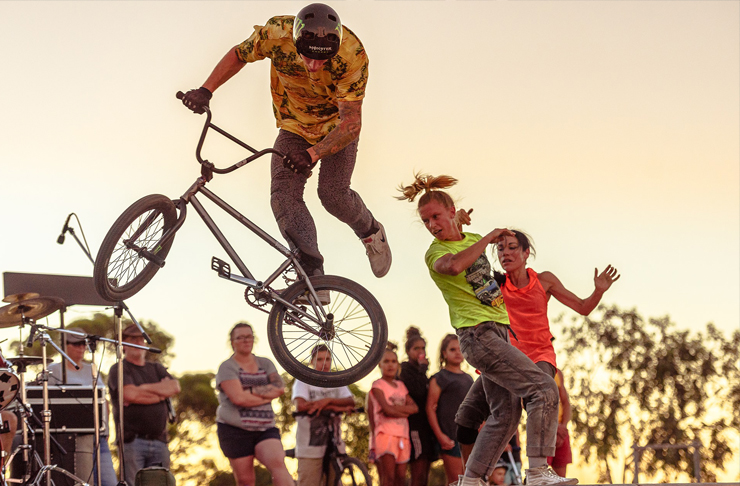 Snake Sessions
Are you ready for Branch Nebula and its team of professional skaters, BMX riders, dancers and parkourists to infiltrate Alex Head's skate park for a whole week? The Sydneysiders vow to mix it with the locals, showing us how it's done with anarchic street-style moves and tricks, culminating in an improvised performance on the Saturday. With a live drummer driving the action, bodies and wheels are set to collide in a display of epic proportions. Having already wowed audiences around the world, now it's our turn!
When: Tuesday 27 August to Friday 30 August, 10am to 4.30pm, and Saturday 31 August, 2pm to 5 pm
Where: Alexandra Headland Skate Park, Alexandra Headland
Cost: Free
Blak Social
Celebrate the cultural resurgence of Indigenous peoples with an epic line-up featuring the talents of Alice Skye, Rebecca Hatch, Kee.ahn, The Ancient Bloods, Chocolatte Boxx, Katina Olsen and Gubbi Gubbi Dancers. With electronic music and dance to performing arts and song-writing, from both established artists and emerging young talents, Blak Social really is a celebration of Indigenous artists and the future they create. It's a show you don't want to miss.
When: Wednesday 28 August, 7pm
Where: Festival Central, Corner First Avenue and South Sea Islander Way, Maroochydore
Cost: Free
Live & Local Sundays
Round out your weekend with the epitome of the Sunday sesh with brews and tunes. Live & Local Sundays is like a mini music festival...and it's free! Catch six of our favourite local musos performing and a stellar selection of microbreweries serving tasty local brews and the best produce the region has to offer. On Sunday 25 August you can groove to The Yammz, Anna & Jordan, The Dreggs, Alfanant, Andrea Kirwin and Bearfoot; then on Sunday 1 September, Deline Briscoe, Karrie Hayward, The Dennis Sisters, Emma Beau, Ayla and Band of Frequencies hit the stage.
When: Sunday 25 August and Sunday 1 September from 12-6pm
Where: Festival Central, Corner of First Avenue and South Sea Islander Way, Maroochydore
Cost: Free
For more information on Horizon Festival or to see the full program, click here.
Image credit: Horizon Festival