Ah the tranquil island escape. Palm trees, azure waters, cocktails by the pool, this the stuff we dream about.
Funny thing is, we don't have to conjure up pictures in our heads as we drift into a slumber, because we can actually go there.
We know you've probably spent a decent slice of your paid holidays with weddings, babymoons, grandma's interstate 90th. And we know that days off don't just grow on trees. So, to help you turn your island dreaming into real-life action, we've rounded up five island escapes so close to the Sunshine Coast that they should totally be considered for your next weekender.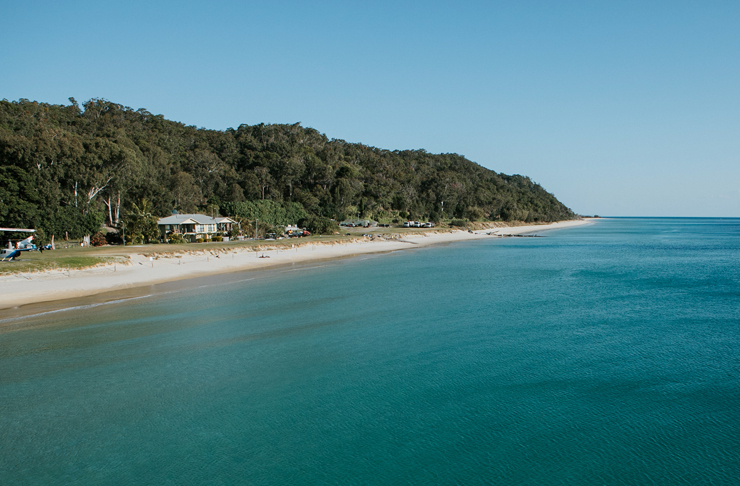 Lady Musgrave
This one needs the most planning and may require a sneaky sickie or a planned long weekend. Jump in your car, and head north for just under five hours to the quaint seaside town of 1770. Sure, you could easily spend your days wiling away time here, but we're urging you, don't stop for too long. It's just going to get better. From here, hop on a charter boat—or hire a tinny if you want to stay in control of your comings and goings—and head to Lady Musgrave Island on the Great Barrier Reef. One of the reef's most southern islands, pack a tent, food, water, and snorkelling gear, and you'll be set to have a totally remote, island holiday that you'll be raving about to anyone who'll listen.
Moreton Island
On a clear day, you can see Moreton Island from Caloundra, hovering on the horizon like some mystical mirage. But we swear, it's a real place. The beauty of this island is that if you don't have access to a 4WD, all is not lost. There are private tours that'll take you boosting along the sand with just you, your mates and a guide, or you can live the high life booking into Tangalooma Island Resort and living out the ultimate "cocktails by the pool" vision. Want to nail some "active holiday" shots for Instagram? Get in your togs and experience night kayaking.
Fraser Island
If you're a real Sunshine Coast local, you know about this island already, sitting just on our doorstep. No 4WD? Bribe that friend of a friend who has one, and go on a group camping trip to this sandy paradise. Packed with rainforest, waves, snorkelling and epic off-road trails, an escape to Fraser Island is something you need to do at least once in your life. If you can't nab a friend's 4WD, hire a beast from Noosa 2 Fraser. You'll soon be cruising along the beach from Noosa, jumping the barge, and then getting busy lake-hopping—there's 52 fresh water pools to explore.
North Stradbroke
Straddie—the daddy of the southern islands has a loyal holidaying fan base, and it's not hard to see why. Cute beach shacks for rent or beachfront campsites, surf or calm waters, it's pretty much the island for everybody, plus it's easily accessible via ferry from Cleveland in Brisbane. The beauty of North Stradbroke Island, along with its "beauty", is you don't need a grunty 4WD to makes tracks, as sealed roads run between the main townships. Transfer tickets are a little pricey for a daytrip from the Sunshine Coast, so count this as an option when you're taking an "unexpected" extended weekend, if you know what we mean. *cough
Bribie Island
The most "lived-on" of the islands nearby, Bribie is conveniently found floating between the Sunshine Coast and Brisbane. You can go au natural and explore the top half of the island (which isn't much more than bush and beach) by paddling across the Pumicestone Passage from Bulcock or Golden Beach. Or, if wining and dining suits you to a tee, head down the Bruce to the Bribie Island turn off, scoot across the bridge (yep, no boat or 4WD needed), and then go directly to The Oyster Shed. When you've knocked back all the seafood within reach, there's plenty of caravan parks to pitch your tent and embrace the inevitable food coma. Now, exhale.
Ticked off the island escapes and want something closer to home? Check out the best Airbnbs around the Sunshine Coast.
Image Credit: Amy Higg for Urban List