We're officially at the halfway point of 2018, and we can't even keep up with the new launches we've had so far this year. We're talking farm-to-plate in the Mary Valley, boutique breweries tucked away in industrial estates, and everythin' espresso pretty much everywhere. Did we also mention brownies on a stick?!
So we've done you a solid and rounded up the best new openings that 2018 on the Sunshine Coast has seen so far. Cue: excitement overload!
John Kyle Espresso
Buderim
If you're into insanely amazing coffee, you'll be into John Kyle Espresso from your first sip to your very last. Their ethically sourced coffee is hand blended by First Sight Coffee Co., in conjunction with local crew, Slide Coffee Roasters.
Sprinkles
Nambour
If you're wanting to be transported back to the 50s AND immerse yourself in those timeless diner feels, you need to look no further than this epic ice-creamery. Their sweet ice-cream treats are a take on the classics and we just love the simplicity and gorgeousness of it all. Our current fave is the Chocolate Biscuit Bowl - basically heaven in a chocco cup! We lurve Sprinkles and so will you!
Umami Ramen
Maroochydore
Calling all Ramen lovers. Say sayōnara to instant ramen and too-salty broths, and kon'nichiwa to this cute little hot spot. We're talking insanely authentic ramen, with classic tonkotsu, char-sui pork and even a vegan option. Combine that with indoor plants on every surface and quick, friendly service, you can't go wrong. If you're looking to keep warm this winter you just can't go past Umami Ramen.
Rue Bourbon Coffee
Buderim
This funky lil' spot is Buderim's new hidden gem, serving up the Brissy based Semi-Pro Coffee which is sourced from the likes of Brazil and El Salvador ensuring that smooth cawfee goodness we lurveee! Did we mention it's inside a SHIPPING CONTAINER?! If you're looking for a brew with a view, Rue Bourbon is where it's at!
Larder & Baked
Noosa
Let's be real peeps, we all have those days when we don't have time to fix ourselves lunch before work, leaving us stuck without any amazing foodie options. But that's where the folks at Larder & Baked have changed everything. They're all about nutritious, healthy takeaway food that doesn't cost the earth.
Fit For A King
Caloundra
Let us just say, Fit For a King Coffee, lives up to its name baby, and then some. Proudly serving up its caffeinated goodness from St Ali beans in good ol' Melbourne town, these guys really know how to make a decent drop of Joe. Check it out, stat!
Sumi Open Kitchen
Noosa Junction
This bonsai-sized Japanese restaurant is the latest in hot openings in the newly reinvigorated Noosa Junction. Seating only 26 diners, you'll have an amazing, immersive experience. Nab a seat at the bar, sip sake and watch the chefs do their magic on the traditional-style charcoal grill. Nights out at Sumi Open Kitchen are all about the fun.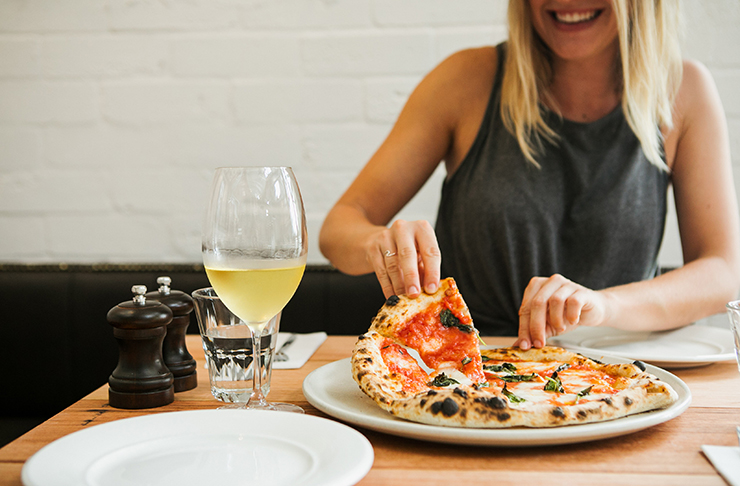 Circa
Cooroy
Our friends at Noosa Hot Bread Shop have headed to the Hinterland and they're serving up their next-level French pastries; think warm, flakey croissants and a crusty-cheesy croque monsieur almost certain to transport you to a cafe on the Left Bank. *swoon* Circa is also serving up some of the best pizza on the Sunshine Coast now too. Did we mention their amazing bar? This place is a one stop shop for foodies.
Holey Moley
Maroochydore
Holey Moley is an 18-hole crazy AF mini golf course that just made the Big Top cool again. Putting a grown-up twist on kids' fun, they've also got tenpin bowling, karaoke, and even an escape room if you think you've got what it takes… And while our inner child is jumping around like a preschooler on a sugar high, our over-18s side is ordering a jug of Pimm's at the Caddyshack Cocktail Bar. Tucked conveniently behind Ocean Street (post-bowling pub crawl anyone?) let's just say the kidult in us is pumped!
Waterpistol Surfboards + Laguna Bowls
Noosa
This amazing new concept store is a surfboard shop with a side of amazing fresh food and Allpress coffee. We love the clean and crisp interior of the store mixed in with the Waterpistols Surfboards hanging from the ceiling. It's the perfect place to buy a board or some wax, and then sit down and enjoy a healthy poke bowl and smooth coffee
Kandanga Kitchen
Kandanga
This local farm to plate hidden treasure offers a simple menu influenced by seasonal and fresh ingredients, with the prettiest smashed avo you ever did see. Follow them on Insta and Facey to get the low down on their Paddock Picnics, workshops and daily specials. Kandanga Kitchen is a must when you're visiting the region.
313 Social
Mooloolaba
This little gem, hidden away a back alley is a bar cum foodie haven that serves up everything we love - strong yet smooth coffee, cold beer (plus beer garden, yasss!) AND amazing cocktails. We are loving the art deco vibes, endless supply of cool kids and friendly staff. Did we mention that this place comes equipped with it's own skate ramp?! 313 Social could be the best Sunday session on the Sunshine Coast.
Eddie Cheebas
Noosa Junction
Eddie Cheeba's is a sexy little bar hidden inside Noosa Junction. Their amazing wine selection, epic cocktail creations and good for the soul vibes are out of this world. Bring the gals, or your S/O and enjoy the amaze street food which is inspired from all over the world AND enjoy the amazing tunes for a great time. If you're looking for an uber-chill vibe, Eddie Cheeba's is where it's at.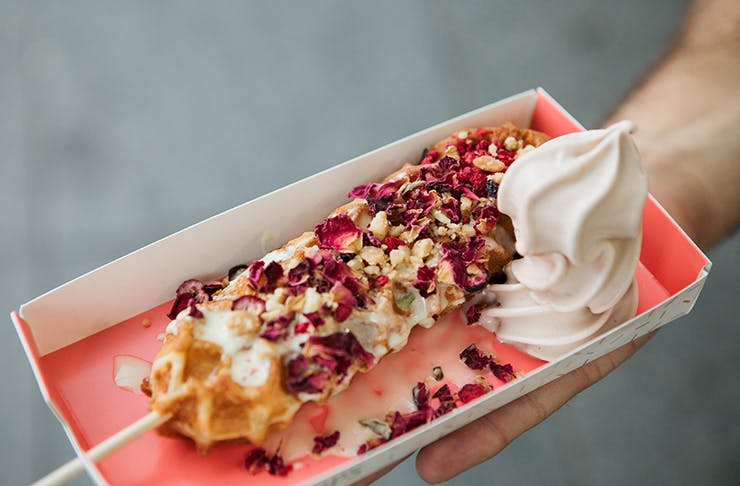 Happy Pops
Noosa
When you have a dozen options for icy treats in the one street, the winner has to be pretty special right? Well head to Hastings St if you don't trust us. Choose your pop (we're talking gelato, waffles, brownie or sorbet, all handmade with lush local ingredients) then go crazy with the epic topping options to build the ultimate frozen treat. Happy Pops manage to just make us HAPPY!
Mint Buderim
Buderim
This is one of the cutest cafes to open its doors on the Coast, peeps. Maybe you're after brunch with the crew or a lovely working space mid-week? Lucky for you they are open every single day from the early hours to late arvo, YASSS! Mint Buderim have some of the healthiest foodie offering on the Sunshine Coast.
Yen Teppanyaki
Noosa
If you want feats of skill and coordination in your dinner time routine, head to this tiny, new teppanyaki joint. Yep, you'll be catching your meal as chefs prepare and cook it right in front of you, with loads of flair and entertainment. Perfect for date nights or fanciful birthday celebrations with friends and family, our advice: pimp your rice with wagyu! Bookings essential because EVERYONE wants in on this. Yen Teppanyaki is making dining on the Sunshine Coast fun again. And we're thrilled about that!
Sonder Espresso
Birtinya
Not only is this hidden little spot as cute as a button, but the coffee is some of the best in the region. Sonder Espresso also has you covered for brekky and lunch with an array of delicious daily specials on offer as well as regular faves on the menu, including healthy options, with treats for vegans and vegetarians, including Buddha and smoothie bowls.
Land & Sea Brewery
Noosa
Now, if you say you enjoy craft beer and haven't yet experienced the bliss that is Land & Sea Brewery, then you need to check it out ASAP. Although craft beer can be a scientific process, they take a simple approach; letting their creativity flow to allow for a unique experience. We love the beachy aesthetic, smooth craft beer, epic noms and good for the soul vibes.
Soul Kitchen Bakery
Maroochydore
Bringing vegan love to the baked goods of the Sunshine Coast, Soul Kitchen is dishing up the sweet and savory treats we know and love, in all their delicious vegan, allergy-friendly, and gluten free glory. There's a huge list of raw cakes and tarts, classics like lemon meringue pie, and even tiered wedding cakes. Curb those cravings without the guilt!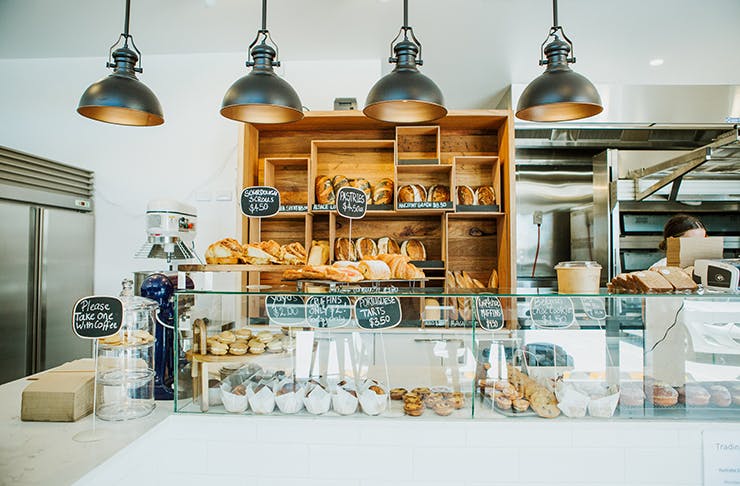 Ricks Artisan Pies & Sourdough
Noosa
Ricks Artisan Pies & Sourdough is a delightful bakery serving up all our faves with a very special twist. Fancy a gourmet pie or specially baked sourdough? If you love treats like this, Ricks is most certainly the place for you. Ricks Artisan Pies & Sourdough has something for everyone, including amazingly smooth All Press coffee. Just saying!
And there's more set to come too! Did you head about Habitat Noosa?! It's a huge glamping game-changer that's headed to the Coast this year. Did you also hear the Sunshine Coast is set to get its first ever rooptop bar this year too?
Image credit: Amy Higg for The Urban List