What do you get when you combine puppies and surfing? You get the best damn fun imaginable, that's what!
Well folks, it's time to get your puppers paws soaking wet 'cause this year the surfing doggos will be donning their rashies, zinc-ing up their rubber noses and riding in on some sweet ass swells.
That's right, the world's biggest Surfing Dogs Championships is happening this weekend and is being held at one of the world's best beaches. (Noosa, naturally.) It's so amazing we can barely contain our excitement! This HAS to be one of the coolest (and most unique) events EVER to hit the Coast. We dare say it'll manage to make waves all around the world. (Sozzi, we love to pun here at TUL.)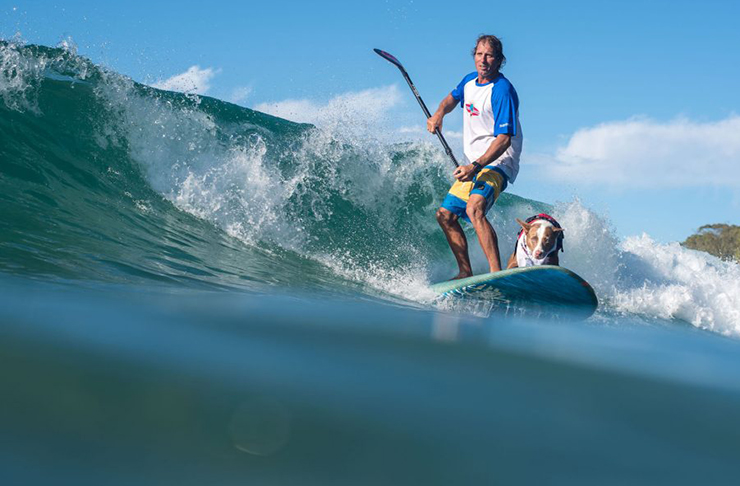 Picture this: you riding in on a wave with your furry best friend on the front of your board as thousands of onlookers cheer you on from the shores of Noosa's beautiful main beach. Sounds like the most fun you can have with your pupper, doesn't it? We're thinking so!
If puppy surfing wasn't enough, this year there will also be a "SUP With Your Pup" workshop if you and your doggo wanna work on your abs in unison. These amazing events are all part of the eight-day Noosa Festival of Surfing happening on the Coast. We couldn't possibly think of a better way to spend the weekend.
The Details
What: Surfing Dog Championships
When: Saturday 10 March and Sunday 11 March
Where: Noosa Beach
For more details check here.
Want to hit up a cafe with your pupper after? We've tracked down the best dog friendly cafes on the Sunshine Coast.
Image credit: Noosa Festival Of Surfing and VetShopAustralia