Sprouting in the rural landscape of North Arm (in between Yandina and Eumundi), Terella Brewing is the new sustainable farm-style brewery you need to know about.
Rolling up its warehouse doors for the first time last weekend, the Sunshine Coast's latest brewery uses high-tech innovation to create some of the best craft beer you'll ever taste.
Co-founders Brandt Bamford and Torren Read have created a totally sustainable business model, which sees the brewery integrated with a Vertical Farm system, growing green produce within indoor growing booths under UV lights. This grow booth system creates its own fresh water as a byproduct of its process, which Terella Brewing then uses as a water supply to produce their beer. When brewing the beer, the fermentation process creates Co2, which is captured and re-injected back into the vertical farm to help grow the green produce. It is a fully enclosed sustainable cycle. Incredible, huh?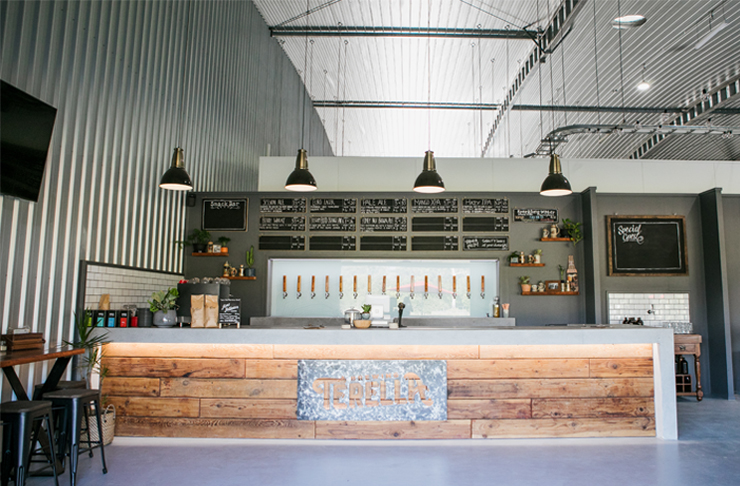 Terella, meaning "Little Earth" in Latin, is part brewery, part taproom and is set on 69 acres, complete with its own cattle farm. But it isn't just a local spot to knock back small batch brews without having to head into town, it's also a low-key stunner.
Fitting out a section of a mammoth onyx-coloured warehouse (the rest is being utilised for the brewery itself and the Vertical Farm system), the taproom has an industrial fit-out with a rustic vibe. You'll find hanging pendant lights, an exposed ceiling and a huge timber and concrete bar, poured on site by Brandt and Torren's dads.
At the bar, 15 taps pour a rotating range of Terella Brewing's beers, including a crisp lager, signature mango XPA, honey nut brown ale and a unique blackberry wheat beer. Plus, for those who are driving, there's seasonally-flavoured sparkling water, brewed in house using the Vertical Farm water—choose between orange, passionfruit or mixed berry.
But the goodness, and nod to all things sustainable, doesn't end there. Within the taproom, you'll also find fridges loaded with fresh greens from the Vertical Farms and organic beef produced from the head of cattle that are located on the property and fed the spent grain from the brewing techniques—all of which are available for you to grab out and take home. A set of timber shelves are also stocked with freshly-baked bread from local baker Ten Acres. So basically, you can drink beer and do a side of grocery shopping, which we love!
For now, the sprawling lawn that the taproom opens onto stands empty, perfect for throwing down one of the picnic rugs stored in a chest by the door. But in a few weeks, this patch of grass will become home to an interactive animal farm, so children can get a real farm experience while parents enjoy downing a few new brews. Could it get any better? We think not!
In a region brimming with breweries, Terella Brewing is the first of its kind to hit the Sunshine Coast and dishes the ultimate country escape. Frothing to check it out? You'll find their roller doors open from Wednesday to Sunday from 8.30am, and any extra details here.
The Details
What: Terella Brewing
When: Open Wednesday to Sunday, from 8.30am till dark
Where: 196 Bunya Road, North Arm
Image credit: Lumea Photo for Urban List