Maroochydore oh how we love thee. You're the beating heart of the Sunshine Coast, pulsing with night life, full of blood-thirsty adventure, and oozing with soul. With its pristine beaches and riverways, high-end retailers, and a foodie's wonderland, this ever-growing suburb tops our list when it comes to never-ending fun!
So without further ado, we rounded up some of the best things to do in Maroochydore.
Paradise Seaplanes
Take off from paradise and enjoy the warm spray of the Maroochy River waters as you cruise through the sky with the doors off! The Wilga 80 warbird is perfectly designed for reconnaissance, has more glass than a helicopter and excels at flying low and slow. This is not your ordinary joy flight, this is an adventure flight! Paradise Seaplanes has the best views not only of Maroochydore, but the entire Coast.
Rent An Epic Airbnb
Obviously most Sunshine Coast crowds are going to make a bee-line for the big chain hotels like Sofitel and Peppers at Noosa Heads, which is fine. But if you're looking for something more private (with your own stunning river view) check out this insane Airbnb, with direct access to the Maroochy River & river mouth. Where to start with this one? The paddleboards, kayaks and basketball hoop? The huge undercover deck, complete with luxury soft cushioned outdoor setting and BBQ? The fully open-plan kitchen, dining and living areas? This place would make an awesome Sunshine Coast HQ for a four-or-five night stay: you could run off and explore Cotton Tree Beach in the morning, then laze on your outdoor couch in the afternoon.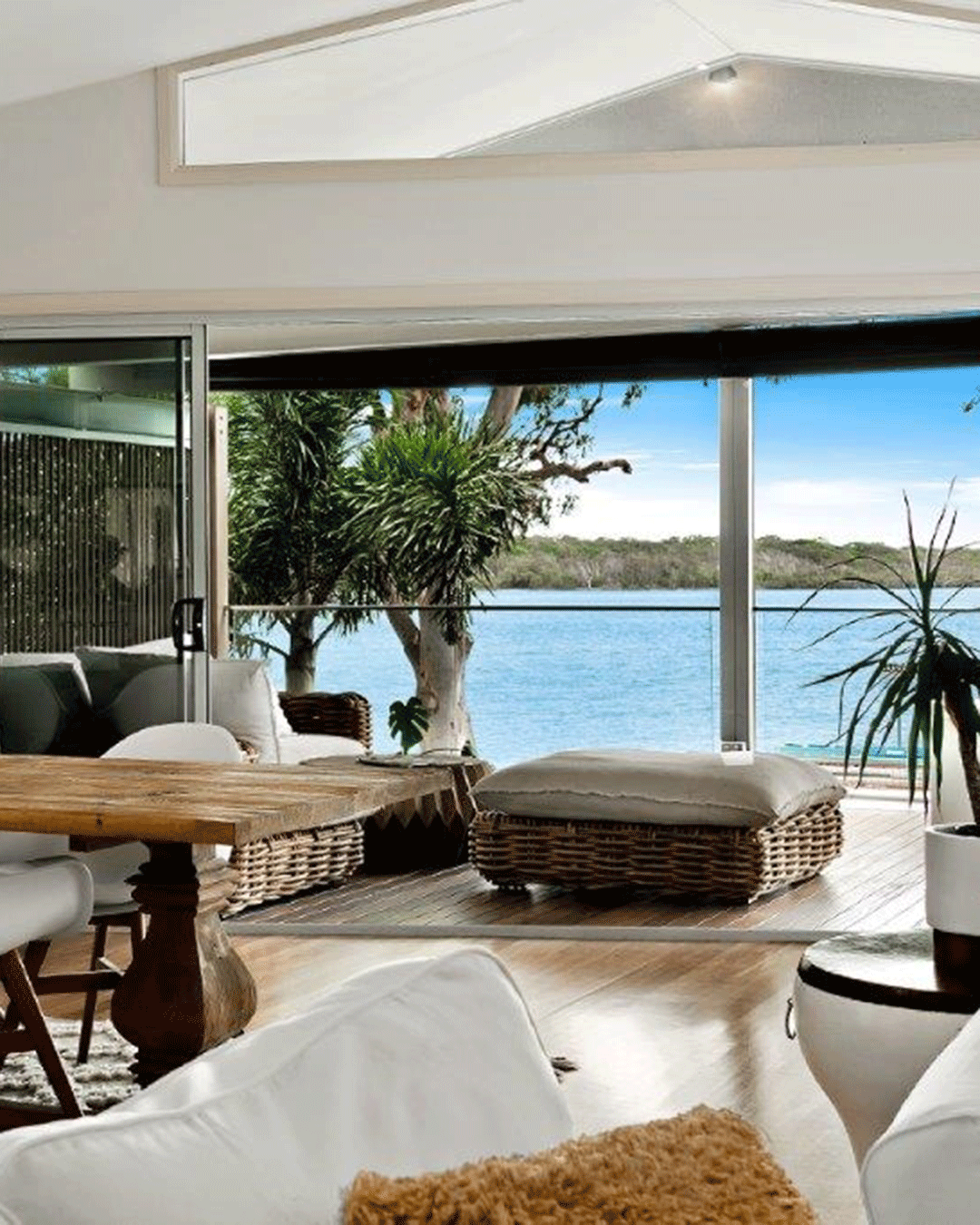 StrEATside Market
StrEATside Market just launched a few weeks ago and if you haven't been yet, you're truly missing out. The new market is here to fill up your Sunday with food, drink, live music performances and an outdoor picnic area where you can plonk down and enjoy the vibes. Some of the food stalls include the likes of Noosa's Mr. Pulled, Donut Kitchen, That Pizza Guy, Samba Catering, Flavours Of Brazil, Harri Dumpling and many more which you can check out on StrEATside's Insta page.
Criminal Coffee
Step inside Criminal Coffee and the first thing you'll notice beyond the size of this cafe, is the elaborate, dusty pink pressed tin espresso bar, lit by industrial-style pendants and backed by brick archways. It's not just the interior or the super smooth coffee that's worth getting excited about though: these guys are toastie specialists and you're going to want to devour one of their five, cheese-heavy creations immediately.
Strike Bowling and Holey Moley
One of the most pumping spots on the iconic Ocean Street night strip, this new mega-entertainment precinct incorporates an 18-hole crazy AF mini golf course and disco-style bowling lanes thrown in together with private karaoke rooms and cocktail bar. This is fun city. If you're looking for a night out on the town, then Holey Moley has got you covered.
Coast Store
Sitting opposite the Maroochy River on the corner of First Avenue and The Esplanade, you'll probably know Coast by its slick, Hamptons-style, beach shack vibes. From homewares, furniture, fashion, jewellery, books, gifts, and even a small providore, if you don't know what to buy Mum, Aunty Jan, or your bestie, we'd pretty much put money down on the fact that you'll find something here.
The Silva Spoon
This uber-posh, bohemian-style tea and coffee emporium is a perfect spot to reconnect with an old friend as you unwind and reflect with a warm cuppa served with opulent perfection. Raise a pinky for us here! Meghan Markle would defs approve of The Silva Spoon we thinks.
Hello Trader
This stunning converted warehouse in Maroochydore's industrial area offers a light and bright space decked out with a handpicked selection of goods from local and international brands and makers. Complete with textiles (think: antique Moroccan rugs), furniture and homewares, you'd best be putting a max spending limit on your card before stepping inside, or risk going a little cray-cray buying up everything. #noregrets Hello Trader has all your needs covered and then some.
Third Place
Where else can you chase a few schooners with some skate board retail therapy? Nowhere. Third Place on Aerodrome Rd not only stocks killer coffee and local brews on tap but allows punters to pick up their skate wear supplies on the way out. Hop to it!
Harvest Breads
Artisan bread lovers, start lining up! Hella good coffee? Check. Baked treats? Check. Food that will nourish your soul and be kind to your body? Check, check, check! This family-run business has all your fave sourdough breads, cakes, pies, pastries and amazing brekky and lunch options. Think: smashed avo on seeded paleo toast with lemon and dulse salt, and cumin smashed pumpkin and dukkah (holy yum!). We're in lurve with Harvest Breads and you'll be too.
Umami Ramen
It's winter here so say hello to steamy, hot bowls of ramen goodness! And these guys serve up the best in town. This cute little hot spot has had locals flocking here since it opened this year and boy is it good. If you want a piping hot bowl of broth, noodles, finely sliced meat, and all the fixings then get down to Umami!
Tome
Cakes. Yes, let there be cakes. The sophisticated signature, taffy encrusted, and flowery macaron adorned specialty cakes are right here. And they're good. Coffee? It's good coffee. It's all good at Tome, all the time.
Elixiba
Vegan, pixie-inspired cocktail bar, anyone? This plant-based restaurant and alchemy bar will prove to your non-vego mates that you can really make friends with salad! With a totally cute whimsical atmosphere, the food, cocktails, non-alcoholic elixirs and beers on tap—many infused with rare active botanicals—means Elixiba gets the seal of approval from us.
Chambers Island
Are the beaches piling up with tourists? Then we will fill you in on a local's secret. Get the fishing rods out, grab your boogie boards and a picnic, and walk over the small foot bridge to the quaint, clear waters of Chambers. There's toilets, a playground and plenty of space to find a private spot for a relaxed morning or afternoon. Pack a couple of sundowners (we won't tell anyone) and sip away the arvo as the sun sets.
Sol Bar
The granddaddy of Ocean Street night life, Sol Bar is at the centre of all great Maroochydore nights out. The perfect culmination of music, arts and culture—this is where after-work drinks and dreadlocks come together. Undoubtedly the Sunshine Coast's premium hotspot for live tunes and affordable food and brews, this music establishment has even recently introduced its own Playhouse featuring comfortable tiered seating and an intimate environment.
Swan Boat Hire
This iconic seafood shop and boat hire business has been catering to locals for decades and isn't stopping yet! Take a picnic, pack some drinkies and hire one of the boats with its very own barbecue. Your family and friends will be entertained for hours with Swan Boat Hire.
Orleans
Dishing up a fusion between New Orleans and French cuisine, this dimly-lit restaurant and bar with exposed brick walls, Chesterfield-style booths, and an indoor vertical garden is all kinds of sexy. But it's the taste and tipples that seal the deal. Try the pressed pork belly or seafood gumbo washed down with a Vieux Carre—a tantalising blend of rye whiskey, cognac, and Benedictine. Orleans has got you covered. YOLO!
Weir's Surf Shop
A little slice of Sunshine Coast surfing history can be found at this offbeat surf shop, which offers original '60s surfboards and skateboards, vintage posters, surf art and photography, and surf wear. While the original shop opened in the early '80s opposite the Maroochydore Surf Club, it is now based in Cotton Tree but still owned by the Weir family, who between the three generations have won several national surfing titles. Surf's up here!
Kiki Bar
The husband and wife dream team behind Spice Bar (one of our most loved spots on the Coast) have decided to spice (wink, wink) things up and open up a second venue on the Coast—a super sleek, sexy new bar. Kiki Bar is ALL about the classic cocktail, with a splash of spice of course.
Cotton Tree Markets
If you're wanting to get out of the house and bask in some of our sunshine, then we've got good news for you. For 25 years the Cotton Tree Markets have featured local artisans, designers and inventors selling their own unique and creative works. This spesh precinct is located near one of the Sunshine Coast's most picturesque beaches. What more could you ask for?
Uptown Gastropub
When the mood strikes, nothing beats a monster meal at a cosy pub beside your fave humans, particularly on a chilly winters eve. Pub grub over recent years has had a moment with diners, not only in Australia but also globally and it's not hard to understand why. It's comfort food at its very finest and the ONE thing those Brits do very well (we'll give 'em that). With a plethora of lunch and dinner options you'll be spoilt for choice, and if you arrive hangry we promise you'll leave happy. Welcome to the party Uptown Gastropub.
Love hiking? We've rounded up the best hikes on the Sunshine Coast here. We've also rounded up the best camping spots on the Sunshine Coast here.
Image credit: Amy Higg and Chevaune Hindley for The Urban List