Queenslanders, we know you love your home that's why we're on a mission to help you explore our beautiful backyard and support businesses that need your help right now. We're challenging you to support 20 Queensland businesses in 2020. Make the promise to stay home but don't stay in—staycation the right way by getting out and visiting the towns and regions that need you the most.
It's somehow easy for us to forget that we have rolling rainforests, pristine beaches, and mountain landscapes right in our backyard. There aren't many spots on this planet where you can hike through lush, tropical rainforest in the morning and swim with whales in the afternoon, grabbing an award-winning lunch on your way.
From nature adventures to fine dining, we've partnered with Tourism and Events Queensland to bring you everything you need to eat, see, and do on the Sunshine Coast.
Things To Do
Hang out with exotic birds
Located in breathtaking surrounds is Maleny Botanic Gardens and Bird World, these stunning gardens are an oasis of landscaped greenery amidst the wild Maleny rainforest. Once you're finished staring in awe at the picturesque landscape, walk through their four aviaries that are home to over 700 birds from Australia and around the world. Whether you're in it for the views, the serenity, or to hang out with hundreds of feathered friends, these gardens are definitely worth checking out.
Shop at an iconic Queensland fair
Every weekend, a hundred stallholders set up shop at the iconic Caloundra Street Fair to sell their wares. What was once a quaint community market has grown into a massive Sunshine Coast attraction where thousands of shoppers stop by each Sunday. Enjoy exploring the many unique, hand-made products from local sellers as well as fresh produce, street eats, and live entertainment from both local talent and established performers passing through town.
Go horse riding on a moonlit beach
Love the idea of riding a horse on a picturesque beach, the wind blowing through your hair while the full moon shines above you? Experience just that with Rainbow Beach Horse Rides. Not only do they offer full moon beach rides, but you can also experience the blue skies and crystal clear water on horseback during the day, or head inland for a half-day country ride. For those of you particularly skilled on horseback, you can even ride bareback into the ocean and swim with your horse, living your fifth-grade Saddle Club dreams. And although Rainbow Beach Horse Rides aren't operating right now, there's certainly no reason you can't start planning your magical experience for when they're back up and running.
Swim with Humpback Whales
If you're looking for a magical experience in nature, it can't get much better than snorkelling with whales. Sunreef Mooloolaba guides you through amazing aquatic experiences, including the first swimming with whales experience Australia has on offer—with the best time to catch them in all their glory is from June to October. Not ready for such an intense dive? They also run scuba and freediving sessions, snorkelling among the local coral and sea life, whale watching, jet skiing, and cruises. This way you can choose to get as close as you like to majestic whales and turtles or appreciate them from afar on-deck with a glass of wine.
Try on bespoke opal jewellery
If outdoor adventures and animal experiences aren't your thing, take a moment to appreciate the finer things at Opals Down Under. Here you can find your perfect piece of opal jewellery, with award-winning jewellers at your service and one of the world's finest selections of opals at your fingertips. Be mesmerised by this stunning gemstone in all of its forms and colours and go home with a truly unique piece.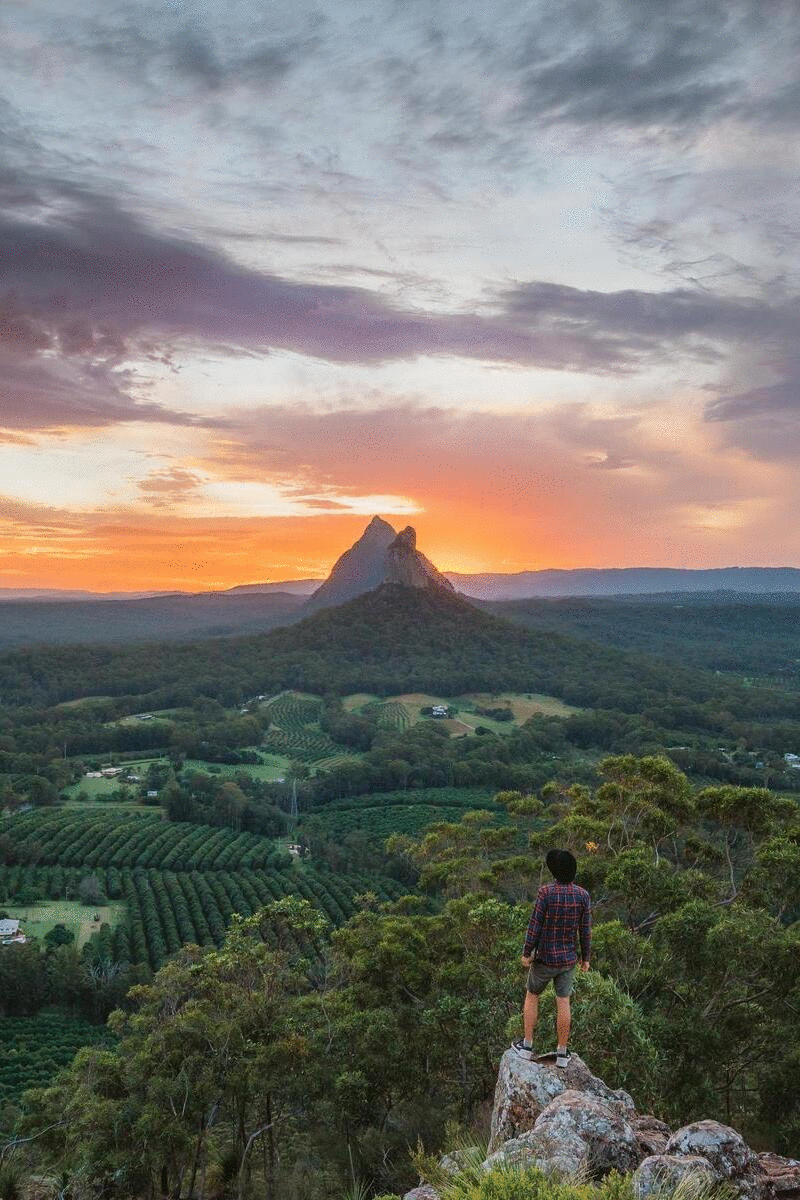 Where To Eat
Kenilworth Dairies
If you consider cheese to be the most important food group, you have to check out Kenilworth Dairies. They have been making delicious cheeses for over 60 years, fine-tuning their process over generations to create some of the best dairy products the Sunshine Coast has to offer. Stop by their cellar door and sample all manner of cheeses, as well as their natural yoghurt, light and delicious chocolate mousse, and homemade ice cream at Poppa's Cafe.
Harry's on Buderim
For contemporary Australian cuisine with stunning views of the rainforest, book a table at Harry's. This fine dining experience is located right on the edge of the Buderim Forest Park inside a Heritage style, 140-year-old homestead. With curated, seasonal menus from an award-winning chef, an unbelievable wine list, and outdoor seating that looks out onto endless bushland, this is the perfect dining destination for a special occasion.
The Grill Restaurant & Bar
Make your way to The Sebel Pelican Waters for fine dining at The Grill Restaurant & Bar. Whether you stop in for breakfast, lunch, or dinner you will be greeted with delicious modern Australian dishes, featuring fresh seafood and premium produce. Check out the golf resort for a friendly 18 hole game on their massive grounds, or pamper yourself with a relaxing massage and body treatment at their day spa.
Spirit House Restaurant and Cooking School
Sit back and relax in the tropical gardens that surround Spirit House as you are served award-winning Asian cuisine. This restaurant is all about serving up delicious, traditional Asian eats while providing a soothing atmosphere amidst waterfalls and lush tropics. Can't get enough of the food? Learn from the chefs themselves as they teach you how to make their signature dishes.
The Original Eumundi Markets
Sometimes nothing beats a home-cooked meal. If you're looking for the freshest produce around, The Original Eumundi Markets are your one-stop-shop. Located at The Imperial Hotel, these markets have been serving up the freshest produce from the farmers and bakers themselves since 1979. Now they are a thriving hub for not just fresh produce, but locally handmade homewares, furniture, art, ceramics, fashion, and jewellery. Usually, the markets are open every Wednesday and Saturday, but you can expect them to start up again once we move to Stage 3 easing of restrictions.
Ginger Factory
This one is for all you ginger fans out there. There is an entire factory devoted to ginger on the Sunshine Coast and it's calling your name. The Ginger Factory has taken a love for ginger and turned it into an entire gingery world of tastings, experiences, and tours. Start off with a history lesson in Ginger Town, then move onto the factory tour where you will get to taste all the gingery goodness they produce on a daily basis. Finish your day off at the cafe where you can dine on, you guessed it, ginger packed dishes, and top it all off with a ginger sundae at the ice creamery. Ginger Factory is reopening 27 June, so be sure to circle the date in your calendar.
Spicers Clovelly Estate
If you won't settle for anything but the very best, this French-inspired award-winner won't let you down. The official restaurant of Spicers Clovelly Estate, The Long Apron consistently serves up innovative dishes that your tastebuds will love you for. Ranked 18 in the Australian Food Guide's Delicious Top 100 Restaurants for 2019, this Chef Hatted restaurant is the perfect place to bring someone you want to impress, celebrate a big moment, or just treat yourself to the fine dining experience you deserve.
Where To Drink
Eumundi Brewery
Working up a thirst on your tour of our stunning Sunshine Coast? There is no better place to quench it than at the Eumundi Brewery. Eumundi Lager was first brewed in 1988 and has recently made a resurgence thanks to a massive rebuild of this iconic brewery at The Imperial Hotel. The result has yielded in quality brews crafted specifically for our unique climate, making them the perfect thirst quenchers on a Sunny Coast road trip.
Backlane Tapas and Wine Bar
If you ever find yourself craving a glass of wine as you head home from a day well spent at Mooloolaba Beach, make your way to Backlane Tapas and Wine Bar. This modest establishment prides itself on serving up the best cocktails of the hour and the trendiest wines on the market. This is the perfect spot to find fresh flavours and share your love of great food and wine.
Sunshine Coast Craft Beer Tours
When one bar just won't cut it, we recommend hitting up every worthwhile beer joint up and down the Sunshine Coast. Book your spot on a Sunshine Coast Craft Beer Tour to taste the very best local brews they have to offer. Not only will you be able to spend your time sipping deliciously refreshing craft beers, but you'll also get the chance to meet the makers and hear the stories behind the brews we love so much.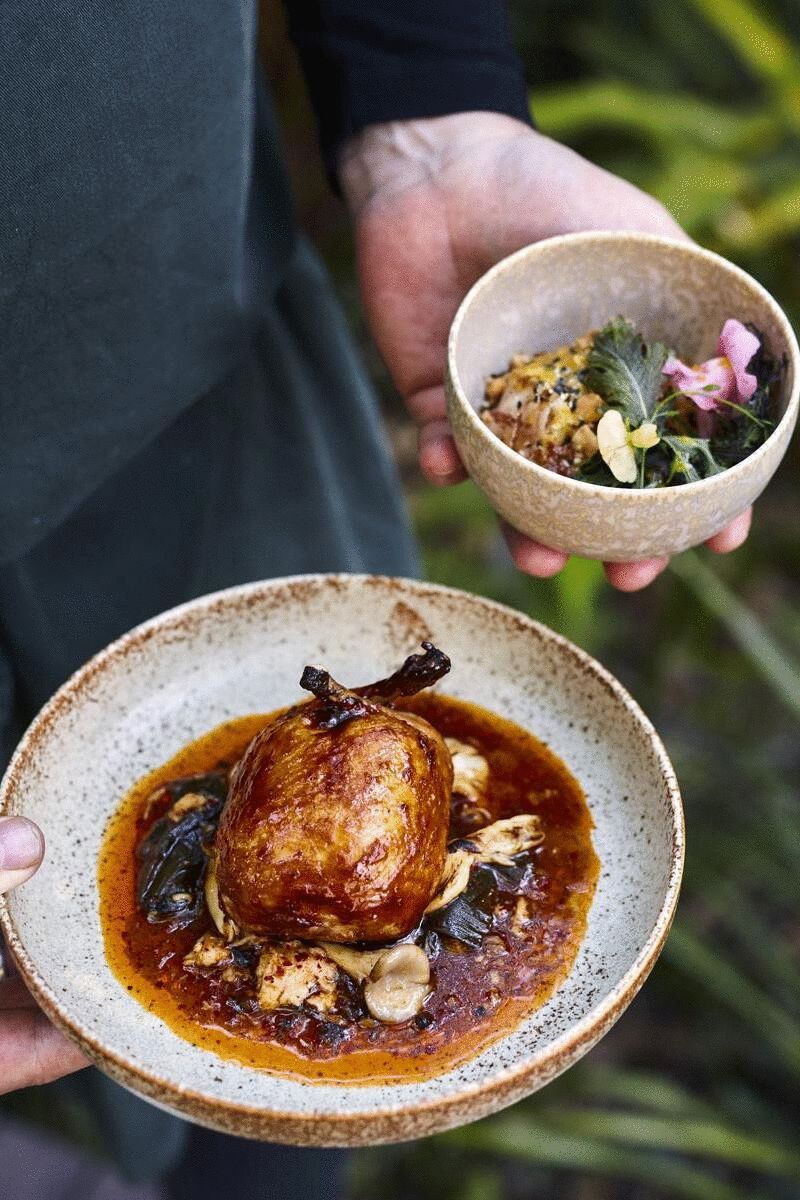 Where To Stay
Glass On Glasshouse
As the name suggests, Glass on Glasshouse is located in the Glass House Mountains. The self-contained cottages are known for their floor to ceiling glass walls that give you the best panoramic views in the area. Imagine waking up and seeing mountain views from your bed, taking a luxurious spa bath while watching kangaroos graze before you, and relaxing by the fire with nothing but open space as far as the eye can see.
Narrows Escape Rainforest Retreat
If you truly want to feel like you're part of the rainforest, Narrows Escape Rainforest Retreat is your dream accommodation. These luxury cabins are located in the dense Sunshine Coast Hinterland, with the trees so close you can touch them from your outdoor hammock. Experience the sensation of feeling cocooned in amongst the bushland and enjoy the luxurious pavilions, complete with a log fire and deep double spa baths for ultimate romantic vibes.
Lillypilly's Cottages and Day Spa
Stepping up the relaxing weekend away is Lillypilly's Cottages and Day Spa. The cottages themselves are decked out with everything you need for a weekend escape from city life, boasting glorious lakeside views and luxe interiors. What sets Lillypilly's apart from other weekend getaways is their Sanctuary Day Spa. Spend a full day treating yourself to two-hour massages, hot stone treatments, their jacuzzi with a view experience, and a gourmet lunch with BYO champagne.
Rainbow Beach Ultimate Camping
To truly experience the natural beauty that the Sunshine Coast has to offer, camping is the way to go. Rainbow Beach Ultimate Camping will set you up with a fully prepared camping site right on the beach so that you can skip all the boring stuff, show up and enjoy the serenity. We're talking everything you need already sorted, from your own private toilet and shower to cooking facilities and even meals and seafood platters delivered directly to your already pitched tent. Why camp when you can ultimate camp? The camping site is now open but Cooloola Recreation Area is delegated a Restricted Access Area so make sure you do your research here before you head off.
Atlantis Marcoola Beachfront Resort
Finally, we have the ultimate beachfront resort if you're looking for uninterrupted ocean views, Atlantis. The selling point of this resort is its prime location, less than 100 steps from the beach. Even if you somehow grow tired of the views and beach access, the resort comes with all the entertainment trimmings you could want, from in-room luxury to outdoor tennis, a heated lagoon and spa, and a basketball court.
Pack your bags, the Sunshine Coast is waiting and there's no better excuse to explore our beautiful backyard than to support Queensland businesses that need your help right now. Join our 20For20 Challenge here.
Editor's note: This article is sponsored by Tourism and Events Queensland and proudly endorsed by Urban List. Thank you for supporting the sponsors who make Urban List possible. Click here for more information on our editorial policy.