No matter what you're after, Listers, we always deliver. And everybody needs a cheeky cheat meal every now and again (or more often than not). If you love #dirtyeating as much as we (not-so) secretly do, you'll love our list of 25 of the best fat feeds in Sydney. Leave your inhibitions and belts at the door – it's time to get down and dirty in a pile of greasy, sugary goodness. Salad can wait, you've got eating to do!
1. Brewtown, Newtown – The Elvis Burger: ground beef, Canadian bacon, gruyere, mayo and relish on a savoury Brewnut with chips
2. Gelato Messina Dessert Bar, Darlinghurst – Carni Candi: Waffle cone filled with Fanta sorbet, redskin custard, strawberries & cream jellies, dipped in chocolate and topped with fairy floss
3. Bertoni Café, Balmain – The Lasagne Burger: a wagyu patty, mozzarella and Italian sauce between two slabs of fried lasagne and a side of chips
4. Mr Crackles, Darlinghurst – Crispy Pork Nacho Fries: shoestring fries with tomato salsa, shredded cheese, and spring onions topped with roast pork and crackling
5. Love 'Dem Apples, Surry Hills – Picnic: Granny Smith apple dipped in caramel, rolled in peanuts and drizzled with chocolate
6. Hot Star Large Fried Chicken, Sydney CBD – Original large fried chicken as big as your head
7. PappaRich, Parramatta - Deep fried chicken skin
8. The Stuffed Beaver Dining Parlour, Bondi - Classic Poutine: Chunky beer battered fries covered with gravy and cheese
9. Ms G's, Potts Point - Stoner's Delight part 3: Doughnut ice cream, peanut dulce de leche, peanut & pretzel brittle, crispy bacon, Mars Bar brownie, potato chips and deep fried Nutella.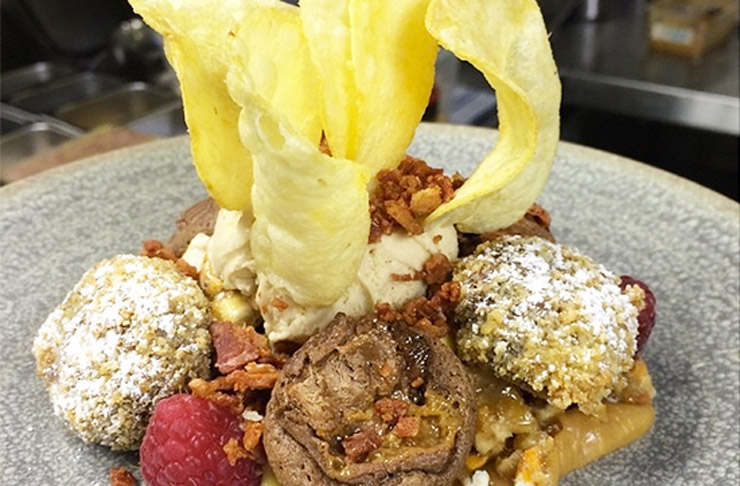 10. Harry's Café de Wheels, Woollomooloo – Harry's Tiger: Chunky lean beef pie with mushy peas, mash and gravy.
11. The Laughing Goat, Kogarah: Black Poison Thickshake: a whole chocolate brownie blended in!
12. The Chip off the Old Block, Chippendale: Bacon and chip butty with caramelised onion and tomato relish
13. Bavarian Bier Café, Manly: Bavarian Tasting Platter: Crispy pork belly, haus sausages, schnitzel, sauerkraut, red cabbage, creamy mash, granny smith apple compote and bier jus.
14. Braza Brazilian Barbeque, Newport - Traditional Churrasco: All you can eat meats!
15. Cowbell 808, Surry Hills – The Fat Stack Hotcake: Two ricotta hotcakes, marscapone, bacon ice cream, espresso caramel sauce and an optional side of bacon.
16. The Chef and the Barista, Neutral Bay – Nutella Doughnuts: Warm cinnamon donuts filled with gooey Nutella.
17. Mary's, Newtown: Double Mary's Burger with trashcan bacon
18. The Oxford Tavern, Petersham - The Jelly Wrestle: Four jellies, ice cream, caramel popcorn, waffles, chocolate sauce, raspberry sauce, whipped cream, cherries and more…
19. Una's, Darlinghurst - Deep fried camembert.
20. The Forresters, Surry Hills – The Nacho Double Dawg: A hot dog featuring two full-length tortilla crumbed smoked franks, chilli mince, guacamole and sour cream, with fries on the side.
21. Crown Street Fish Shop, Surry Hills – Battered and deep fried Mars Bar.
22. Brooklyn Social, Surry Hills - Fried chicken and waffles
23. The Morrison Bar & Oyster Room, Sydney CBD: Duck Fat Fish & Chips served with mushy peas, mint and gherkin mayo
24. Mr Wong, Sydney CBD - Mr Wong's Fried Vanilla Ice Cream: served with butterscotch sauce
25. The Goni's Schnitzelria, Marrickville – The Aussie: A HUGE chicken schnitzel with ham, fried eggs, beetroot and cheese.
Image credits: The Morrison Bar & Oyster Room, Ms G's