By day, Two Chaps is a Marrickville café serving up delicious coffee, roasted by their very own coffee man, The Blind Coffee Roaster. Don't take this the wrong way, because the coffee here is on point; but the real magic happens on Thursday and Friday nights. Their BYO pasta nights are the stuff of suburban legend; when locals come to feast on weekly pasta offerings and of course, a sneaky dessert.
You'll spot Two Chaps by the roller door that separates the alley-style restaurant from the street. Here pasta nights are treated like the romantic affair they should be—because there is no more intense love than the love one has for fresh pasta, amirite? The lighting is dim, with candles scattered on each table. I wandered in, with my favourite bottle of wine and sat at the bar, so I could watch the magic happening in the kitchen—I'm nosy, what can I say?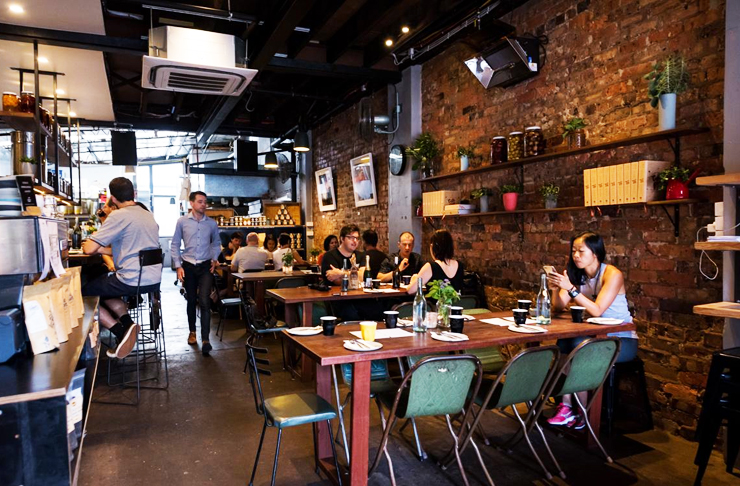 One look at the menu and I knew that I would have a decision on my hands—albeit a pretty damn easy one—to order the set menu, or to not order the set menu? I ordered the set menu. I mean, it's $55 and includes corkage and all of the goodness I'm about to rave about—no brainer.
The entire menu changes weekly and is designed to share, so you don't have to worry about missing one of the dishes, because you'll get your chance to try each and every one. We started with marinated olives, house made grissini with smoked tomato dip and a selection of local Australian cheese and antipasti. It's how every pasta feast should start, in my opinion, and this pleased me. Next was the garlic and rosemary focaccia, perfectly chewy, delicious and I may or may not have set some aside for future pasta sauce mopping up (and I recommend that you do the same).
Now onto the pasta, because let's be honest, that's the real reason you're all here. It's prepared in house and on the night I hopped along to check it out, the first cab off the rank was a saffron casarecce, with roast pumpkin, green olive salsa verde, baby chard, walnut and fresh ricotta.
Next was a spelt spaghetti with tomato parmesan ragu, chilli and fried capers which proved once and for all that pasta with tomato is one of the most perfect love stories of our time (probably ever). We've saved the charcoal raviolo 'til last because Two Chaps are known for raviolo, meaning that they absolutely love it and nail it every single time. This one is a black charcoal pasta, filled with Portobello mushroom and buffalo ricotta, green garlic and nettle butter with nasturtium. Now, we saw them cooking up these bay boys on their Facebook a week earlier, and we're still thinking about it—so yeah, these little pillows of heaven were delicious.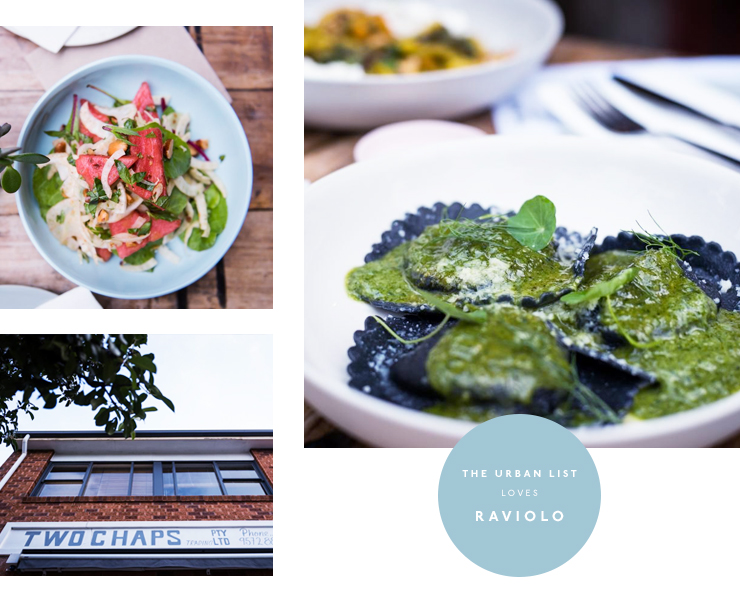 I'll cruise on over the salads portion of the meal, of which there were two, involving things like shaved fennel and lemon oil. The salads are good, don't get me wrong, I just get a little bit distracted with this much carb on the table (you feel me, right?). Speaking of which, while I was chowing down on all things pasta, I noticed people coming in for a glass of vino and a sneaky dessert, which should tell you that it's worth the trip, even if only for the sweets.
First there was the chocolate bomboloni with espresso marshmallow cream and cardamom, followed by the sweetcorn gelato waffle cone, with blueberry and crème fraiche. If you order the set menu, you'll get one of each to share with your mate, and if that isn't reason enough to order the set menu, then I really don't know what is.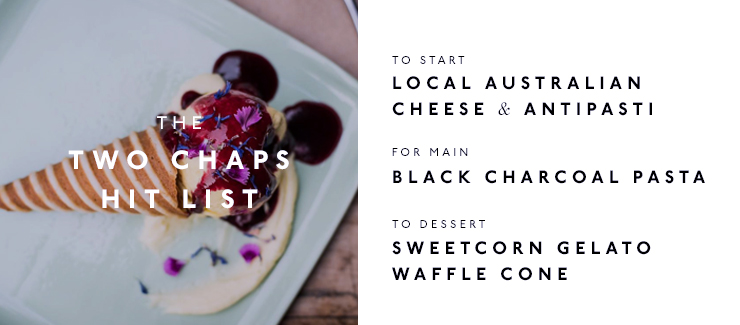 The pasta nights at Two Chaps are—in our opinions—the best way to kick off a weekend of feasting. You can check out this week's menu here.
If you're looking for your new local on the East side, then check out our verdict on Zebra Green.
Image Credit: Caitlin Hicks