Double Barrel Kitchen & Bar, the sister venue to Mermaid Beach's popular cafe of the same name, has arrived at the perfect time.
This striking, sun-drenched venue—with its Tasmanian Oak and pressed metal bar, salvaged hardwood beams lining high ceilings and dreamy cluster of rattan pendant lights completing the magazine-worthy backdrop—has just filled a gaping hole in the hearts of the Coast's social northern set.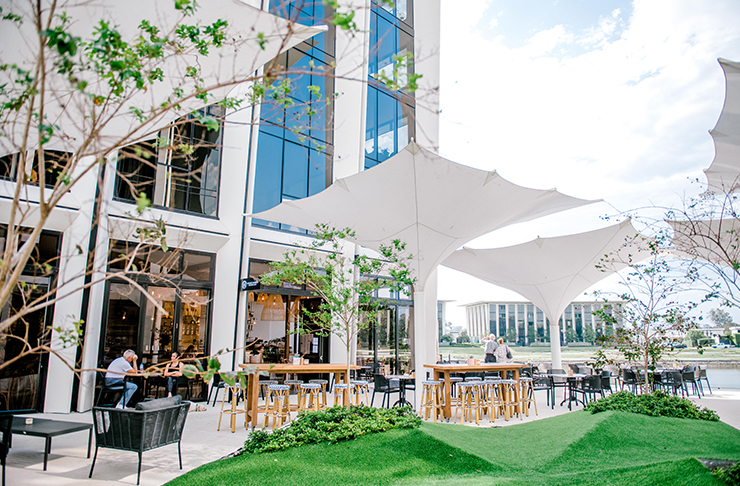 The handiwork of much-loved locals Jess Winters and Peter Tutton, Double Barrel Kitchen & Bar is the centrepiece of Sunland's recently completed Marina Concourse residential precinct in Benowa, and we're totally smitten.
With an enviable waterfront location and lounge-worthy deck chairs out front, it's a special setting that simply draws you in to linger. Open seven days for breakfast and lunch, you'll have a hard time deciding between signature dishes like the cauliflower, cheddar and corn fritters topped with poached egg and hollandaise, or the moreish Granny Smith apple and Rosella compote country pie with coconut yoghurt and honeycomb that would make nanna proud. With a breakfast cocktail menu available from 10am, you can order an espresso martini, bloody mary or a mandarin mimosa with your Canadian-style protein pancakes and no one will bat an eye.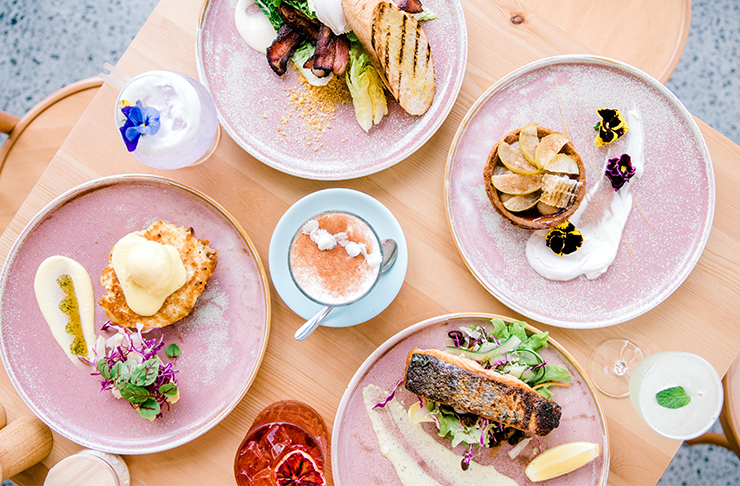 Double Barrel Kitchen & Bar's extensive lunch menu doubles as a dinner menu on Fridays and Saturdays, when the venue keeps the lights on for late trading—perfect for post-work wind downs and weekend dates for two or a group. We can totally recommend the crispy skin Atlantic salmon, Thai glass noodle salad, roast pork roulade or large share plates of slow-cooked beef chuck ribs and baby back pork ribs rubbed with Southern-style spices. Wash it all down with vino, cocktails or beers on tap from locals Black Hops and Stone & Wood, and you'll never want to leave.
With the new Sahaja yoga studio across the corso and plans to fit out the marina-side deck with more couches and umbrellas that will scream afternoon drinking session, Double Barrel Kitchen & Bar has instantly established itself as a social hub for the hundreds of lucky residents who live within walking (i.e. stumbling) distance. For the rest of us? This stylish newbie is totally worthy of a jaunt to Benowa to raise a toast to the good life—babes and fur babies welcome too.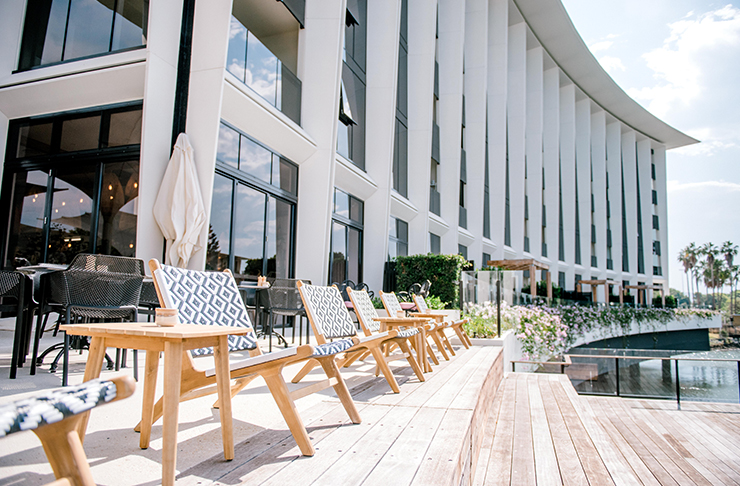 Double Barrel Kitchen & Bar is now open seven days from 6am for breakfast and lunch, plus for dinner Fridays and Saturdays, with live music on Sunday afternoons between 3pm and 5pm.
The Details
What: Double Barrel Kitchen & Bar
Where: 5/1 The Marina Concourse, Ross Street, Benowa
When: Daily for breakfast and lunch from 6am, Fridays and Saturdays until late and Sundays until 6pm
For more information, click here.
Image credit: Kaitlin Maree for Urban List