If you were to ask what really warms our cockles about the Gold Coast's exploding hospitality scene, it would be this: The growing number of respected, well-established, hands-on cafe and restaurant owners, who are so heavily invested and trusted in the future of the Coast, that they are opening second, third, sometimes even fourth venues. That, or they're constantly expanding, tweaking and reinventing themselves to keep up with our ever-rising expectations.
These guys have nailed their formula, know the local market intimately, and have deservedly garnered a loyal clientele base who'll follow them wherever they go. They are Gold Coast's hospitality royalty who're carrying our fair city into a new era of awesomeness.
One such power duo is Liz Ennis and Dean Hyland, founders of Palm Beach's OG cafe Barefoot (Barista) and Burleigh's Borough (Barista). Just this week these home-grown legends have added another family member to the fold, launching Background (Barista) in Mermaid Beach's busy retail complex—right next door to Poke Poke.
Channelling everything they've learned over the years, paired with some solid research trips to Melbourne and Sydney, they've created a sleek and understated city CBD-style cafe unlike anything else on the Coast, while maintaining their signature detail and personality.
From the (50) shades of grey in the buffed concrete floors, rendered concrete ceiling, polished stone tiles, overflowing planter boxes, custom island bench with wifi and power points for laptop slaves, and a Blackbutt wood artwork piece suspended from the roof bringing warmth while tying everything together.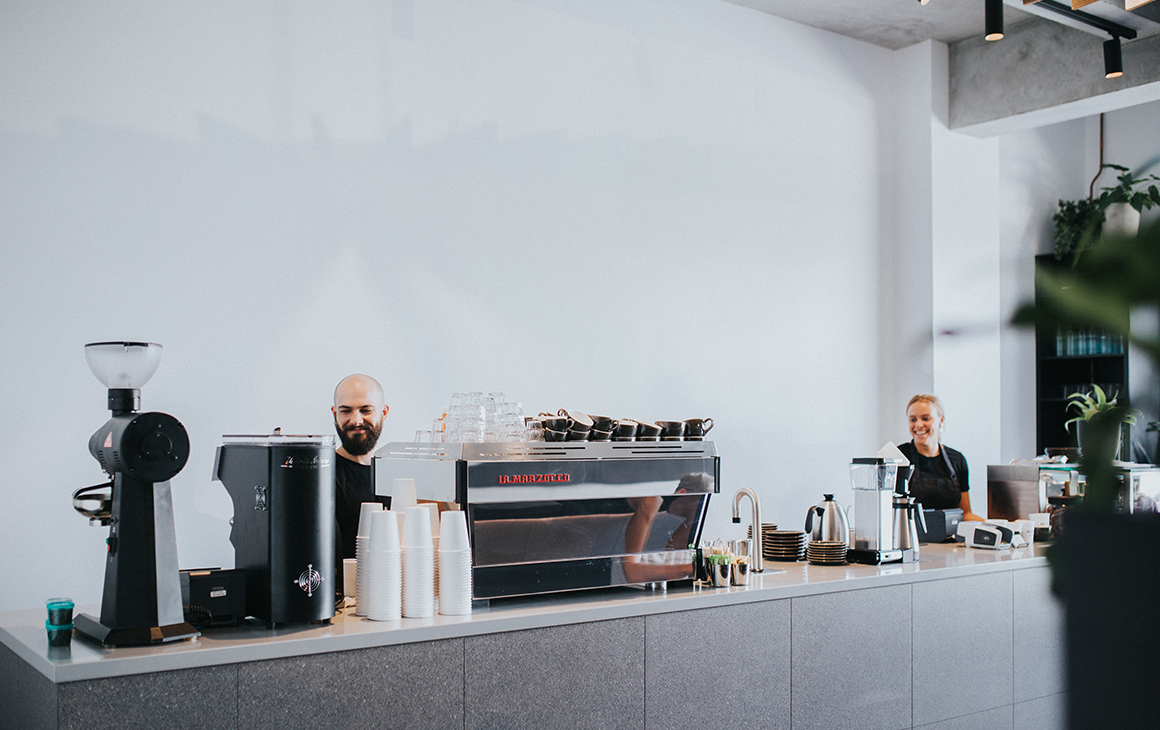 They're justly proud to have purpose-built the Coast's finest new barista 'office'. Complete with a schmick i-milk dispenser, which sensor measures each cup pre-heating (no more wastage!), plus temperature controlled water heaters and scales to maintain uniformity every step of the way when preparing complex and full-bodied single origin AeroPress cuppas. Here coffee runs in their veins and it's the passion and staunch consistency in their brews that sees coffee-lovers following them all over town.
And the name? Liz and Dean know they wouldn't be where they are today if it weren't for those working tirelessly (and often anonymously) in the BACKGROUND. Be it their super-star staff, including barista Rogan who's loyally grown alongside them since the early days. To their lifeblood, their suppliers, like Sam from Gabriel Coffee who delivers his speciality single origin and blend roasts; or Brett from Tyalgum who has long grown and supplied their greens (hello amaze-balls baby kale). There's Barry from Ipswich's Summer Salads, plus butchers BJ from Kingswood Park, and Steve from down the road at Nobby Beach's Gourmet Meats—all folks symbolising the unsung heroes of our culinary boom.
We've long believed Palmy's Barefoot (Barista) is dishing up some of the Coast's most satisfying and imaginative (not to mention generously sized) breakfast dishes, so we're delighted head chef Ash has stuck to his guns at the new cafe. There's nothing more disappointing than spending upwards of $18 on breakfast only to walk away thinking you could've made the same dish at home yourself. Which is why we've always returned to Barefoot (and now Background!) as the servings are plentiful without being heavy, the produce is local and fresh and the execution is bang on. #breakfastgoals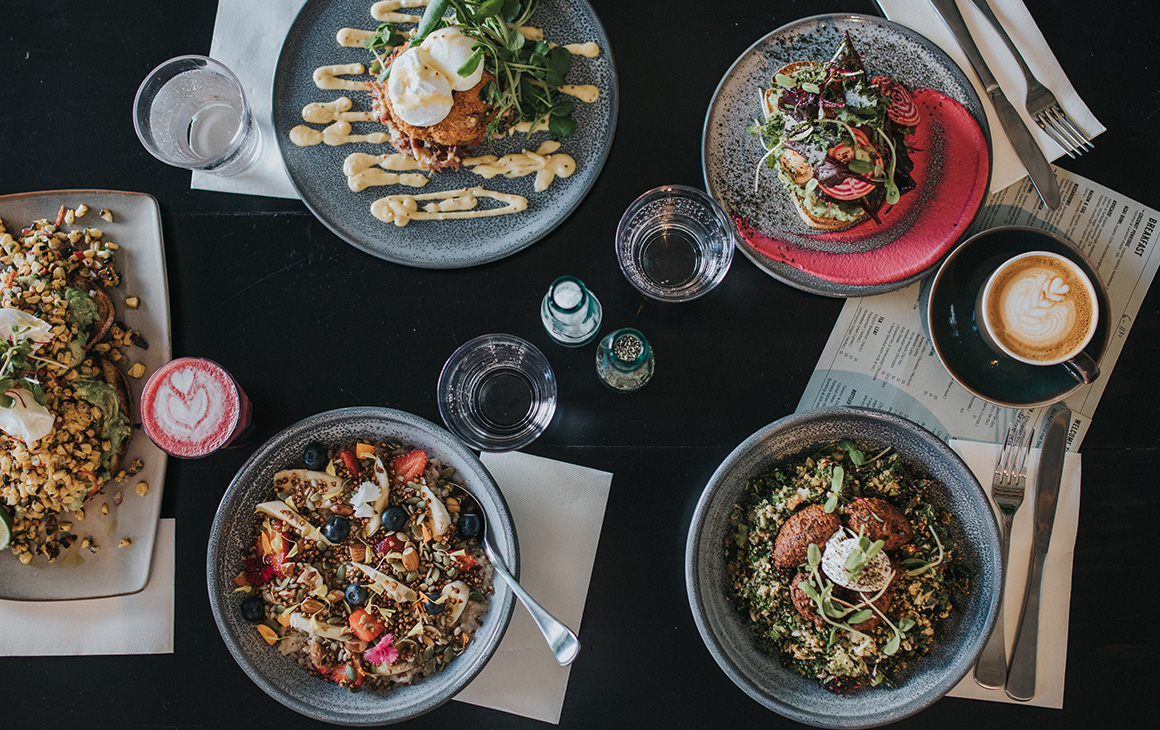 Today, Mermaid Beach residents and visitors can enjoy signature dishes like the Crispy Potato Hash with pulled ham hock, watercress and mustard hollandaise, or the famed corn board, now branded the Corn Char, thanks to a new chargrill providing that extra level of smokiness. Our personal fave has gotta be the nourishing Zucchini Haloumi Fritters on a crunchy salad of baby kale, cauliflower, seeds and nuts or, if Insta-worthiness is high on your priority list, the ricotta hotcakes with Canadian maple and mascarpone will guarantee a flood of heart eye emojis.
But the menu doesn't stop there. Come 11:30am, new lunch additions include the Background Ribwich with 14-hour slow cooked beef short rib, Nimbin Valley cheddar and bacon jam, or the organic beef burger with Balter XPA battered onion rings, house-pickled onion, and wife-made chutney have us seriously drooling. Vegetarian? There's plenty on the menu for you too.
Finishing off the new space, come February, will be a head-turning covered outdoor deck that Liz has dubbed 'The Nest'; constructed with Blackbutt and Cypress timbers and taking the cafe's seating capacity to 70 peeps. There's also talk of a liquor licence and potential twilight hour offerings when the heat of summer passes. But in the interim, waste no time folks and go get friendly with your new local!
The Details
What: Background (Barista)
Where: 2375 Gold Coast Highway, Mermaid Beach (next door to Poke Poke)
When: Open seven days; 5:30am to 4pm Monday to Friday + 5:30am to 3pm weekends
Looking for more Mermaid Beach goodness? We've rounded up the best things to eat, drink and do here.
Image credit: Hayley Williamson for The Urban List