If you like your meal with a hearty dose of character, you're going to loooove Póke Póke, which swings open its rustic wooden doors in Mermaid Beach today!
Six months ago, we managed to rummage together three joints ahead of the trend, serving a poke bowl salad on the menu (pronounced poh-kee, gang) and since then we've observed a steady stream of poke bowls popping up in cafes across the Coast.
Inspired from her recent travels, Póke Póke's owner Morgan Walsh, one half of much-loved Mexican taqueria Bonita Bonita and BonBon, knew this traditional Hawaiian dish, that has exploded in popularity across the western world, was destined to do the same on the Gold Coast. So, as any savvy hospo veteran would do, she took the idea firmly in both hands and ran with it, thus the idea for Póke Póke was born.
And because #GoldCoastlife can at times feel uncannily like we're marooned on a Hawaiian or Caribbean Island, it was only natural to recreate a little slice of island time right here for all to enjoy.
First to steal your attention is an intriguing cave-like window, which brings the outside in and is adorned with hanging green bananas, waiting to ripen and make their way into your smoothie. Hand-carved tiki woodwork lines the exterior and a characterful paint-chipped door was salvaged and now takes pride of place at the entry. Inside, the bar stools and rattan tables are one-of-a-kind, handmade by fusing together various parts and materials.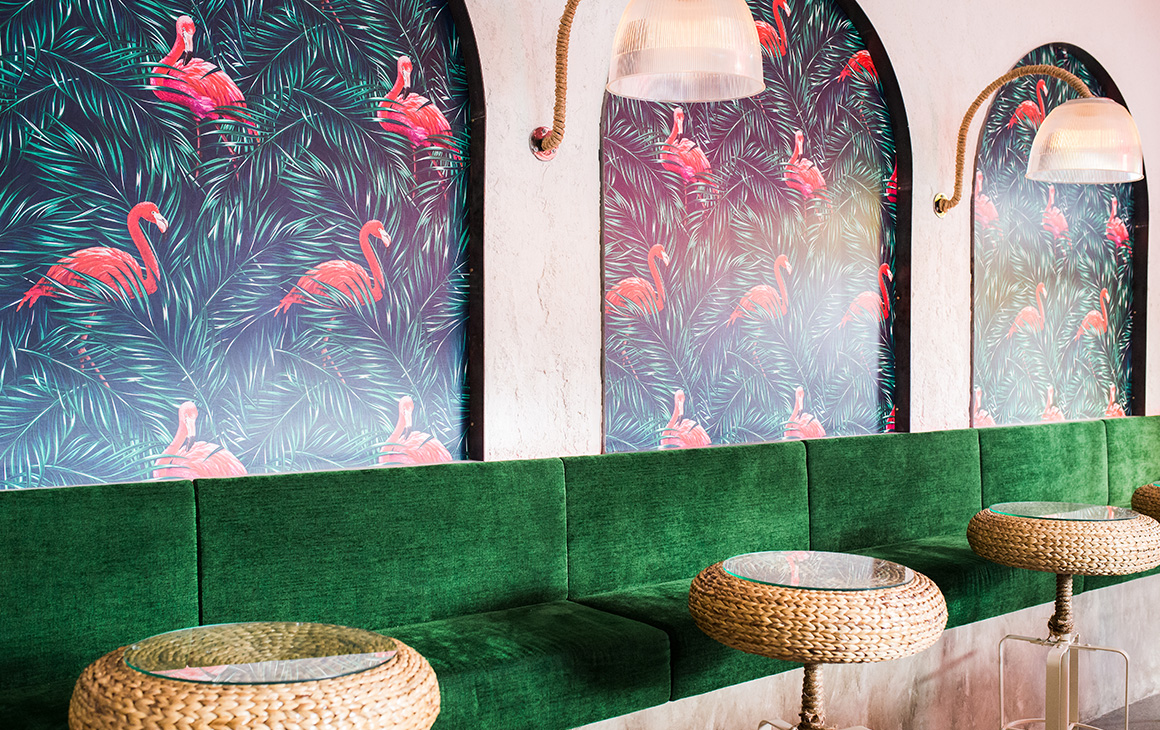 Tropical splashes of flamingo print wallpaper fill arches in the stucco walls and a vibrant emerald green couch runs the entire length of the narrow restaurant. While a stained glass window and neon 'Okey Dokey it's time to Pokey' sign throws pink and yellow hues across the eatery. Basically there's a whole tonne of fun and good vibes radiating outta this unique little joint.
Tapping into the healthy eating set, poke is all about the good stuff: cured raw fish traditionally on a bed of rice (brown, white or green in this case) and served with a plethora of veggies makes these little bowls not only filling, but tasty to boot. Oh, and they're totally gorgeous, so expect to see them blowing up on your Insta feed this weekend.
We tried and loved the Tuna Me On, piled high with soya marinated sashimi grade tuna, chunky avocado, crispy plantains and wasabi mayo on brown rice, and the Fresh Off The Boat with 'fresh as' salmon, zucchini noodles (zoodles), radish and seaweed with wasabi mayo on brown rice. It's the kinda guilt-free dish you can eat mid-morning and will keep you satisfied until dinner.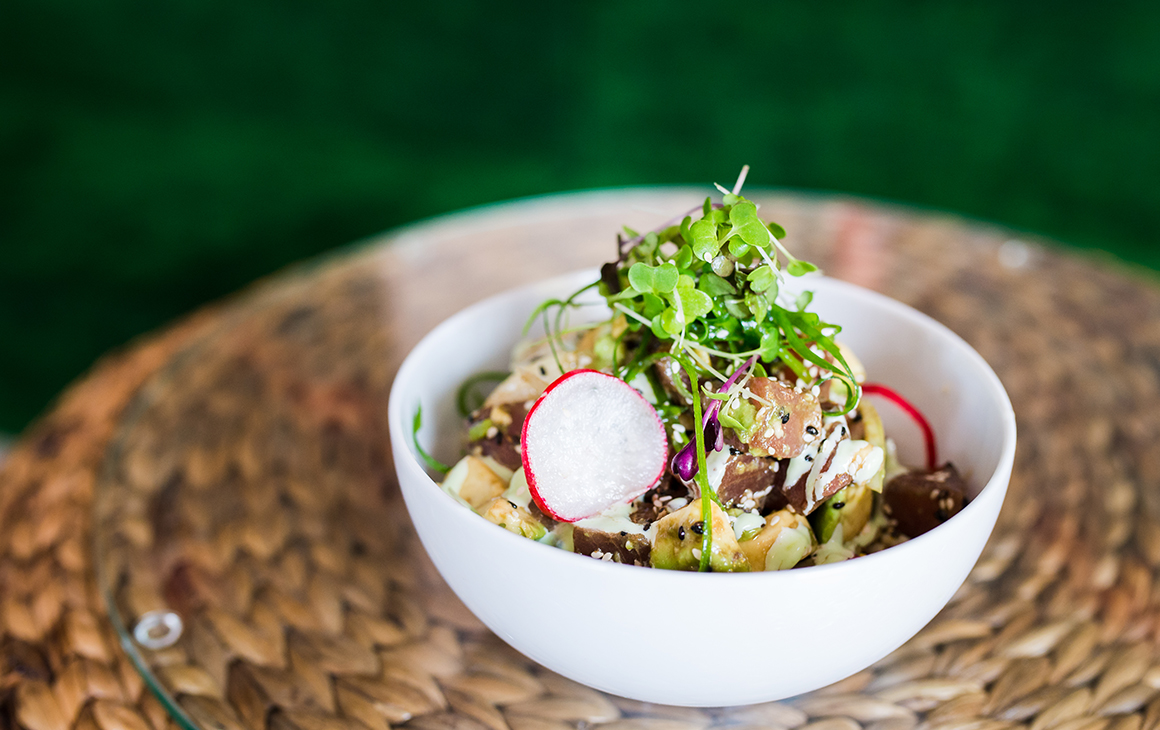 There are plans that you can eventually build your own salad, though we think you'd best be working your way through the 10 different pre-designed menu offerings first, before a custom-made option will even begin to cross your mind.
After something lighter? We'd opt for a smoothie bowl served in a rustic coconut shell, like the avocado, kale and spinach green smoothie bowl adorned with edible flowers, strawberries, goiji berries, coconut shavings, slithered almonds and cacao chips—taking a photo of your food will be insanely hard to resist. Go on, we're guilty too.
Still mourning the loss of Mermaid Beach's Roti Hut, Morgan was also eager to bring this flavour-packed Jamaican-style street food back to the Gold Coast. Roti wraps dominate half of the menu offerings at Póke Póke, and it's the fragrant curry that first hits your nostrils when walking through the front doors. A filling meal all on its own, pair your roti with a Day-O cold pressed juice (carrot, apple, ginger and turmeric) or a Harvest Pinot Gris from Adelaide Hills ('cause it's five o'clock somewhere) and nab a spot in the sunshine on the breezy white lounger outside.
Póke Póke, the Gold Coast's first dedicated poke bowl (and roti) bar, is now open in the commercial complex adjacent to Vintage Espresso, currently operating seven days from 8am to 8pm. Shimmy in this weekend and say hi!
Where: 2375 Gold Coast Highway, Mermaid Beach
Learn a little about the lady behind the poke, when we chat with Morgan Walsh.
Image credit: Brooke Darling for The Urban List