And just like that one of the most highly anticipated new openings of 2018 is finally ready for business, and we're thrilled.
Tucked away in unassuming and cosy Cooroy is where you'll find this hidden gem. We announced earlier this year that the bakery portion of Circa Cooroy was open, and now the pièce de résistance is here, let us introduce you to the bistro at Circa Cooroy.
The bistro is located at the back of this large and meticulously renovated former garage and is serving up more substantial dishes, something you can really sink your teeth into. Think: moreish truffle mushroom risotto, al dente prawn spaghetti with white wine and chilli, and of course… traditionally and unapologetically French steak frites.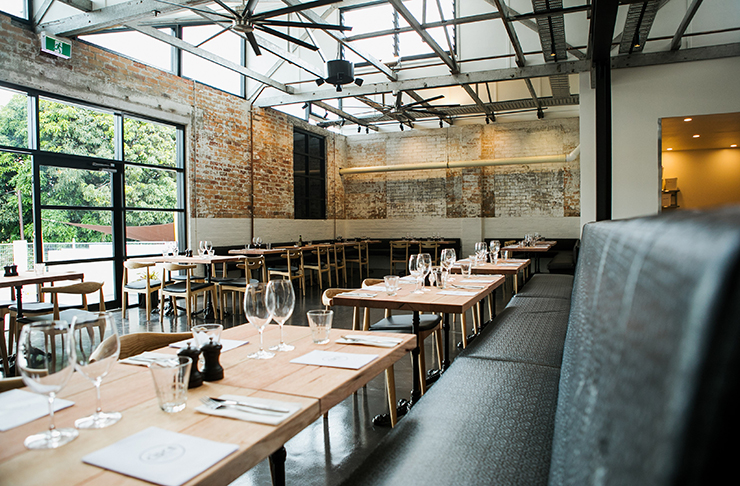 They're also servin' up authentic wood fired Neapolitan-style pizza bases with a variety of nommy toppings and we are next level obsessed. Our current faves are the mushroom with taleggio cheese and the prosciutto with olives and rocket. They're both crispy and perfectly crunchy, just like they make it back in the old country. After all, the best pizzas are often the simplest.
Circa Cooroy is the latest instalment from the folks over at Noosa Hot Bread Shop. That's right, the husband and wife dream team who are responsible for the deliciousness that is Noosa Hot Bread Shop have just opened this location and it's shaping up to be their finest creation yet.
When Craig and Maeva McCabe first saw the location, they knew it was meant to be. Circa is housed inside a former mechanics garage that they've tirelessly renovated and refitted. Everything inside is new and has been handcrafted to fit the unique interior. It's obvious this passionate pair has approached the project with perfection in mind and every detail has been made with the utmost care and thoughtfulness.
Picture this: polished concrete flooring, floor to roof oversized windows, raked ceilings, exposed brick and touches of untreated timber and you've got yourself a modern, yet warm and inviting space. There's also a full service bar, with ample room for a drinkies sesh with your faves on a lazy Sunday afternoon. Cocktails at Circa Cooroy are surely set to become a thing we're predicting.
We're confident Circa Cooroy will be a unique dining destination for all foodie lovers. New ventures such as this don't come around often and we're sure locals and out-of-towners alike will be flocking to this latest hotspot like bees to a honey pot!
THE DETAILS
What: Circa Cooroy
Where: 34 Maple Street, Cooroy
When: From 12pm till 2pm + 5pm till 8pm
Do you love new openings in the Noosa area? Have your checked out Larder & Baked yet? What about Land & Sea Brewery or Ricks Artisan Pies & Sourdough?
Image credit: Amy Higg for The Urban List