Unless you've been living on another planet, you're likely to have come across the epicness that is Sticks & Stones Agency.
Pretty much an online magazine, featuring "rad people doing rad things", you'll find exclusive photoshoots, articles, interviews and videos that push the boundaries and social norms.
The woman at the helm is no other than Sunshine Coast local Ainsley Hutchence—a creative director, mum, food-lover and all 'round cool chick.
We caught up with Ainsley to find out where and what she's eating in between launching books, shooting campaigns for awesome labels and keeping the content rolling out on the Sticks and Stones Mothership.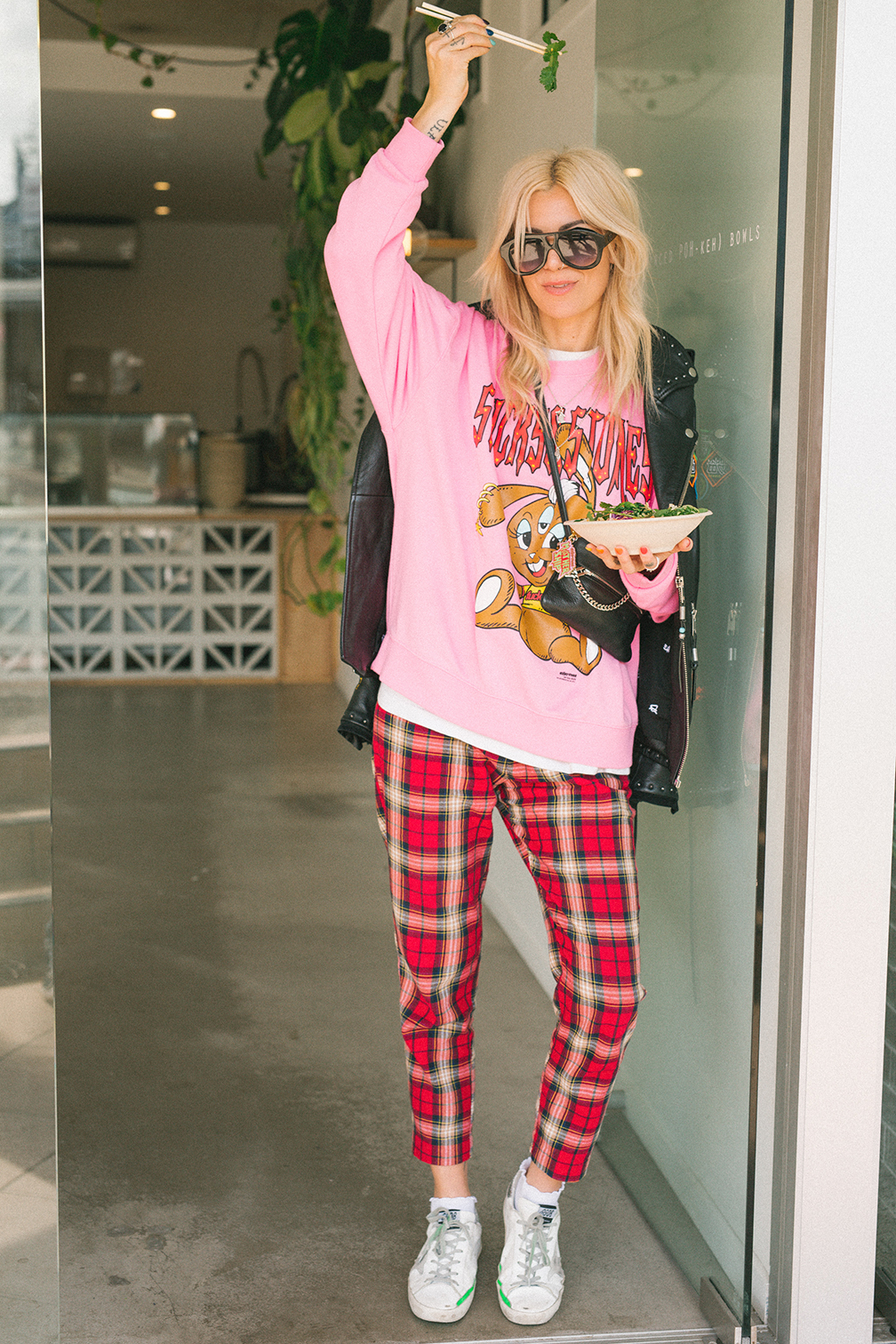 How do you start your morning?
Generally speaking, a shower, smoothie filled with as many health fad powders and fresh greens as my Nutribullet will allow, make school lunch for my 12-year-old daughter (while I tell her that I was making my own lunch from age 6), walk our big beautiful Italian Mastiff to our favourite coffee shop and his favourite dog boutique. Then, it's time for school drop off and the gym.
Breakfast o'clock?
I can't seem to handle too much food in the morning, so it's usually the greenest smoothie I can make sometime during the mad morning rush before school drop off at 8am. On recovery days, I'm all about vegan pizza from Cafe Nurcha on Wises Road.
It's lunchtime, where are you heading and what are you ordering?
I usually work from my laptop at one of my favourite coffices—either Project Espresso in Maroochydore or The Velo Project in Mooloolaba. Lunch is usually a plate of "sides" prepared to perfection; wilted spinach, poached eggs, haloumi, mushrooms (I'm more of a snacker). On hungrier days, I can't go past the vege burritos at Project Espresso. On the weekend, my amazing friends at Raw + Rice have the freshest, yummiest poke in town right across from Mooloolaba Beach.
The dreaded 3pm dip. What's the snack plan?
For an arvo pick-me-up Raw Cacao Powder changed my life! One heaped tablespoon in boiling water with honey and hot coconut milk. Perfect boost in the afternoon and delicious AF. By this stage, I'm usually home after school pick up &andsnacking on whatever my daughter didn't eat at school. Sometimes my sweet tooth sends me to Flannery's Health Food Store for a chocolate bulk bin treat. Love that place!
After work drinks—Who's making and what are you having?
Orleans on Duporth Ave and Boston Shaker in Mooloolaba make the perfect espresso martinis. If it's a beautiful afternoon, then The Boat Shed is ideal for a great sunset wine. But if I'm feeling like a drive, some of my favourite places are on Hastings Street overlooking the incredible Noosa coastline.
Where do you hit for a mid-week dinner?
If I eat out during the week it's because my partner and I both have loads of work on which means we usually get something quick and easy to take away. It's always Indian. Either Curry Bowl in Buddina or Bombay Bliss in Maroochydore. Three serves of papadums with a lentil curry every time.
Or, if it's a Saturday night?
For me Saturday nights are all about dressing up and finding a good vibe. Light Years in Noosa is my first choice! The atmosphere is so fun and the food is next-level.
Massive thanks to Ainsley for bringing the goods! To stay in the loop with all things Sticks & Stones Agency, check out their Instagram and website.
Image credit: Troy Freyee | Raw + Rice Mooloolaba