Is restraint your middle name? Do you willingly order "Just two entrees, no dessert thanks"? Do you politely decline complimentary bread? If so, this article may not be for you…
On the other hand, if you scan the dessert menu before you read the rest of the menu to make sure you save room for pud, or you schedule meetings for 11.30am in the hope that your colleague will suggest "just going for lunch instead", then you've come to the right place.
Without further ado, we present to you the best all-you-can-eat restaurants on the Sunshine Coast.
Noosa Beach House
Noosa Heads
Breakfast is totes the most important meal of the day. Which means it's probably mandatory to eat a buffet brekky at least… oh, I don't know, twice a week? Noosa Beach House covers all your brekky buffet basics—eggs benedict, fresh seasonal fruit, pancakes with bacon, and of course, a designer omelette bar. There's also plenty of fresh pastries and hash browns, as well as a 'make your own juice' bar. The best part? You can keep heading back to the bar as often as you need to fill up on these freshly made goodies.
Hathi Indian Restaurant
Alexandra Headland
Hands down one of the best all-you-can-eat restaurants on the Sunshine Coast, if you need a spicy Indian fix, stop by Hathi Indian Restaurant for their legendary buffet, Thursday to Sunday from 5pm. With a buffet full of hearty curries and Indian breads, we promise you will walk out with turmeric stained fingers, a full belly, and a look of blissful satisfaction on your face.
Corbins
Maroochydore
Is there anything better than yum cha? Well actually, yeah, there is. And that's all-you-can-eat yum cha and beer. Corbins hosts its epic Sunday 'Beer-Cha' for Sunny Coasters in the know who are looking to fill their tummies without emptying their wallet. Fifty bucks will get you three beers and nine courses of the chef's finest food. Think bao, kimchi fried chicken wings, and banh mi pork rolls. Book early to get a piece of the action.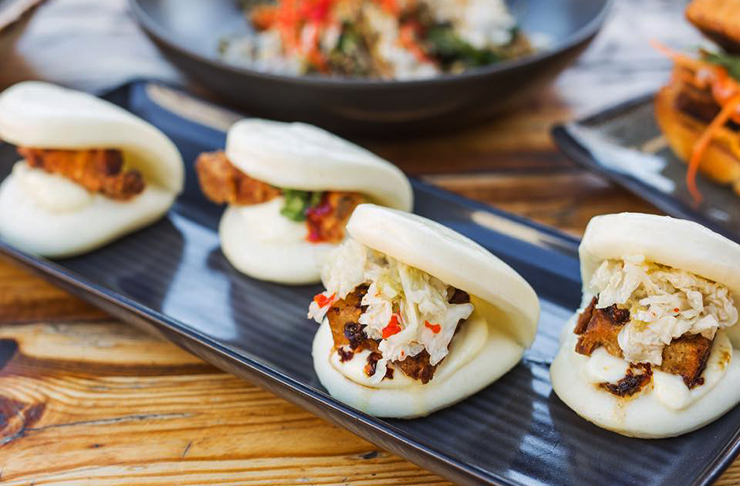 Samba Grill
Noosaville
At most buffets, you've got to go up again and again to fill your plate. And let's be honest, it sometimes gets a bit awkward when you're heading up for sevenths… Well, Samba Grill takes out the awkwardness and brings the food to you on pretty impressive-looking skewers. Probably NOT one for the vegos, Samba Grill lets you control the pace of your feast. Simply display a green symbol when you're ready for another one of the 11 charcoal-grilled meats on offer, including pork, chicken, lamb, chicken wings, beef, chorizo, and even chicken hearts (trust us, give them a go, they're actually yummy!). Then, when you simply can't fit in another bite of traditionally cooked meat, just display a red symbol to let them know you've had enough. Easy as that!
Nouveau Restaurant
Twin Waters
You want all-you-can-eat? Well, this has to be one of the best all-you-can-eat restaurants on the Sunshine Coast! From Sunday to Thursday every week, the Nouveau Restaurant at Novotel Twin Waters serves up a truly amazing buffet spread. Think fresh seafood, roasted pork belly, succulent lamb racks and a selection of delicious pastas. There's also a dessert buffet where you can get creative at the 'make your own sundae' station. Need we say more?
The Boathouse Restaurant
Mooloolaba
If you're looking for the best value hot brekky buffet on the Coast, with pretty much the best view ANYWHERE, The Boathouse Restaurant at The Surf Club Mooloolaba is the ideal spot for a lazy Sunday morning. You can go for a greasy, toasty, bacon-tastic feast, or you can take a look at the toned, tanned, fabulous beach bodies in the surf, and go for something a little lighter—either way, you'll only pay $17.50 for all-you-can-eat goodness. We guarantee you're not going to find many other brekky options on the Coast for that price!
Seafood Cruise Mooloolaba
Mooloolaba
Got a special occasion coming up? Or just love a good feed? Then this place is for you. Hop on board a cruise ship for a buffet experience like no other. Watch the sun set on the ocean while The Seafood Cruise Mooloolaba floating restaurant offers up a truly amazing buffet feast full of fresh seafood and char grilled Aussie classics. The boat can be booked out for special occasions, but is also open regularly for casual dining. Be sure to book ahead!
Ok so now you've eaten to your hearts content. What about some exercise? We've rounded up the best running tracks on the Sunshine Coast here. We've also rounded up the best hikes on the Sunshine Coast here.
Image Credit: Supplied to The Urban List and Corbins