A leisurely breakfast overlooking the sparkling waters of Mooloolaba Beach; it reads like a picture-perfect promo for the Sunshine Coast, so it's no surprise Mooloolaba is always a popular location for early risers looking for a bite to eat.
Whether you're hitting the esplanade, The Wharf or frequenting one of the local gems squirreled away in the back streets, here's where you'll find five of the best breakfasts in Mooloolaba.
The Velo Project
Quirky and cool, The Velo Project is reminiscent of the kind of hipster eatery you'd expect to find in North Melbourne, and with all of the creature comforts of home—lounges, lampshades and family photos on the wall—you'd be forgiven for wanting to roll up to breakfast in your pyjamas. Serving Kai coffee for the big kids and their famous unicorn baby chinos for the little kids, these guys are famous for dishing up some of the best breakfasts in Mooloolaba. Every plate that leaves the pass is dressed to impress… even their fruit loaf comes complete with raspberry compote, whipped lime and coconut cream cheese, fresh local berries and chocolate soil! Upon each visit to Velo, you'll find endless temptation, and to be honest, the lineup of eight epic crepes are enough to have you returning every day of the week.
CK Coffee Bar & Wholefoods
We love it when nutritious food is made to be seriously delicious, and CK Wholefoods has nailed it. Serving healthier alternatives in the food and beverage department, they're pushing the boundaries and encouraging us all to think a little more consciously about what we shovel into our mouths. Here, you'll find sweet and savoury pancakes and waffles, organic bone broth and eggs benedict, complete with a house made kale infused hollandaise. So if you're looking for the best breakfasts in Mooloolaba that are also good for you, you can stop the search! And, if tea and coffee aren't your thing, let the team tempt you with matcha, turmeric, dandelion, beetroot and mermaid lattes. Don't forget to check out the grocery store tucked away at the back of the cafe too, where you'll find some of the delicious ingredients used in-house, so you can recreate some of the magic at home.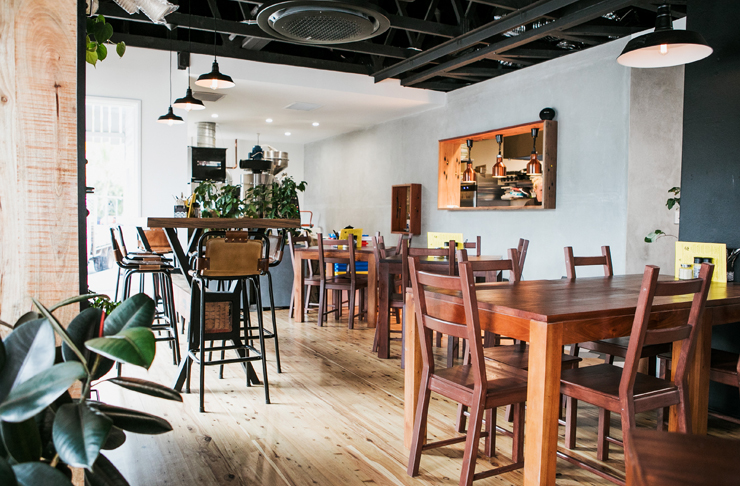 La Finca
Translating to mean The Farm, La Finca is all about paying homage to the source of our food in the tastiest of ways, so it's no surprise it has fast become one of our favourite places to meet for breakfast in Mooloolaba. Located at the revamped Wharf precinct, La Finca has a winning all-day breakfast menu and an epic array of eats in the cabinet, so you will easily satisfy those morning hunger pangs. Not sure what to order? Our go-to is the charred brekky greens with broccoli, sugar snap peas, kale, brussels sprouts, roasted beetroot hummus and poached eggs perched atop of seven seed crackers. The coffee lovers among us will also be pleased to know our friends at La Finca roast their beans on site, so it's fair to say they take their morning coffee very seriously.
Acai Brothers
As summer creeps closer, that can only mean one thing—acai bowls in abundance! It's the perfect grab 'n' go if you're on a health kick and chasing that dream beach bod, or perhaps you've indulged (read: partied) a little too hard and need to load up on the good stuff. We love acai bowls for being the perfect balance between naughty and nice, especially with loaded bowls like the Choc Treat Yo'Self, topped with coconut yoghurt, choc buckini, raw treats, cacao nibs and choc sauce. Acai Brothers can totally hook you up with smoothies, juices, coffee and raw treats too; and are the perfect Mooloolaba breakfast spot to help you create your own DIY-style spread and watching the waves roll in.
Via Italia
We all know Via Italia has a killer lunch and dinner menu, but did you know they also make one of the best breakfasts in Mooloolaba? Sure, they have the traditional breakfast faves—pancakes, bacon and eggs, avo on toast, and eggs benny. But we suggest you try their signature cook-ups, including cheesy polenta waffles with pulled beef cheek, and Farinata (which is pretty much the Italian version of crepes) topped with roasted balsamic root vegetables, mushrooms and rocket. If coffee is your poison, they have you covered, with local pours from Tim Adams Specialty Coffee. So kick back with a brew and enjoy the view... Via Italia has all the makings of a perfect morning.
Image credit: Lumea Photo for Urban List