Known for its stunning beaches, scenic coastal walks and laidback holiday-vibe, Caloundra is fast becoming one of the best places to get your coffee fix.
From cute brunch spots to legit coffee roasteries, we drank all of the piccolos, long blacks and flat whites, to bring you the ultimate list of where to find the best coffee in Caloundra. So, strap in, because things are about to get serious.
The Pocket
Anyone who knows anything about Moffat Beach will tell you to pay a visit to The Pocket. Beginning as a hole-in-the wall coffee joint, The Pocket became so popular that it outgrew its initial home and had to expand to include the space next door. Now, they're not only delivering some of the best coffee in Caloundra, but also an uber-cool interior, impressive menu and drool-worthy cocktails—make sure you stop in for happy hour. We highly recommend pairing your coffee choice with one of their infamous sweet or savoury muffins.
Beau's
Beau's is your go-to for a post swim coffee and brunch, located just up the road from the flagged area at Kings Beach. Sample their signature brew while enjoying a hearty Beauritto and you won't be disappointed.
Groundskeeper Willy
Groundskeeper Willy is the brainchild of passionate coffee-lovers Will and Addy. They initially began as a popup coffee kart in a carpark, but are now in more permanent digs in the Moffat Beach industrial area. Pumping out coffees from a warehouse, which will soon be home to their very own coffee roaster, there's exciting things are ahead for these guys so make sure you go and check them out.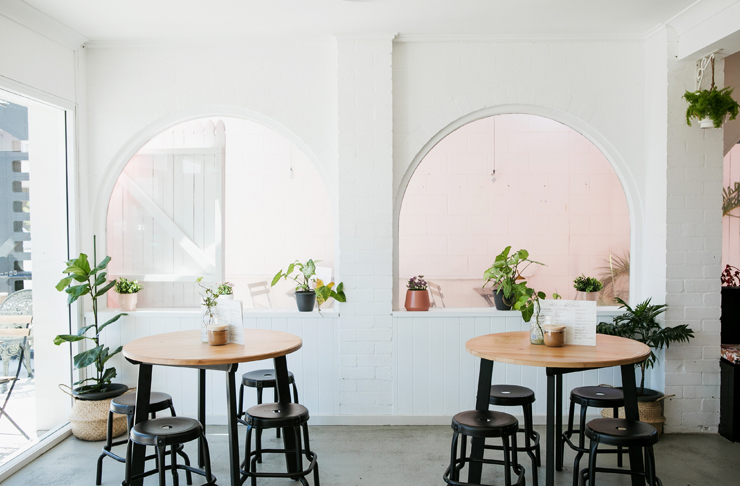 White Picket Fence
White Picket Fence is the newest kid on Bulcock Street and word has spread fast about their seriously good coffee, ample food offerings and cute pastel interior. Pouring 'The Cats Pyjamas', a rich chocolatey coffee blend from a Brisbane-based micro-roastery, their team of baristas have been pumping out cup after cup since opening in later 2018.
Lamkin Lane
While it may be tucked down a hidden laneway in the middle of Caloundra, Lamkin Lane is certainly no secret. You'll know you've found it by the blue and white exterior complete with French-style awnings, but it's what's inside that counts most. Voted as some of the best coffee on the Sunshine Coast, Lamkin Lane specialises in making a good cup of joe using beans from local roastery Tim Adams. In fact, the staff here know more about coffee than you do about yourself.
Malarkey Artisan Coffee
Malarkey Artisan Coffee is worth going out of your way for and can be found in the shared space, The Hub, in the back streets of Caloundra. Step behind the brick wall and you'll find yourself in a fairy-tale-like garden, complete with a shipping container turned coffee shop. Grinding our favourite local Guru coffee beans, we suggest you double-park with a coffee and cake, before browsing the locally-run stores that operate within the shared space.
One Block Back
If you venture to the back streets of Moffat Beach, you'll come across this unexpected little gem. Head inside the inconspicuous-looking warehouse and what you'll find is an Instagram blogger's heaven.Decked out with everything you need to enjoy brunch with your mates, your pooch or significant other, the folks at One Block Back know how to put on a good spread. They use Clandestino beans from Noosa to grind some quality coffee, matched perfectly with a nice-but-not-naughty Rawr sweet treat.
Fit For A King
One of the newest cafes to join the line-up at Kings Beach, Fit For A King lives up to its name. Using St Ali beans from Melbourne, they serve up some of the best coffee in Caloundra. Catering for both the health nuts and those looking for a naughty treat, you can find anything from vegan green salads to double-cheese ruben sandwiches.
Izba Espresso
The guys at Izba Espresso in Bells Reach, will always have your back when it comes to getting caffeinated. With Fonzie Abbot as their bean supplier, you can trust that when take that when you take that first sip of smooth coffee goodness, you'll be more than satisfied.
Coffee Cat
Coffee Cat on Kings Beach has always been a local favourite and have just recently undergone a facelift so are bigger and better than ever. Head straight from the surf and sip your latte while enjoying the beach views. And check out sister café Coffee Cats Kitten on Bulcock Street for a different vibe but the same great coffee.
If you're heading up the northern end of the Sunshine Coast, you're going to need our guide of where to find the best coffee in Noosa.
Image credit: Amy Higg and Ariana Gillrie for Urban List