Feeding the masses at your next party doesn't have to be difficult. When it comes to hosting a show stopping affair, you can't go past an epic gourmet platter to sustain and impress your guests. Not only will everyone find something to munch on, they're also damn photogenic.
But try as you might to create your own lust-worthy spread, there are a handful of people walking among us who actually do this for a living. So, leave it to the pros!
Here are the folks prepping the best gourmet platters on the Sunshine Coast, perfect for your next shindig.
Getaway Pantry
Getaway Pantry truly offers a platter for everyone, from breakfast hampers and cheese boards to the full kit and caboodle AKA luxury picnics in a teepee! Owner Katrina goes above and beyond to create the perfect platter for any occasion. Shopping only on the day of plattering (not sure if it's a word, but we're just gonna go with it), she handpicks produce from local butchers, greengrocers and fine food purveyors. And if that's not enough, your gorgeous platter or hamper is presented to you in eco-friendly packaging, and can be delivered from Noosa to Mooloolaba for a small fee. It's almost too good to be true!
Deep Love Picnics
If it's time for a date with a difference, or you've got some major sucking up to do, call in the big guns at Deep Love Picnics. Whether you're a savoury fiend or a sweet tooth, their range of platters will surprise and delight all who are privileged enough to enjoy it. Servicing all areas of the Coast, they even throw in a bottle of your choice and a bouquet of fresh flowers, so literally all you have to do is show up! It gets better…if your special someone just isn't picking up what you're putting them down, you can send a subtle hint (read: not subtle at all) via their website. Big love to you, Deep Love!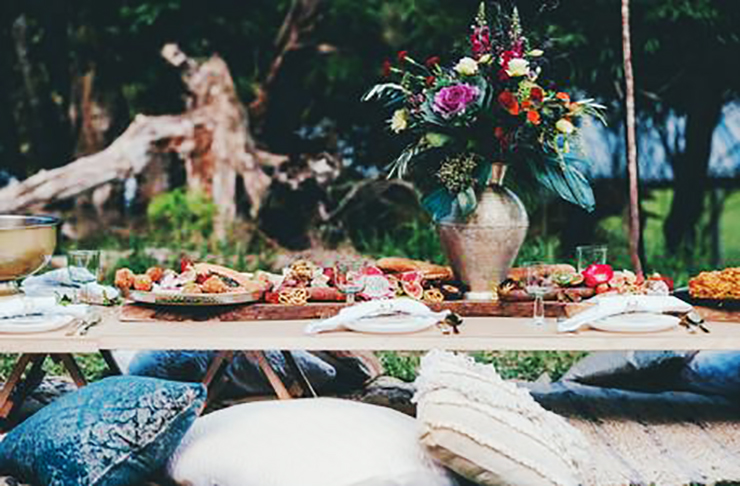 Little Platter Co.
A platter from Little Platter Co. is pretty much the Sunshine Coast on a giant wooden board. Sourcing all her goodies locally from her friends in the biz, Bree can whip up whatever kind of platter your little heart desires. As we move into summer, we personally can't wait to get our hands on one of the fresh fruit variety! We totally trust her to choose the best of the best, but If there's something in particular you can't picture your spread without, just let her know and she'll sort it out without a fuss! Easily one of the best spots to order a gourmet platter on the Sunshine Coast.
Lavish Platters
Born from the notion that food, friends and family, and general good times all go hand-in-hand, Lavish Platters guarantees an amazing experience for all. Founder Carly loves nothing more than seeing guests' faces light up when they lay their eyes on the magnificent spread before them, whether it's a gourmet picnic hamper or a decadent grazing table. Packed with meat, cheese, fruit, veg, savoury snacks and even a bit o' choccie—you'll get all the good stuff, with Lavish Platters. Put this one speed dial if you're planning a hen's party or baby shower on the Sunshine Coast.
Looking for something a bit more substantial for your next shindig? We've rounded up the best caterers on the Sunshine Coast.
Image credit: Artography for Deep Love Picnics