Welcome to the jungle. The most stunning jungle we've ever laid our eyes on that is.
We're talking about the hottest new opening on the Coast that's kept us waiting with excited anticipation over the past few months.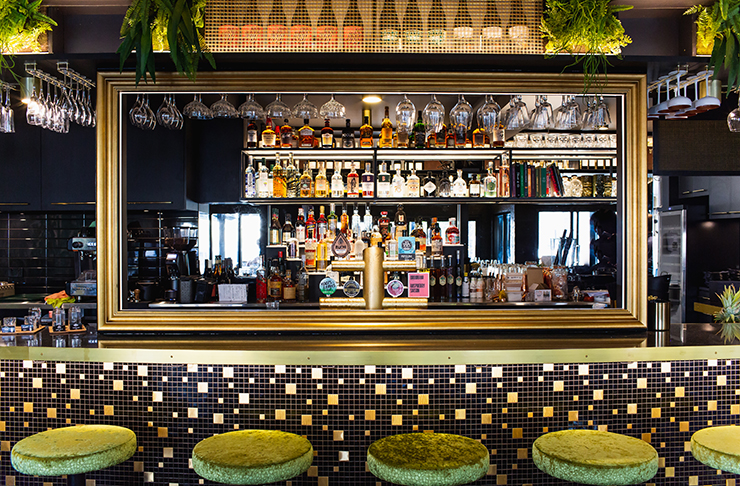 Let us introduce you to Kiki Bar.
We came, we saw, we sipped, we snacked and we were simply stunned. Kiki Bar is an oasis of brilliance and beauty on the Coast and a timely reminder of how lucky we all are to live in the best place in the world.
The husband and wife dream team behind Spice Bar have struck gold with their second new opening. They decided late last year to spice (wink, wink) things up and open a second venue on the Coast—a super sleek, sexy new bar. And the results have left us hoisting our jaw from their uber-luxe herringbone black and white tiled floor.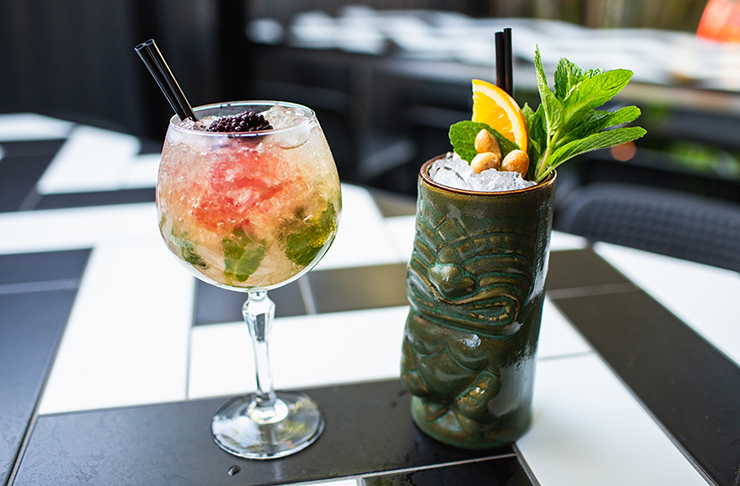 You see it's a rarity that you can go out for the night and be rewarded with not only amazing cocktails but also stellar food. Typically places either excel at either one or the other, making the night a crawl from foodie spots to cocktail joints long and not so high heel friendly. But we're thrilled to say Kiki Bar excels in both.
That's right guys, the cocktail gods have answered all of our prayers. This absolutely amazing bar has just opened and it's a dirty martini lover's dream. Kiki Bar is ALL about the classic cocktail, with a splash of spice of course.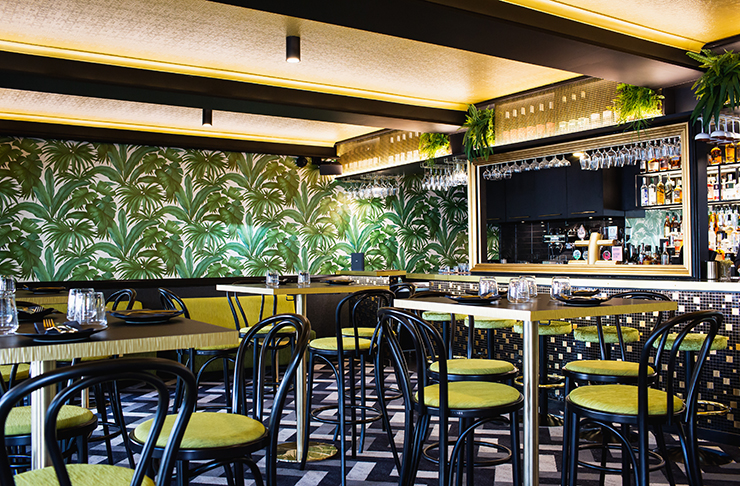 Think: Mai Thais, Espresso Martinis, Negroni, Gin Sours and Cosmopolitans just to name a few. And the kicker is there will be a strong focus on using Australian spirits. They've even got a Lemon Myrtle Cosmo and a Lychee Elderflower Martini.
There are eight different varieties of gin on offer for those of you who love a stiff G & T. Did we also mention these guys have kombucha on tap? We're in LOVE with this idea.
If you're in the mood for some mouth-watering bites Kiki Bar is also offering some of the best small and tasty plates on the Sunshine Coast with an emphasis on Australian contemporary cuisine. We're hooked on the Honey Truffle Mooloolaba Prawns, Beef Tartare and Beetroot Carpaccio. There's also fresh oysters with gin & lime. Drool!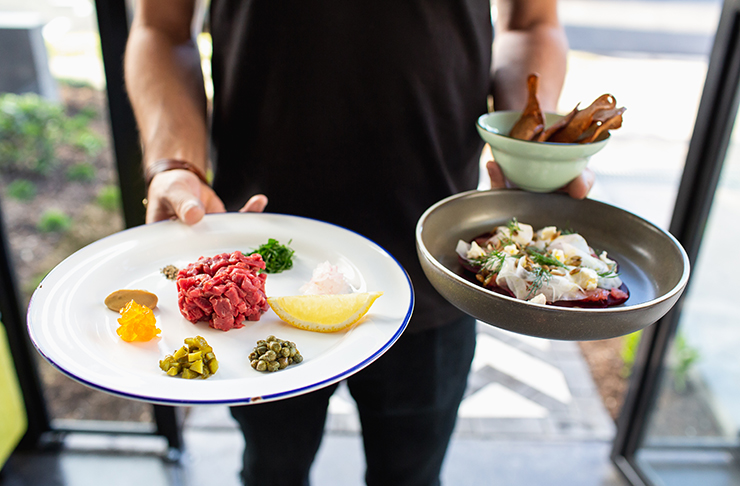 There's no denying this place is plush, as in nothing like we've ever visited before on the Coast. The interior is designed by Mark Gacesa of Ultraspace and his talent is obvious from the moment you step foot inside the venue.
Moss green is king inside Kiki Bar. It's calming and moody. The walls are adorned with palm printed wallpaper filling the space with energy, vibrancy and personality. There are gold and black touches inside keeping a certain element of sophisticated warmth throughout the space, with pops of white that leave you feeling fresh and somewhat thirsty.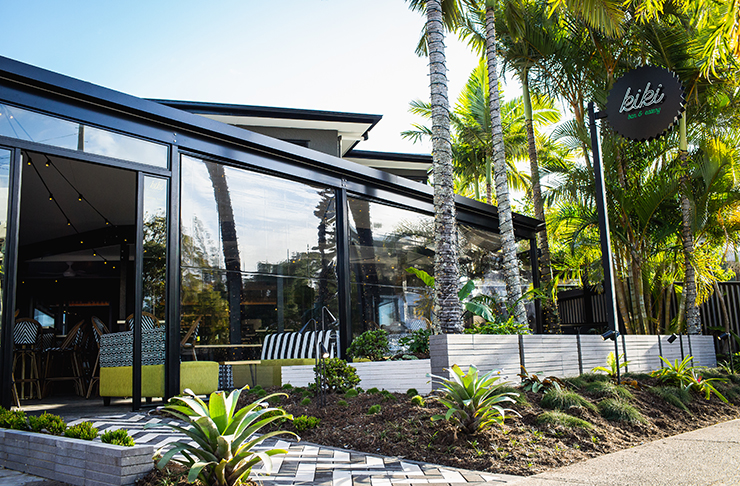 Strategically placed indoor plants are illuminated by stunning lighting that not only highlights the bar area but also the carefully selected pressed-metal ceiling. Did we also mention the velvet green bar stools that we contemplated taking home with us? And that's just the interior.
Step outside onto their charming courtyard that we predict is going to be the perfect place in summer for cocktail catch-up with the crew. There's free standing tables, snuggly booths and even a vertical garden wall draped with succulents.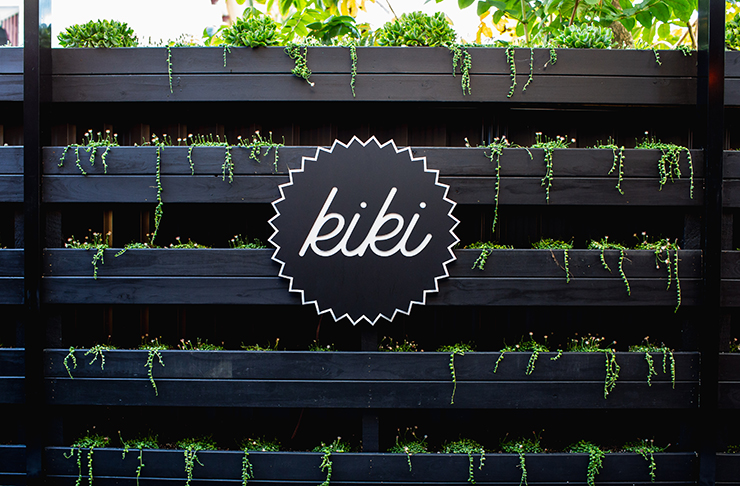 We only have one request that owners, Kym-Sarah and Aaron Ruttan, commit to opening a new place every two or three years.
Until then, you'll find us at the bar, sipping on a Butter Espresso Martini while stroking the green velvet bar stool ever so lovingly.
THE DETAILS
What: Kiki Bar & Eatery
Where: 51 Duport Ave, Maroochydore
Here's our list of best cocktails bars on the Sunshine Coast here. What about craft beer? Here are our best breweries on the Sunshine Coast here.
Image credit: Chevaune Hindley for The Urban List