While we love a chicken pad Thai on a lazy Sunday night as much as the next person, sometimes you just can't beat classic dishes with an innovative twist and that's exactly what Namory Eatery is slinging six days a week.
Located across the road from the Cotton Tree beach and park, this Asian fusion eatery brings together the flavours of Balinese, Vietnamese, Malaysian and Thai cuisine, and is all about elevating traditional meals to new heights with the creative touch of head chef Nam Do.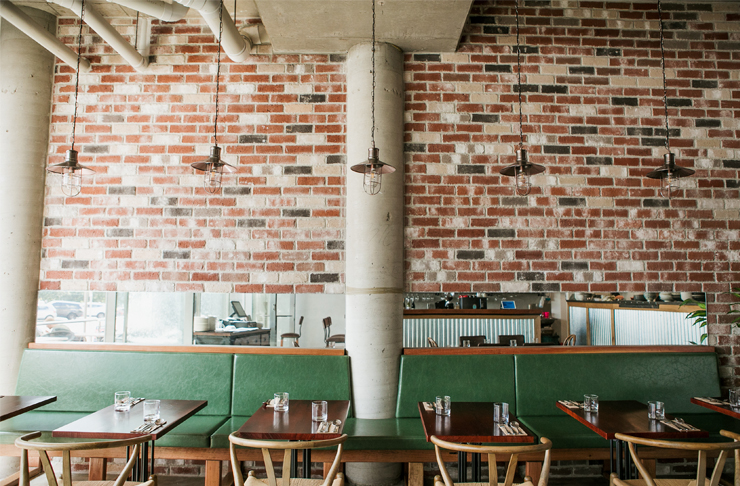 Opening its doors at the very end of December last year, Namory Eatery could have easily slipped under the radar. Except for the fact that the man at the helm has already built an impressive reputation and loyal following on the Sunshine Coast, after previously running Café de Orient in Palmwoods for 14 years.
Selling that restaurant in 2016, Nam took a hiatus, travelling to the likes of Taiwan, Hong Kong and Vietnam for new food inspiration. Spending most of his days in street markets, observing and tasting the local cuisine, Nam returned to Australia with a head full of ideas and a desire to start something fresh. Enter: Namory Eatery.
Sitting where Yabbi's used to be, on Cotton Tree Parade, Nam and his partner Truc set about renovating the space. Over four months, they ripped out the ceiling, built a deck to take in the view, and fitted out the interior with industrial pendant lights, a stunning olive green wall-length booth and a timber and tin bar. It's industrial meets rustic, with a touch of homeliness.
The menu includes a tasty mix of small plates and larger dishes, perfect for sharing with your dining partner. Some of the highlights include the succulent roasted duck with pumpkin, bok choy, kaffir lime and lychees simmered in the most delectable Penang curry sauce we've ever tasted.
Seafood lovers will drool over the char calamari starter, complete with the citrusy Namory house sauce. As well as the crispy-skinned barramundi with green apple, Spanish onion, coriander, fried shallot and Vietnamese dressing.
Leave some room for dessert because the house-made fried ice cream with organic roast coconut is said to be divine.
Namory Eatery is open Tuesday to Sunday for lunch from 12pm to 2.30pm, and dinner from 5.30pm.
Image credit: Amy Higg for Urban List