Sometimes it's nice to get away. Not too far away, just away enough to feel like you got away without actually being away, away—you know?
There are some incredible restaurants within a leisurely drive from the Sunshine Coast that should be on everyone's weekend to-do list. Cruise a winding country road, inhale some seaside breeze or drive through luscious rainforest to some of these stunning destination restaurants that, although take a little more time to get to, are 100% worth the effort.
Taverna
Kingscliff
Just south of the border in the beachside town of Kingscliff is where you'll find Taverna. Take in the natural foreshore and let your tastebuds be whisked to Santorini with Taverna's stunning Greek-inspired menu featuring seasonal, modern flavours of the Mediterranean. With its cute peppermint door and crisp white interiors, Taverna is the perfect place to enjoy a classic Aperol Spritzer as you pass around plates of vegan Moussaka, Byron Bay haloumi or a confit of ocean trout. Nostimo!
Fleet
Brunswick Heads
We are calling it, Brunswick Heads is the new Byron Bay. Or at the very least, its super cute cousin with a river. And here in this happening little seaside town is the teeny, tiny 14-seat restaurant, Fleet. Don't let the size throw you off though, Fleet is constantly booked out, sometimes months in advance, and it's no wonder with a degustation menu that could hold its own in any capital city but without the pomp. Our recommendation? Ask for a seat at the bar to watch your meal being created and to join in the conversation with the staff as they pour you a Rosé. Major dinner party vibes!
Harvest
Newrybar
Head south down the highway past Byron and you will find the sweet little country town of Newrybar. Harvest is the heart and soul of this little village, not only with its stunning restaurant but an edible garden, deli and bakery too, where you can buy a picnic hamper to enjoy in the surrounding hinterland or a takeaway coffee while you stroll the shops. Though the real star here is Harvest Restaurant. These guys take a real pride in sourcing fresh and sustainable local produce and you can really taste what Harvest is trying to achieve—ethical, seasonal food treated with respect. Sit out on the Queenslander-style deck and let Harvest treat you to some truly creative Australian flavours.
Paper Daisy
Cabarita Beach
Sitting inside the renowned coastal retreat of Halcyon House like an ocean pearl is the chic restaurant, Paper Daisy. Firstly, this restaurant is visually stunning and the interiors have been perfectly curated to enhance the coastal surrounds but with an absolute designer touch. Secondly, the food, oh my, the food! Think paperbark roasted fish with pippies, potato and kelp or glazed lamb with yellow pea miso, almond and squash. Select from three or four course sets (you'll go the four, we know you will) and relax to the sounds of waves crashing just metres away. Book an early seating so you can have the Cabarita beachfront all to yourselves for an after-dinner stroll.
Mavis's Kitchen
Wollumbin, Mt Warning
Take a scenic hinterland drive out to Mavis's Kitchen and disconnect from city life at this stunning property nestled underneath Mt Warning. Mavis's Kitchen is famous for using fresh organic produce direct from the onsite garden. Sit out on the elevated deck, take in the surrounding rainforest and dine on some truly original modern Australian cuisine. Or, if you're really ready to unwind, take them up on their paired wine suggestions for each dish. Heaven.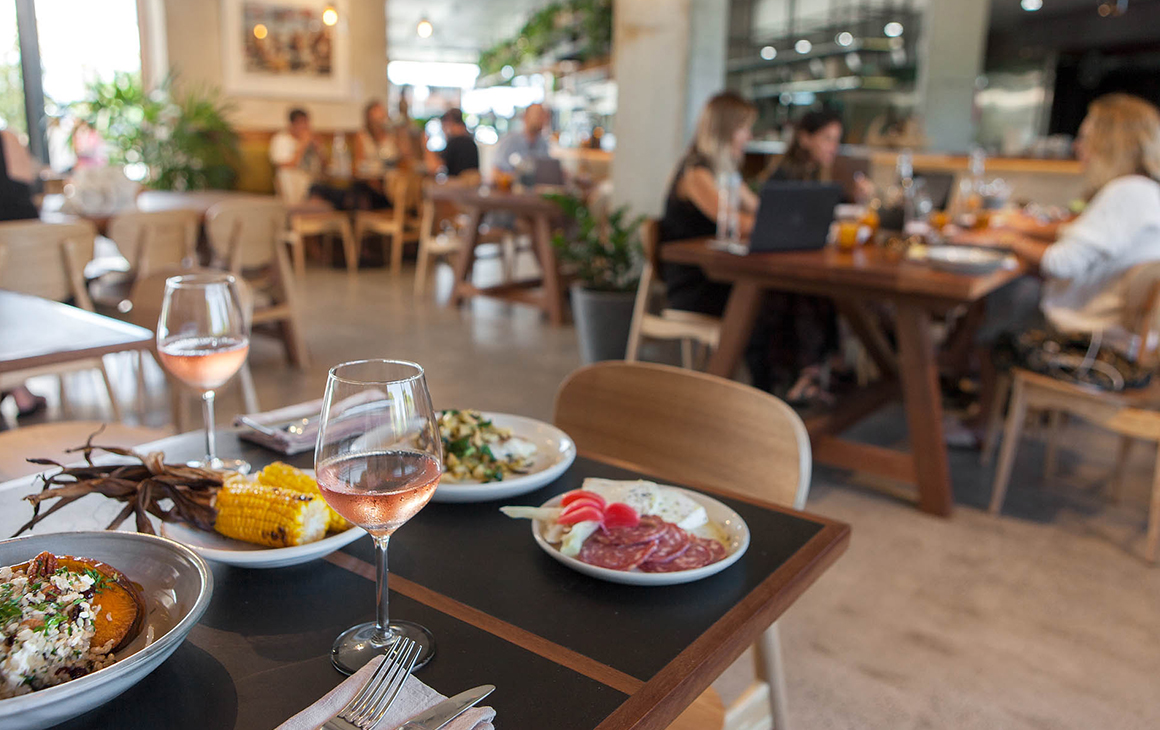 Barrio
Byron Bay Industrial Estate
Barrio is located inside the sleek new shopping and dining precinct 'Habitat', just a stone's throw north of the centre of Byron. With Argentinean influences taking you through from morning to night, Barrio is the perfect place to dine with a group of friends sharing plates of smoky, char-grilled South American goodness. Don't let the words 'Industrial Estate' fool you, Barrio is actually a beautifully designed haven, looking out onto clever native landscaping. Our tip: bring your gang, sit out on their lawn side patio tables and order the 'Feed Me' menu. Enjoy!
Bombay Cricketer's Club
Kingscliff
No, they will not force you to play sports while you're here. Bombay Cricketer's Club is actually a beautifully-styled modern Indian restaurant nestled inside the Salt Village Kingscliff. Specialising in fusion-style dining, these guys have really shaken up any pre-conceived ideas you may have about Indian food and re-imagined it with creative flair. Think: fresh, coastal, colonial-British decor vibes that will have you asking for another cocktail to wash down your Punjabi prawns! No strenuous activity required.
Potager
Carool
Luscious valley views? Check. Country house setting? Check. Service that makes you feel like settling in for the night? Check. Potager is the quaint country garden restaurant you never knew existed but most definitely will return to. With attention to local produce and suppliers, freshness really transcends Potager's unique menu, which is often made up of offerings straight from the kitchen garden. Jump in the car this weekend and see for yourself!
Doma Cafe
Federal
If you thought the Sunshine Coast had Japanese food covered, then think again, dear diner, think again! There's a quaint Japanese cafe in the middle of nowhere that locals have had to themselves for far too long. Nestled in the super cute northern NSW town of Federal is Doma Cafe and it's the stuff tempura dreams are made of. Japanese salads, sashimi and sushi creations are all pumped out of this tiny country house kitchen and the flavours are Oishii Desu! Weekends are busy, so best to make it a week-day escape to remember.
Looking for more weekend foodie escapes? Here's our guide to the most delicious eats in Byron Bay.
Image credit: Hayley Williamson for The Urban List + Barrio and Destination NSW