If you search for 'pure bliss' in the dictionary, it'll read something along the lines of: reclining back after a hard day's work on a sunny lounger with an overflowing G&T. Promise.
Whether you're a gin aficionado, or a recent addition to the fanclub (perhaps after one too many tumultuous nights of vodka-fuelled antics), you'll no doubt be stoked with all the gin distilleries that have cropped up on the Sunshine Coast and the surrounding regions lately. For your drinking pleasure, we've put them all in one handy list, so you can add them all to the bar cart immediately.
Winston Quinn Gin
Fortitude Valley
Megan and Ryan Sanders are the powerhouse duo behind Winston Quinn Gin, which was inspired by a gin-soaked trip to London. Though the gin is currently distilled elsewhere before being driven to Brisbane (by Megan and Ryan themselves) for bottling, the full production will happen at their Prospect Street space just as soon as their stills arrive and they get development approval. There's four gins in the range, but the Skinny Jean blue gin is the one to start with—boasting nine botanicals, it pairs best with cucumber slices and ice cold tonic. Head to their website to purchase, or find them in a few bars around town.
Brisbane Distillery
West End
What's better than drinking gin? Making it THEN drinking it—which is exactly what the legends at Brisbane Distillery have made possible. With a little guidance from expert distillers, you'll be able to choose from several botanical flavours to create the perfect bottle of gin in a personal sized copper still (we need one of those at home, if we're honest). Their ready-to-buy flavours are also super creative— think everything from chocolate orange to eucalyptus. You can pop in to their distillery to sample and buy it right next to the stills, with a secret bar tucked out the back, or just order online.
Fonzie Abbott
Albion
Coffee roasters, beer brewers and now, vodka and gin distillers, Fonzie Abbott are clearly determined to become the master of all beverages. Their award-winning Wishbone Spirit gin boasts fresh flavours of orange, grapefruit and kaffir lime juices, with a hint of juniper, coriander seed and a few more that we'll leave for you to discover. Get a taste of this full of flavour drink in person at their distillery and roastery, or purchase a bottle for yourself on their website.
Laceys Hill Distilling Co
Laceys creeK
Dayboro is not the place you'd expect to be distilling a top notch gin, but that's just where you'll find Laceys Hill Distilling Co being crafted and bottled. Their Moreton Sunrise Botanical Gin is a light and floral blue number that goes all too well with a good G&T and looks pretty 'grammable to boot. The distillers behind the drop are all about creating spirits that utilise native and local ingredients—which we appreciate when we're downing it. Get it online or at a few boutique bottle shops and bars around town.
Finesse Spirits
Brisbane
For a gin that's made with finesse, you'll want to get your hands on a bottle of Finesse Spirits. Handcrafted in small batches and steeped with 12 carefully chosen botanicals in pure Australian grain alcohol, Finesse Gin will take you on a sweet aromatic journey while getting you nice and boozed. You can get your hands on Finesse either online through their website, or at any Dan Murphy's store.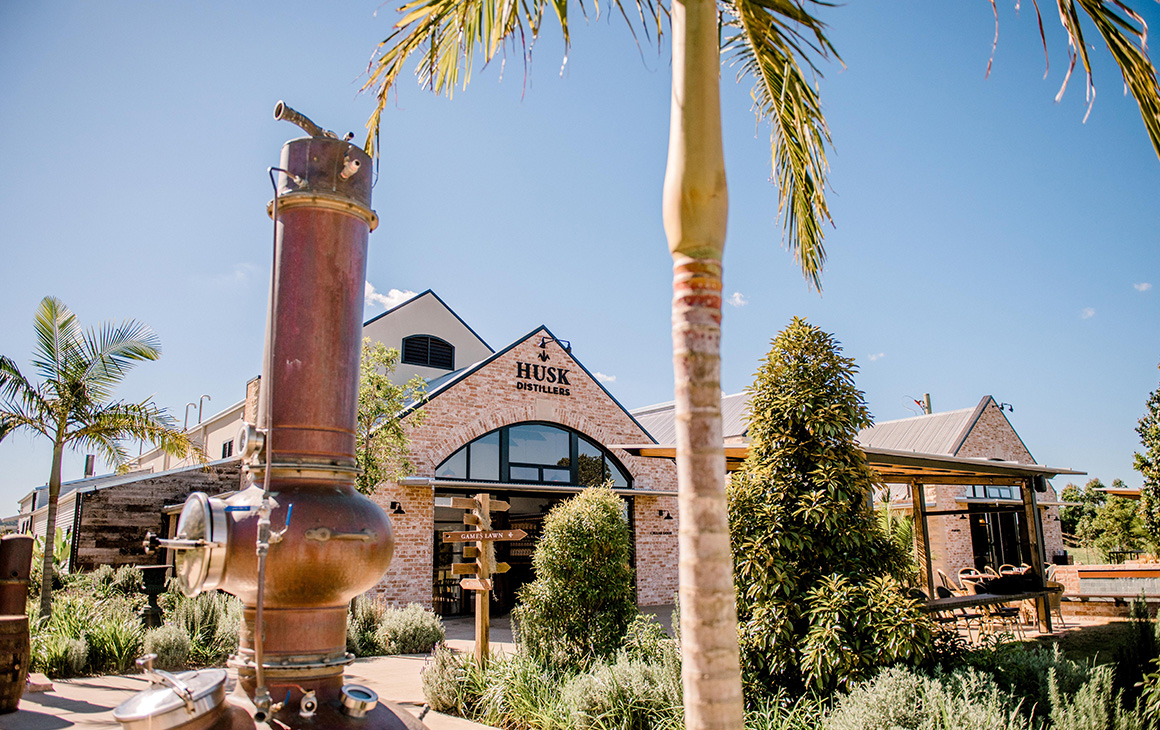 Husk Distillery
North Tumbulgum
Worth a road trip to the Gold Coast even if you do have to convince someone to be designated driver, Husk Distillery is the picturesque distillery where Ink Gin is crafted. This Instagram famous gin is made from 13 exotic botanicals and has an indigo-hued tipple that will be sure to widen your eyes. If you can't find the time to visit Husk in person, not to worry. Their beloved gin can be ordered through their website shop and sent straight to your door.
Granddad Jacks
Miami
The brainchild of father-and-son duo, David and Luke Ridden, Granddad Jacks is named after their grandfather and great grandfather and produces an array of craft gins. More than just a warehouse production room though, here the process is on full show, and you can even make your own gin in one of their master distiller classes. Bonus, there's a Tasting Room (cocktail enthusiasts, this one's for you), with tours and tastings available to book on weekends. Sign. Us. Up.
Fortune Noosa
Noosa
Tucked away in the industrial estate in Noosa is where you'll find Fortune Noosa's distillery churning out gin and boy, is it worth a visit. Make the trek and not only can you sample (and buy) their dry gin, infused with botanicals like lemongrass, honeydew and green tea, but you'll be able to knock back a few cocktails at their very gin-focused bar. Of course, you can also shop the entire range on their website, but where's the fun in that?
Pomona Distilling Co.
Pomona
The newest gin distillery on the Sunshine Coast, Pomona Distilling Co. has just opened its doors to a rustic, multi-purpose venue and we're in love. Home to a bistro—so you can have your lunch and drink gin too—sprawling outdoor terrace, cellar and bar-slash-distillery, this Noosa Hinterland gem is more of a destination than a grab-and-go joint.
Image credit: Kaitlin Maree for Urban List