Incredible views, a stunning fitout with a retractable roof, cocktails that'll have you ordering another on first sip, and a global menu that is packed with fresh flavours—welcome to The Rooftop Bar & Garden.
This grand, seven-storey high lavish bar and garden is easily the biggest opening of 2019 so far, and we're already calling it the best. You'll see why.
Opening its doors to the public for the first time tomorrow at 12pm, The Rooftop Bar has been almost a two-year journey for owners Dimi and Charlene Limnatitis, who are also the co-owners of some of Ocean Street's much loved venues, including The Piano Bar and Solbar.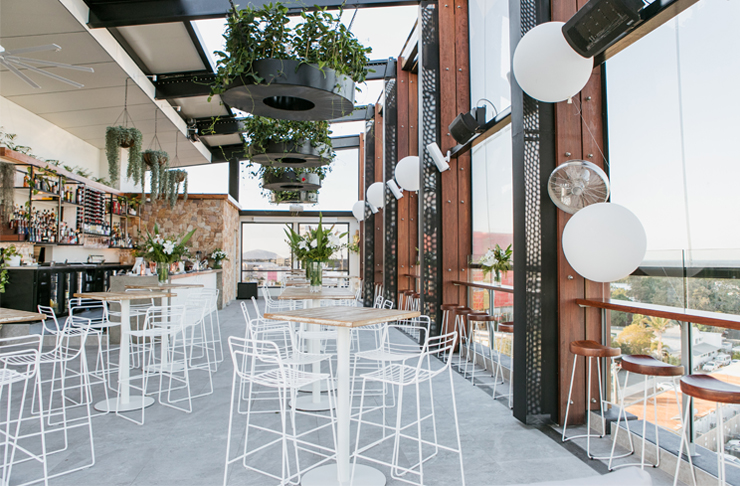 Located across the road from the bustling hub and topping a new build, this urban sky-high sanctuary wouldn't be out of place in Brisbane, Sydney or even Melbourne. Perch on a stool at the wraparound bar and vistas unfold in every direction—to the hinterland, across the cityscape and to the sea, with a little glimpse of Old Woman Island in the distance.
And while you might come for one of the best views on the Sunshine Coast, you'll be staying for the tastes, tipples and an ultra-luxurious interior.
Enter on a clear day and you'll notice there's no barrier between you and the big blue, with the retractable roof pulled back. One of the first of its kind in Queensland, and creating our first open air rooftop bar on the Sunshine Coast, the custom-engineered roof will close in wet weather, along with the blinds on the floor-to-ceiling openings on either side of the space. To say The Rooftop Bar is adaptable is an understatement, with whispers of a cooling mist come those stifling hot summer days.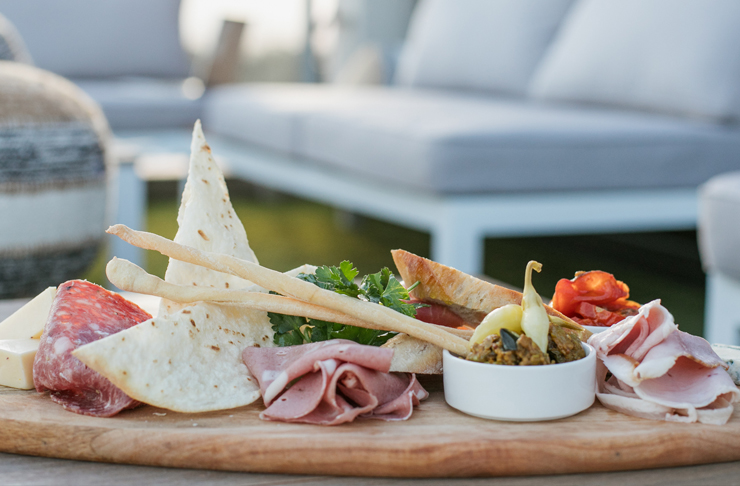 There's also the abundance of live cascading greenery that was lovingly tended to by the owners at home before being transferred to giant hanging planters. It makes the space feel fresh and somewhat like an oasis, perfect for taking a break and refueling before heading back downstairs and into to the bustle.
You'll find bar tables to congregate around with your mates, and an Astro-turfed balcony decked out with sophisticated couches just waiting for you to lounge on, but let's be honest, it doesn't matter where you sit, because there's a view from every seat. And that's just part of the magic.
A polished concrete bar is well-stocked with an extensive list of wines and spirits, as well as a great selection of local beers on tap. To experience the full Rooftop Bar family though, don't go past the Diablo ginger beer, the Eros vodka or any cocktail featuring the house lychee liquor—they're all made on the Sunshine Coast for your drinking pleasure.
Speaking of cocktails, the menu is packed with classics like piña colada and cosmopolitans, spritzers, eight different martinis and a signature list which is totally where we recommend you start.
With so much going on in one place, you'd be forgiven for thinking food may have taken a backseat, but you'd be wrong.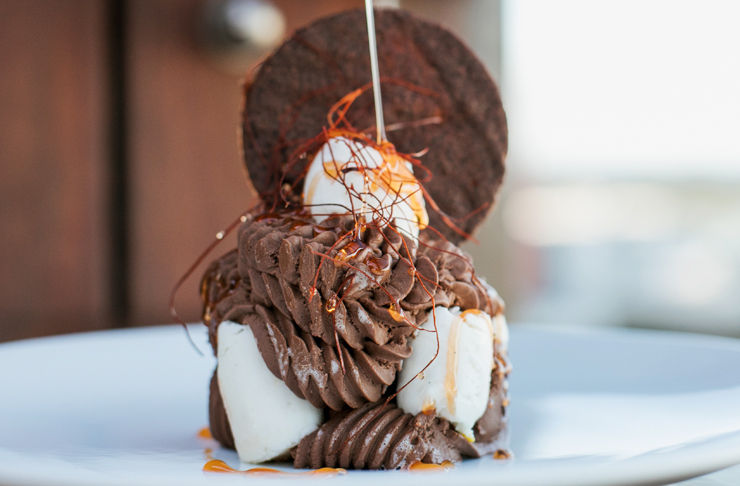 Headed up by one of The Piano Bar's first head chefs, Paul Vialis, the menus are vibrant and expansive—with different dishes available for brunch (Saturday and Sunday only), lunch and dinner.
Making a conscious effort not to fall into a single cuisine, you'll taste Brazilian picanha beef, alongside a Japanese crumbed pork sandwich and sweet potato gnocchi with a mouth-watering gorgonzola cream. The menus are worldly, delicious and accommodating, with small plates ideal for sharing, larger meals to really fill that hole in your stomach and a whole section dedicated to plant-based meals. Basically, you're going to have a hard time deciding what to order, but that can only be a good thing.
The Rooftop Bar & Garden will officially open its doors tomorrow, and from Thursday through to Sunday thereafter, with brunch available on weekends only. Bookings can be made for groups of eight or more, otherwise it's all about popping in, having a drink and something to nibble, before heading down below to bar-and-restaurant hop along Ocean Street.
So if you've been waiting in the wings for this spot to start pouring drinks, or you're just keen to see what the buzz is all about, consider this your invite.
The Details
What: The Rooftop Bar & Garden
When: Officially opens Thursday 29 August at 12pm, then Thursday and Friday, 12pm to 1am and Saturday and Sunday, 9am to 1am (open for functions outside of standard trading hours)
Where: 8 Maroochydore Road, Maroochydore
Image credit: Lumea Photo for Urban List and Jack Stone