Welcome to Threads. Five days, five outfits, one ultimate source of city style.
"Sneakers are on my mind all day long," says Lucas Blackman. "It's awesome."
Lucas caught sneaker fever way back when, and he's made a life collecting, coveting, shooting, marketing and styling sneakers all day long.
He's got over a hundred in his collection right now, from limited edition InstaPumps to Air Max's and an icy pink Dover Street Market collab with Vans. Over the past few years, Lucas has also amassed many thousands of sneaker obsessed followers who trace his fancy footwork through the streets of Melbourne.
For Lucas, style begins at your feet. Here, we do five days, five get-ups with Lucas and find out where it all began, his favourite places to eat in Melbourne, and what went down when he hit up Burning Man this year (hopefully wearing dust-proof kicks).
So how did the sneaker fixation begin?
It all started when I was about 12 or 13. I remember going to skate shops and buying as many sale pairs as I could. My parents couldn't understand why I needed so many.
I was 16 when I purchased my first pair of Nike Skateboarding shoes and fell in love. This slowly evolved into collecting Nike Dunks when I was 17, and even more once I had my first paying job. I would spend almost my entire paycheque swooping up pairs on eBay. This was my gateway into runners and more collectable sneakers, along with nerding-out over the history behind every brand and their designs.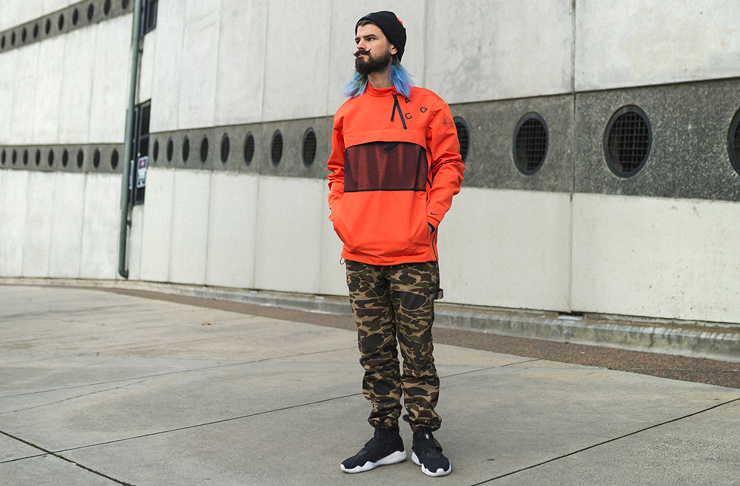 MONDAY. B-Side bobble beanie. Nike ACG shell. Carhartt Lincoln Camo pant. Nike Sportswear Komyuter.
What was your first pair of sneakers—do you still have them?
The earliest pair of shoes I can remember that made a lasting impression on me was a pair of Reebok Pumps. The orange basketball valve on the tongue squeaked when you pressed it. I exhausted that pump quick as I remember the squeak stopped at some point. And no, unfortunately, I do not have these anymore. I must have been around 5 years old then.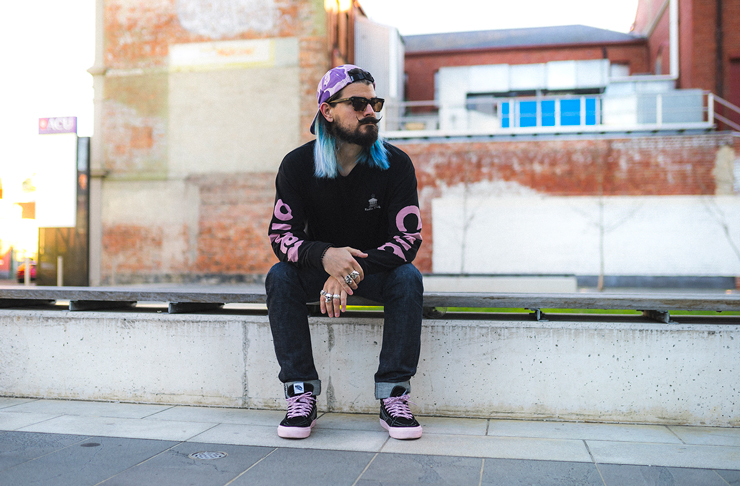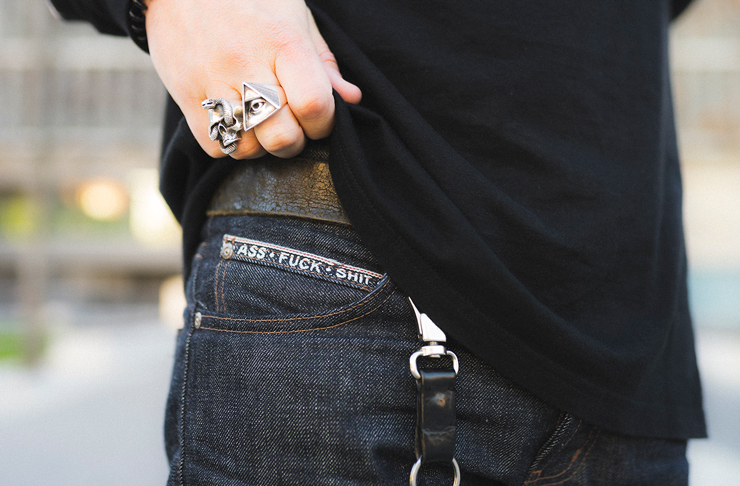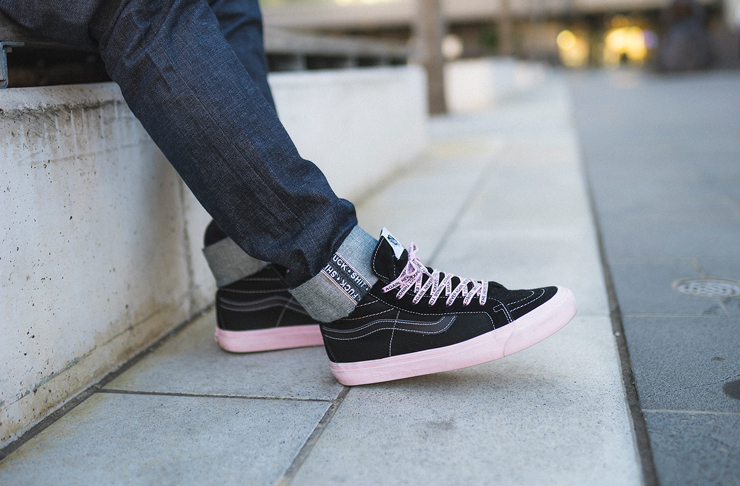 TUESDAY. RIPNDIP 5 panel cap. Bailey Nelson sunglasses. Acne Studios Jacket. PAM x Carhartt long sleeve t-shirt. Naked & Famous Vulgar Selvedge Denim. Dover Street Market x Anti Social Social Club x Vans Sk8-Hi.
You've built up a huge following. When did you feel the sneaker thing really take off?
It's a strange timeline for me. I never thought shooting shoes was going to go anywhere. The only intention I had was to portray shoes in a new light and to show people how good they could look. Everything fell into place from there through the right people I met. It really took off in 2016 when I started getting free shoes and was paid to photograph them. It was loads of fun.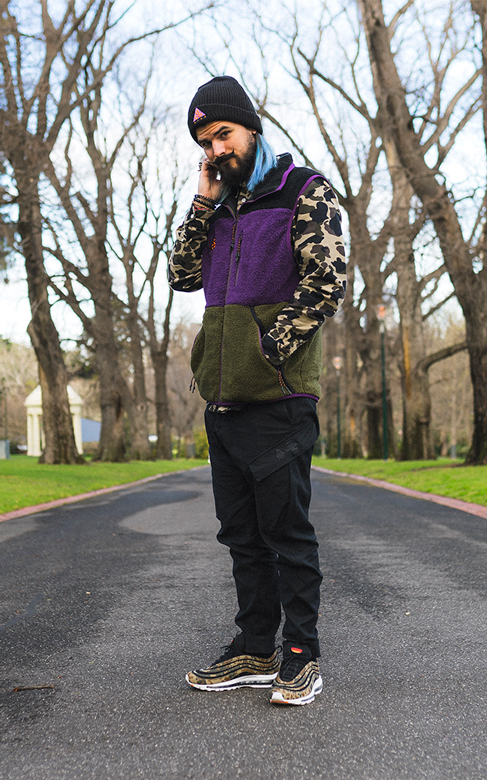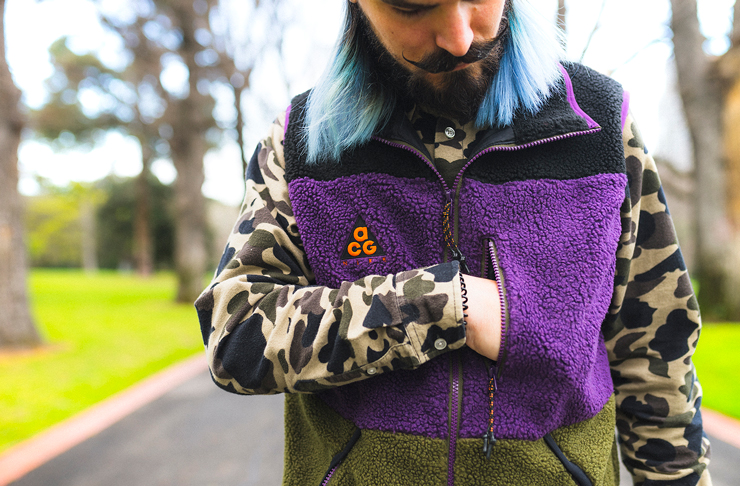 WEDNESDAY. Nike ACG beanie. Carhartt Camo Shirt. Nike ACG Gilet. Nike ACG Cargo Pant. Nike Sportswear Air Max 97.
Style is so personal. I Imagine you were being sent kicks you weren't that into?
Around 2017 I noticed it was starting to lose its spark. I was posting more content that didn't really align with my interests. Those paid jobs were losing their magic. This was when things started to slow down. Partnerships ended and I began saying no to others if they didn't match my look. This was about the time my path led me to my current job at Hype DC.
I have a lot to owe to my journey and Instagram account, but my new job is in marketing and rarely involves any shooting. Since then I have stepped back from photography as a career route and started treating it as a hobby again. There are still paid gigs that pop up, but nowhere near as many as I used to get, and I now take time to evaluate them more before accepting. I have found something fun and I want to keep it that way.
Ballpark, how many sneakers do you currently own?
My last count stacked up 90 pairs that I love and wear, and approximately another 20 for dirty work or that I just never wear and am trying to clear.
What's the most important thing when you're putting an outfit together? Do you plan outfits?
Yes, I plan my outfits. I try to start from the shoes up and match the rest of the outfit through colour or brand. This is usually done the night before, so I don't run into any morning delays.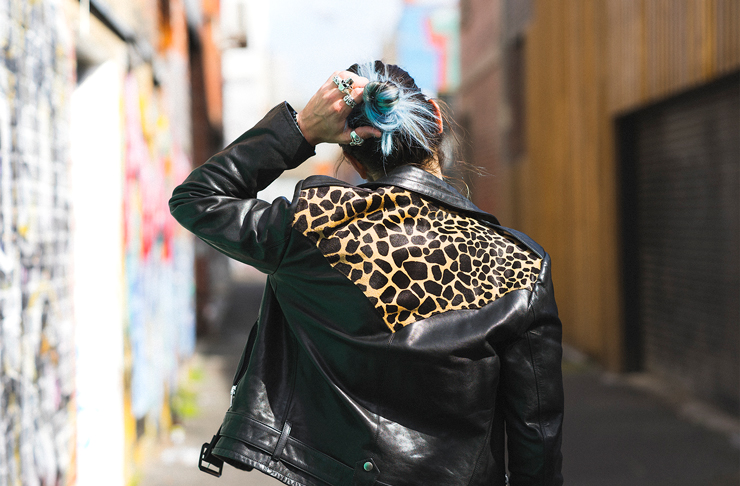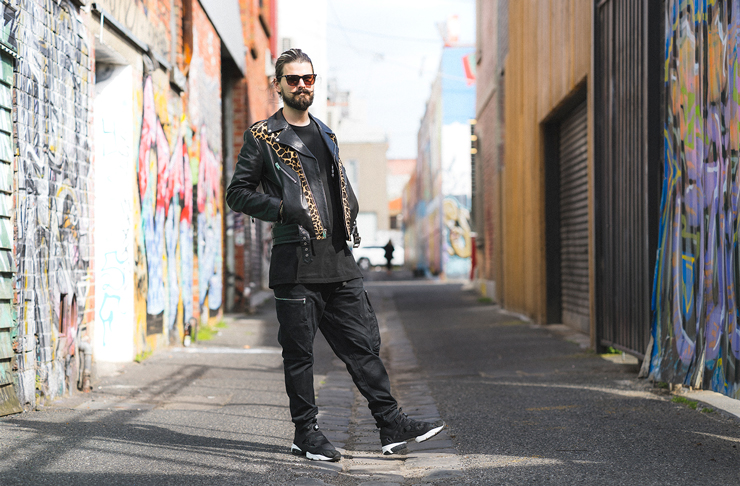 THURSDAY. Bailey Nelson Sunglasses. Saint Laurent Leather Jacket. AS Colour Tall-tee. NikeLab Utility Pant. Mastermind x Reebok InstaPump.
What's your go-to for style inspiration?
I guess because I am always looking at sneakers on feet on Instagram, I tend to lean towards some of the clothes and looks the models I like are wearing. A lot of the style and inspiration I have employed has come from some European dudes I follow. The utility look has really taken over my appetite in the last two years. Aside from that, purple, camo and leopard print always have my attention.
Who are you following right now?
These guys are always at the top of my feed: @tomshepherd, @needlehorse, @sixnine, @kane, @glackster, @pangea and @demas.
You've just come back from Burning Man. Any stories you can share with us or is it all on lockdown?
Yes, I made it out alive again. There are a few stories NSFW, but also loads of others.
One insane thing was this Boeing 747 they towed out to the playa and assembled for the week. It was driven out to deep playa some nights and people could go inside and party in an empty cabin, walk on the wings, climb and sit in the cockpit, or dance and party on the top deck where they had cut out a rooftop and had DJs playing to crowds 19 metres down. A true awe to see and experience.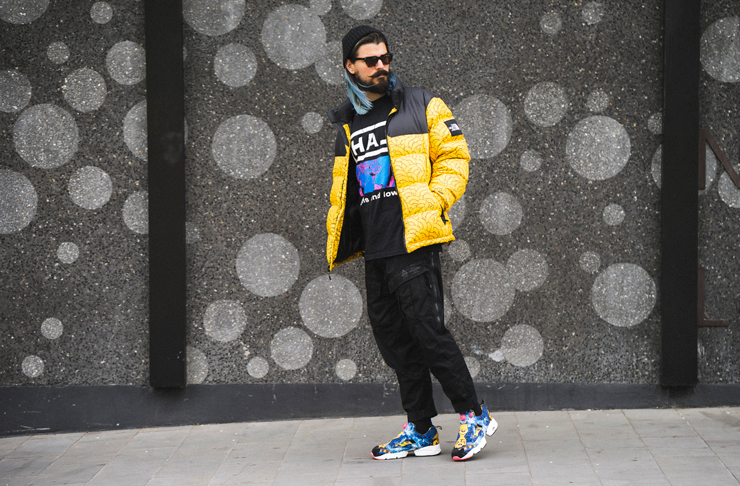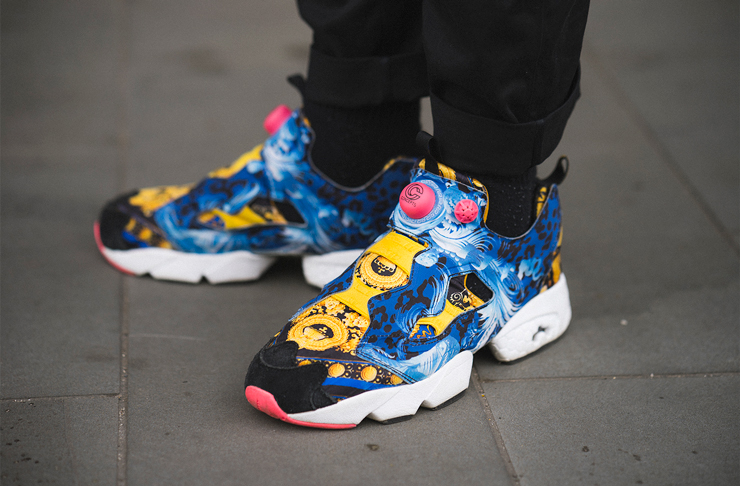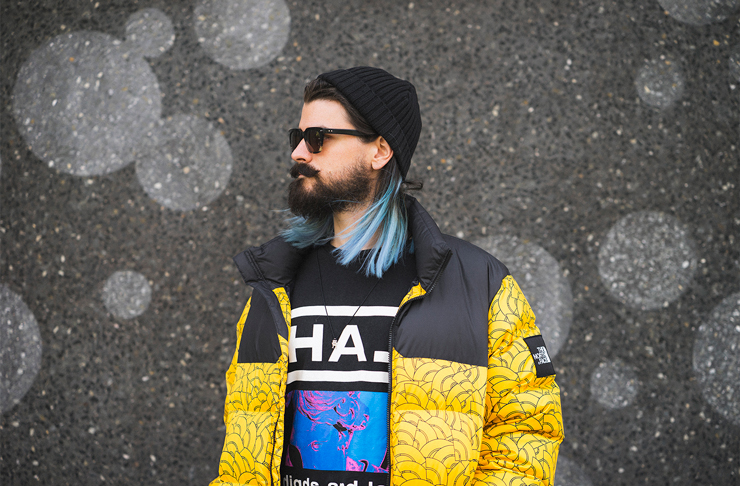 FRIDAY. Blank Beanie. Bailey Nelson Sunglasses. The North Face Nuptse Jacket. Highs and Lows T-shirt. Nike ACG Cargo Pant. Concepts x Reebok InstaPump.
You've lived in Sydney but you're a real Melbourne local. Where will we find you on the weekends?
I spend my weekends with my girlfriend and our hairless cat Chaos. We tend to hit up our favourite plant-based eateries for some healthy comfort food (which almost always ends with ice cream).
We love Vegie Bar and their sibling venues: Girls & Boys and Transformer Fitzroy. For drinks, you might find us at Leonards House of Love. This is a grungy shack-style bar with a similar feel to Shady Pines in Sydney. They always host good tunes, fuzzy folk, tasty beers and the most convincing vegan cheeseburger I've ever had.
Another gem I am always fond of is Curtain House in the city. This place embodies Melbourne. Nested within you can find Cookie, The Toff, Mesa Verde and Rooftop Bar. It's always thriving and puts you in the centre of the action. Start during the day and make your way from the bottom to the top and back down and you can even check out some shops like PAM store or the Metropolis Bookshop. Good times all round.
Image credit: Lucas Blackman.