We're just going to put it out there, Burger joints in Sydney are hit or miss. Some don't do enough (oh hey soggy bread and cheap arse fillings) and some just take it way too far (you know the ones). Every so often though, you'll stumble upon a burger that is so well proportioned that it'll put every single Kardashian to shame.
4 Ounces is that place for us, or at least it is now. Recently opening in Alexandria, which is quickly becoming the go to for lovers of small bars and delicious fuss-free eateries, 4 Ounces is simply nailing it.
The owner Rory Donnelly is lovely. He's a mellow fellow (sorry) who only discovered his love of the humble burg' recently, after 20 years as a fully fledged vegetarian card holder. Hot tip: this means these guys dish up a damn delicious vegan burger, but more on that later. He decided he'd like to shake things up and (shock horror) create a sustainable burger shop, from the meat sourced from Feather and Bone, to the bread from Bread and Butter Project. The damn hot sauces are even a collab between the man himself and OzHarvest.
The menu here is just big enough, starting with a classic cheeser, two vegetarian options and juuuuust enough maple bacon.
If you like to keep it simple, then The Common with a four ounce (geddit?) 'special blend' burger pattie, Westmont pickles, American cheese, mustard, ketchup and onion sandwiched between two halves of a cloud-like milk bun has your name all over it. If you like to think you're fancy (oh give it up), then the Champagne Papi is about to become your bezzie. This is where fried chicken, French fries, maple bacon, fresh curds, and your fancy champagne gravy is stacked in the milk bun we just mentioned.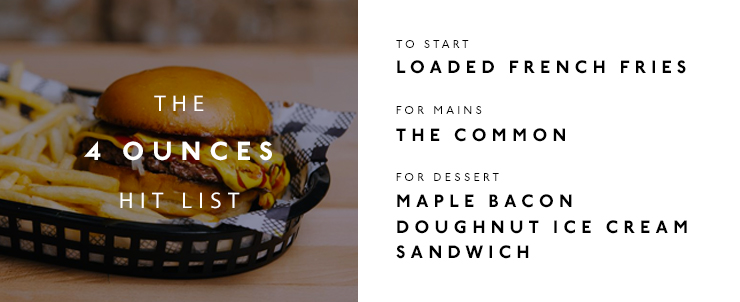 Okay vegans, it's time to tune back in, because you need to know about this one. The RZA has managed to kick a few meaty burgers off their perches in our books and we'll tell you why. The bun is just the right amount of soft (you get it) but the real magic is inside the delicious bread—think southern fried smoked tofu with pickles, tomato, chilli and golden turmeric kraut for starters. Then there's the smoked sesame cheese and vegan house sauce. We can't even guys, it's the goods. You better believe that we told our new mate Rory how much we loved it.
ICYMI, they also serve up epic desserts. Think candied bacon topping a maple glazed doughnut that's filled with peanut butter and dulce de leche gelato from Bellingen gelato. Game over.
Meanwhile, a dirty Italian disco is about to hit Sydney.
Image credit: 4 Ounces