Fashion that's gritty or sporty, tailored or torn down, these are Australia's new breed of fashion designers to keep an eye on. Always pushing the boundaries and doing something a bit different from the norm, we're predicting big things from these guys!
#1 Oxblood
Although Wes McDonough is from Sydney's sunny Northern Beaches, his debut Oxblood collection is all inner city grit and androgyny. Womenswear and menswear are interchangeable, and gender loses itself in the rough muddle. Long tunics are layered over pants, jackets are oversized, and, as far as colour goes, there are shots of bloody red and saffron amid the dominant monochromatic palette.
With a style that's distinctly forward, it's no surprise that McDonough, a graduate of the Fashion Design Studio Institute, was chosen to present in the 2016 Mercedes Benz Fashion Week Australia Innovators show.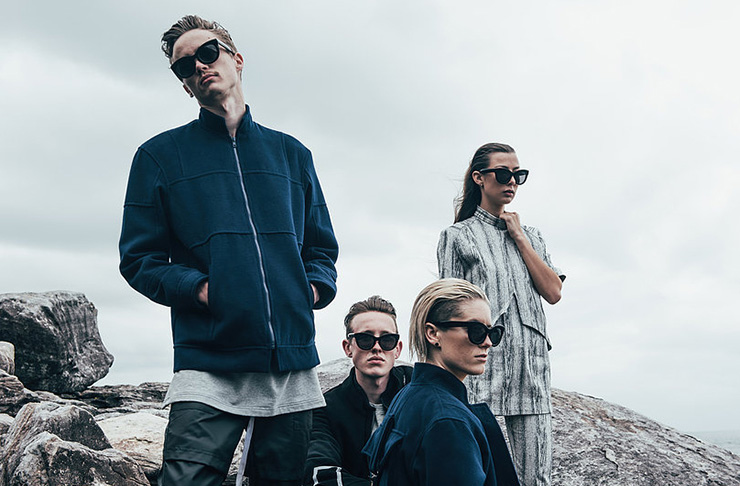 #2 Monster Alphabets
Monster Alphabets is a winner of Project NextGen, a competition that launched the likes of Gorman, Akira and Sass & Bide. The Japanese influence is strong with designer Sarah Watanabe's work. There are kimono tops in relaxed linen, and some of Monster Alphabets' garments bring to mind the sculptural quality of Issey Miyake.
Dresses and skirts stop confidently in that awkward space between midi and maxi and, besides the few flashes of skin in cut-outs or sheer panels, sexiness doesn't enter the equation, which we like.
Who cares if sex sells? Confidence sells better, and the Monster Alphabets woman is nothing if not hella confident.
#3 Holystone
Holystone is another Project NextGen winner and has a couple of collections under its belt. Designer Renee Sealey is known for her leather work, but the latest collection focuses on silk and chiffon with 90s grit. Slip dresses flow lazy and loose over the body, and the dusty pink prettiness of the silk turns edgy when paired with cropped leather jackets and dusty ankle boots. The Holystone girl is your previously unassuming little sister, and you have no idea when she got so cool.
#4 P.E. Nation
P.E. Nation could make you the fittest girl at the gym to be sure, but its fashion forward activewear is too fabulous to be relegated to sweats. A choice piece by P.E. mixed with regular streetwear gives a look strength and attitude.
The cropped American football tee can be layered over a white button down and worn with trousers. The white and orange sports bra with its wide elastic would be killer with high waisted Levi's and a leather jacket. Then there's the to-die-for oversized wind cheater with its dramatic collar. We love it so much we'd wear it with everything, including pyjamas. From fittest girl at the gym to fittest girl taking a nap.
#5 TY-LR
We didn't forget the fellas—we saved a good one for you: TY-LR's debut menswear collection. TY-LR for women has been around long enough to attract a following in some of the more fashionable Kardashians, and the brand has brought the same structured, pared back tailoring to its menswear collection. Pants are slim and cropped or rolled to show a bit of sock, jackets are lean and single or double-breasted.
Sometimes the TY-LR man is Scandinavian, sometimes he's American, but no matter the inspiration, his look is always clean cut, with his collar buttoned to the neck, and his jumper artfully bunched at the waist.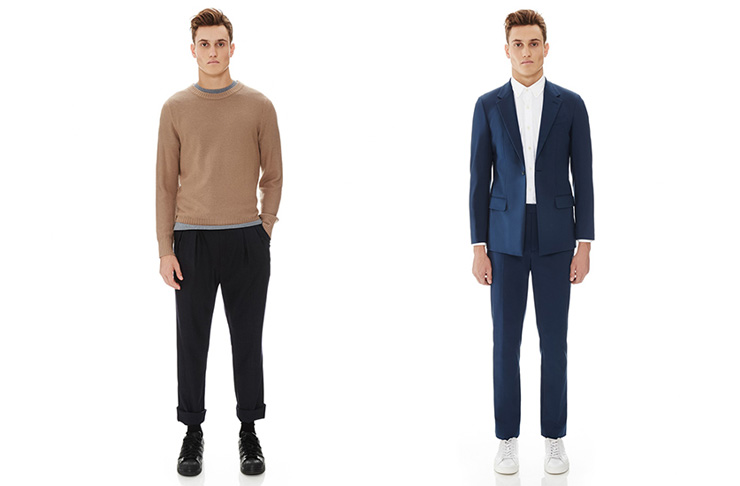 Want more fashion? Check out our Shopping section on the site.
---
Image credit: Oxblood, Monster Alphabets, Holystone, P.E. Nation and TY-LR