Meaning 'empty orchestra' in Japanese (beautiful, right?), karaoke has taken the world and our weekends by storm. It's no secret, we love a bit of a Friday night singalong. We're not talking Tuesday night karaoke at your local pub, we're talking private karaoke rooms decked out with party lights, touchscreens, a seemingly endless selection of songs and the occasional tambourine.
Believe us, there's nothing quite like shrieking Bon Jovi's 'Livin' On A Prayer' at the top of your lungs in a room full of your closest friends or co-workers. Bonds are made, voices are lost, and hangovers are formed at karaoke. And we love it.
These are the best karaoke bars in Sydney to really belt out a tune outside of your shower and car. So rest your throat, avoid dairy for 12 hours before (it affects your singing, dontchaknow) and get ready, because we're going to karaoke!
Mizuya | CBD
Not only can you really give Britney Spears a run for her money at Mizuya, they also have plenty of food to keep your energy levels up through an energetic karaoke sesh. With actual film clips for the songs (instead of those random clips of a couple on a merry-go-round or arguing at a petrol station), you know Mizuya is serious when it comes to the 'art' of karaoke. Cleaner than most Sydney karaoke spots, they also have an excellent range of English songs.
Karaoke World | CBD
What better place to really do 'Bootylicious' justice than at one of the oldest and most well-known Sydney karaoke bars? The song selection at Karaoke World is amazing, however, do all your eating beforehand as they only serve chips and spring rolls. With 18 private rooms, Karaoke World is fairly large but it's best you book if going on a Friday or Saturday night.
Ding Dong Dang | Surry Hills
There is nothing glamorous about Ding Dong Dang. Let's get that straight. This little karaoke place near Sydney's Central Station has sticky floors and walls (how?) but what it lacks in fancy it makes up for in fun—and lots of it. Ding Dong Dang's drinks are cheap, the music selection is good and it's a great option for starting or ending your night.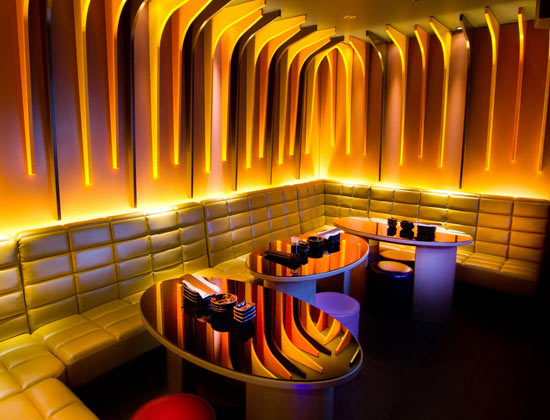 Lantern By Wagaya | CBD
We're fans of Wagaya in Chinatown so were pretty excited when their karaoke spin-off opened on George Street a few years back. Lantern By Wagaya is one of the more schmick karaoke places in town. If you're lucky you can get a windowed room with a view over George Street where if you squint you can pretend you're Bill Murray or Scarlett Johansson in Lost In Translation. Think excellent Japanese snacks, a fairly easy to use touchscreen karaoke system, and even a loyalty card for karaoke regulars.
Gangnam Style Karaoke | CBD
How can you go past a karaoke place with this name? (Hint: you can't.) Located above a Korean BBQ restaurant on Liverpool Street, Gangnam Style Karaoke isn't the most English friendly place (read: not the best range of English songs and some lost in translation moments) but you can often get a room without booking and the rooms are clean.
Big Echo | CBD
Big Echo is part of a Japanese chain of karaoke bars which means you're in the right hands when it comes to getting your karaoke on. While it's not as fancy as your newer karaoke bars, it has a decent song selection, good-sized rooms, and a selection of Japanese food to keep your hunger at bay.
So now you've got our suggestions for the best karaoke bars in Sydney, let's take a look at some of The Urban List's favourite karaoke classics (no judgement, please)…
Bon Jovi – Livin' On A Prayer
Queen – Bohemian Rhapsody
Carly Rae Jepsen – Call Me Maybe
Oasis – Wonderwall
Whitney Houston – I Have Nothing
Elton John – Can You Feel The Love Tonight?
Lisa Loeb – Stay (I Missed You)
Got a favourite Sydney karaoke place or just want to tell us your favourite karaoke songs? Let us know in the comments!
Image credit: Focus Features, Lantern by Wagaya