It's time to brave the wet weather this weekend as Sydney is putting on a range of awesome events. With rooftop BBQs, acoustic gigs, an Aussie banquet, musical comedians and a colour run, there's no excuse to hide at home. Check out our list of things to do in Sydney this weekend.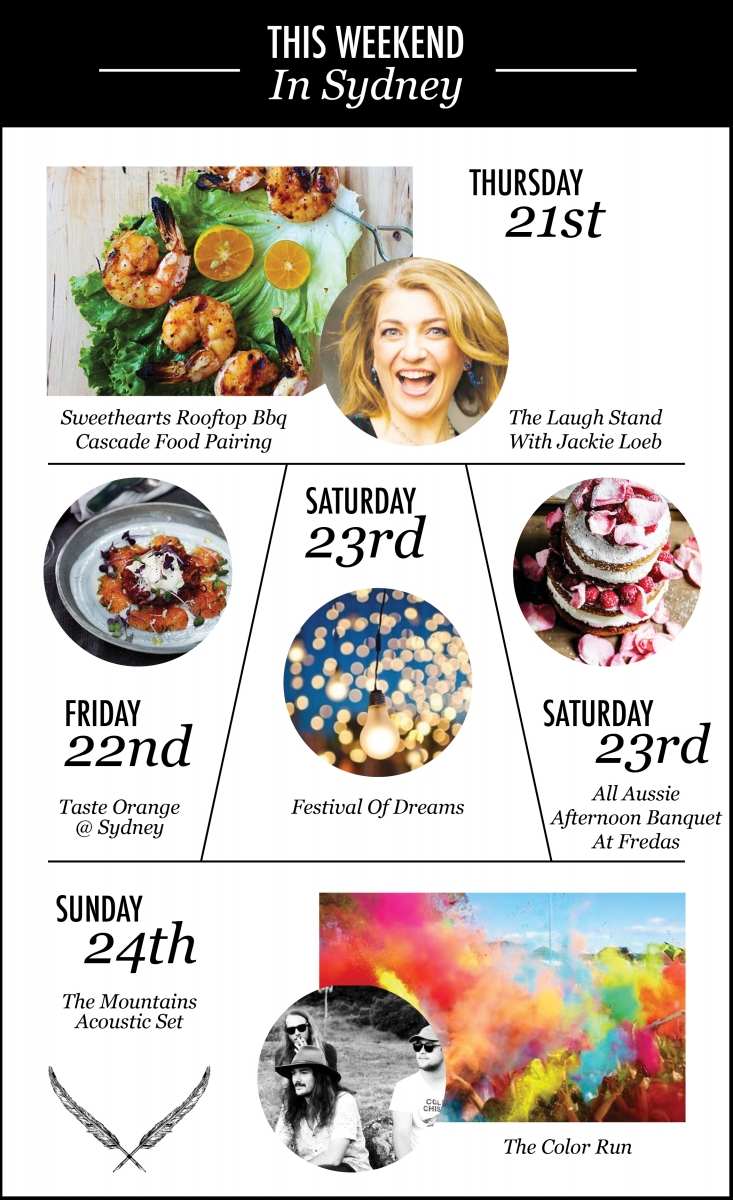 Thursday 21st
Sweethearts Rooftop BBQ And Cascade Food Pairing
Calling all beer lovers! Sweethearts Rooftop BBQ and Cascade Beer are offering one evening of food and beer pairing. For $50pp you will be treated to a four-course meal with matching beers. Cascade's beer ambassador will take you through each beer giving you all the inside info. Call 8070 2424 to make a booking.
The Laugh Stand With Jackie Loeb
FBi Social are putting on a night of music and laughs this Thursday night. Comedian Jackie Loeb and rock-god Dave Eastgate will be featuring in 'The Laugh Stand' at Kings Cross Hotel. The show will be kicking off at 8pm with a range of laugh-out-loud comics like Cameron James, Andrew Wolfe and Emma Zammit. Your headliner, Jackie Loeb, has made appearances in the Australian comedy classic 'Full Frontal' as well as 'Good News Week', 'Spicks and Specks', 'Stand Up Australia' and 'The Today Show' just to name a few. Tickets are $15 plus bf, $20 at the door OR if you're a student/backpacker or FBi supporter they're an easy $10.
Friday 22nd
Taste Orange @ Sydney
After a week full of rain and work what better way to wind down than with a wine this Friday at Taste Orange? The CBD's Martin Place will be host to some of the state's leading winemakers and food producers from Orange, offering advice and a multitude of things for you to try and buy. Head there on your lunch break or pop in after the working day is done (5pm-8pm) and prepare to turn your palate Orange.
Saturday 23rd
Festival Of Dreams
Hosted at the Hordern Pavilion is Sydney's 'Festival of Dreams' - two massive days of spiritual seminars and workshops, meditation, psychic readings and soulful entertainment. If you need a pick-me-up then this is the place for you. Starting at 10am and finishing off at 6pm, prepare to relax, rejuvenate and revitalise your body and spirit with other like-minded individuals. Children under 12 attend for free. Ticket prices vary and can be purchased by heading to Festival of Dreams.
All Aussie Banquet
Many Hands and Freda's are putting on an All Aussie Banquet at Chippendale Bar and Eatery this Saturday. Head down and try some real authentic Aussie cuisine, featuring local and sustainably sourced produce, along with some outlandish additions to your standard 'Aussie BBQ'. Prepare for a meal that is as wild as the Australian outback with delicacies such as crocodile, kangaroo, finger limes and bush tomatoes. Served in three courses, each plate is a playful take on an iconic Aussie dish. There will also be some afternoon entertainment hosted by Freda's, where you can sit, digest and enjoy some great Aussie music.
Sunday 24th
The Colour Run
It's back! The Colour Run is bound for Sydney this Sunday 24th August. The race is a 5km circuit in Sydney's treasured Centennial Parklands. So if you're feeling fit, or simply in the mood for having coloured powder thrown at you, then this is the event for you. And the fun doesn't stop there! After the race be prepared for dancing and 'colour throws' – there's even a cleaning zone and 'colour blowers' to clean you off at the end so you don't look like a multi-coloured mess on your way home. They don't call it the "happiest 5k on the planet" for nothing! For tickets head here.
The Mountains Accoustic Set
Beach Road is known for putting on great gigs each week and the acoustic set from The Mountains is said to be no different. Kicking off at 2pm, The Mountains embrace a mix of laidback, gentle melodies and soulful vocals – the perfect way to chill out after a busy weekend. And the best part is, it's FREE! If you're heading down for a late lunch or an afternoon bevvy, make sure you head to Beach Road's 'backyard' for a mellow Sunday session.

Image credit: Bright Eyed Baker