Nothing makes us happier than when we casually stumble upon an adorable little cafe. Somewhere we've never been before and didn't even know existed. The surprise discovery of a potential new fave is such an exciting prospect. And that's exactly what happened to us recently when we found Sonder Espresso.
This cute as a button little cafe is slightly hidden in Birtinya and offers a wide range of delicious foodie offerings for both brekky and lunch.
Oh, and their coffee is also on point too.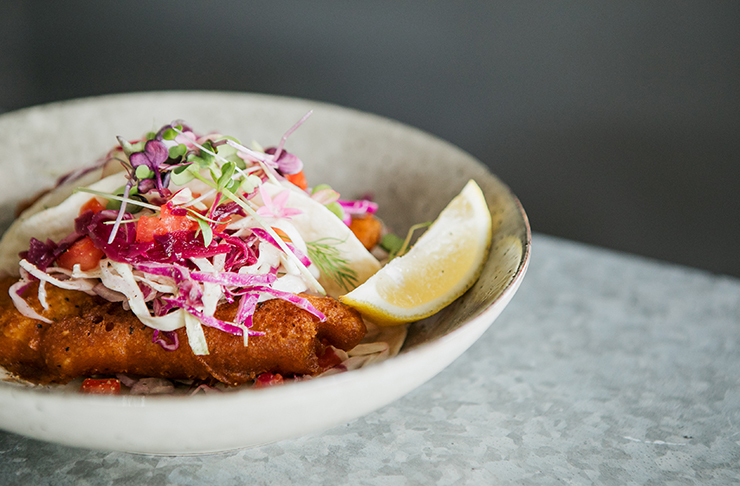 At Sonder Espresso they like to focus on daily specials allowing for the produce to not only be fresh, but also seasonal. Something we know health conscious Coast diners desire.
We're huge fans of their fish tacos for lunch. They're light, clean and slightly palate cleansing. We stopped ourselves at two, but easily could have eaten more. Their moreish fried rice is also a standout as is their pulled pork with charred corn coleslaw on a fresh brioche bun. Serious foodie goals were devoured.
Everything we tried was the PERFECT antidote to a chilly winters day on the Coast.
BUT if you're in the mood for something slightly naughtier, we've got you covered. These guys also love their sweet treats, almost as much as we do.
Think: Blueberry cheesecakes, loaded brownies, flaky croissants and of course, apple donuts! We can't seem to go past their freshly baked muffins that are slightly warm on the inside with a layer of crispy goodness on top. Excuse us while we drool. Sonder Espresso also have options for vegans and vegetarians, including Buddha and smoothie bowls.
If we had to use one word to describe their interior we'd say, PRETTY! It's just oh sah pretty. The primarilyy white design is complemented with high ceilings, dotted with refreshing pops of bright green tiles, and warm comforting timber. This place has an instantly welcoming and slightly cozy vibe. Ferns and indoor plants are creatively placed throughout this happy space that's flooded with natural light. Yep, we're fans to be sure.
Even though this place is called Sonder, we suggest that you DON'T sonder on in, we'd get our butts down here ASAP to check out this little gem stat before all their daily specials are out the door.
We've also rounded up the best hidden cafes on the Sunshine Coast here. What about getting out and about? We've rounded up 50 Awesome (& Cheap) Things To Do On The Sunshine Coast. What about some things to do on the Sunshine Coast with out-of-towners? We've got you covered here.
Image credit: Amy Higg for The Urban List