You know a place is nek-level fun when you walk past and hear riotous laughter coming from diners inside.
Your curiosity is immediately piqued and you also just really, really want to join them. So that's exactly what we did after we stumbled upon an epic new teppanyaki joint that's literally just opened in Noosa. Let us introduce you to Yen Teppanyaki; where seriously fun times await.
And FUN is exactly what we had! Bucket loads of F.U.N.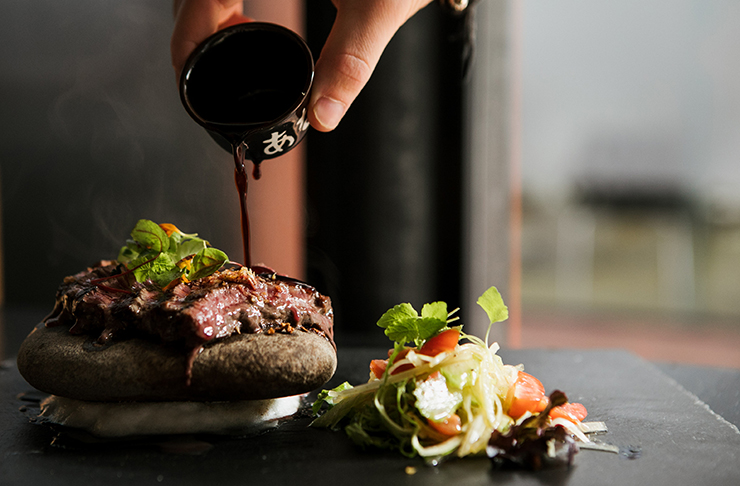 Located in the recently reinvigorated Noosa Junction is where you'll find this little gem.
The interior is clean, sleek and uncomplicated. Because it's all about the dining experience here at Yen Teppanyaki. There's touches of warm timber finishes paired with fresh white counterspace and tasteful nods to modern Asian décor.
Once you sit down to dine you will be dazzled. You'll be entertained by flickering flames, spatula twirling, and flying bowls of rice!
Our fave menu items would have to be the crispy fried chicken karage and the moreish Gyoza dumplings. Other notable mentions are the Sapporo menu option which includes prawns, scallops, chicken breast and tender lamb—yum! Their miso soup is also the perfect antidote to our chilly winter weather.
There are also gluten-free and vegetarian menu items available for diners making it an inclusive night out for all.
Yen Teppanyaki is fully licenced with an amazing variety of Japanese whiskey, sake and beer. Seriously what else could you wish for?!
It's the perfect spot for a fun date night and even for a larger group of friends and family, with tables able to accommodate up to groups of 12.
Since this place quietly opened it's been packed so bookings are essential. Locals have literally flocked here like bees to the proverbial honey pot. If you're looking for a special night out, you need look no further than Yen Teppanyaki. We just wish all dining could be this fun.
The Details
What: Yen Teppanyaki
Where: 34 Sunshine Beach Road, Noosa Junction
While you're in area we also rounded up the 30 best things to do in Noosa here. Also did you hear? We're getting a new glamping ground with a bar in Noosa!
Image credit: Amy Higg for The Urban List