What's it about eating or drinking something out of a cute little van that makes us all giddy with excitement and wonder?
Is it the idea of the logistical challenges of preparing something in such a teeny, weeny working space? Or that if gets passed through a window to you? Or because they look so very sweet and lovely and often have a cute name dating back to your Nans era, like Wilson or Lola?
Well, whatever it is that drives us straight to them with child-like grins and insta-snappy thumbs, we have to say that we're not short of some great (and generously gorgeous) food trucks here on the Sunshine Coast. Serving a wide variety of yums including food, treats, coffees and booze - we've lined up 8 of our faves just for you.
So without further delay we introduce you to the best food trucks on the Sunshine Coast:
Lani and Lola
Lola is a beautifully restored 1970's Viscount caravan who's stolen our hearts with her unique shape, cute little wheels, open timber bar and La Marzocco coffee machine. Run by brother and sister team Shem and Lani, Lani and Lola would love to add some character and charm to your special event with their BYO drinks service and coffee bar, serving up one of our faves, Padre Coffee. But be prepared, it's gonna be love at first sight.
Tuck Shop
Run by the guys who also bring us our fave hole-in-the-wall cafes Winnie and Little Boat, Tuck Shop is a sweet little catering truck with a big love for producing local, seasonal and ethical yums. Their Little or Big Lunch, Festival Style dishes or Grazing Tables are perfect for any social event and you only know that the food is gonna be guuuud. What more could a truck-loving Sunny Coater ask for?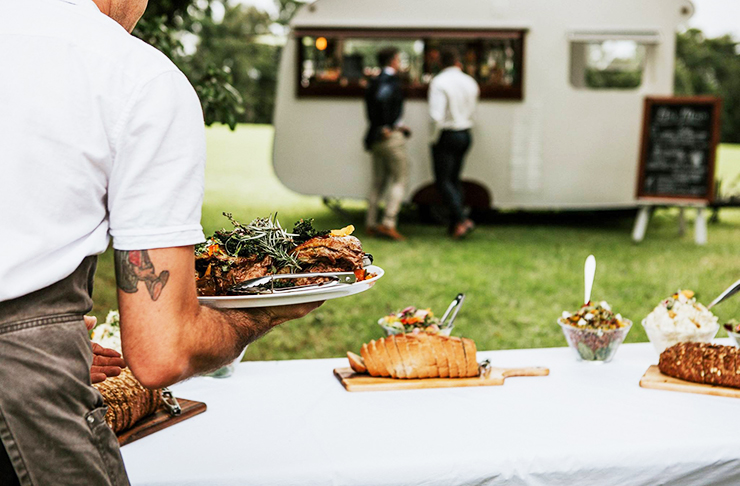 The Jam Factory Peregian Markets
There are very few things in this world that compete with a fresh and still warm donut, loaded with finger-licking filling and presented on an eco-friendly foldy-box thing being handed to you through a sweet little van window. The Jam Factory is heaven on wheels when you're looking for the Clyde to your Bonnie morning coffee. Find them at Yandina Markets every Saturday and Peregian Markets every 1st and 3rd Sunday of the month.
The Vintage Bondwood Bar
Ok, I know the heading says Food Truck, but alcohol counts as a food group too, doesn't it? Specialising in special events all around the Sunshine Coast, The Vintage Bondwood Bar is BYO, which means they serve up whatever you're drinking, from their gorgeous vintage caravan handmade all the way back in 1968. With the option of a few add-on services such as yard games and floral decorations, this lovely guy is so gorgeous - and oh so practical!
Myrtle
Myrtle is the sweetest of vans who you'll find parked outside the beautiful Hinterland Feijoas farm and farm shop run by husband and wife team, Peter and Sally. In recent excitmeent, Myrtle recently joined forces with former Spicers chef Cameron Matthews, who has some big plans in store for them both. Right now you'll find them at the farm every Saturday and Sunday morning serving up the likes of feijoa-spiked sausage rolls, Eumundi beef sausage man buns, organic coffee and more. So many yums and we haven't even got started on the Feijoas yet.
Good Food Fellas
The Good Food Fellas food truck is run by two good fellas who love good food (now say that fast 3 times). The two chefs behind this epic food van are passionate about what they do and they change their menu weekly to prove it. You can find them outside Urban Garden on a regular basis, at any food festival worth mentioning and they cater to any special event. But the key takeaway here (pun intended) is that their food is amaaaazing.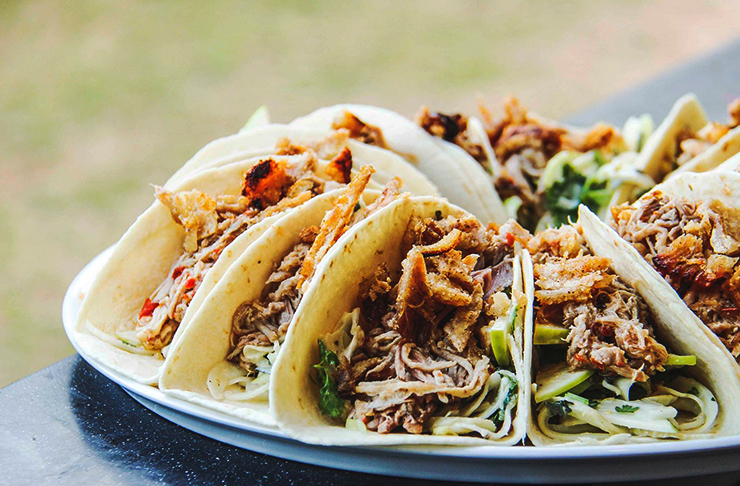 Wilson Vintage Pop-Up Bar
Wilson is a 1964 Viscount Caravan who's been converted into a real handsome little fella with timber bars, large windows and vintage lighting. Also a BYO bar service, The Vintage Wilson Pop Up Bar will also throw in a bit of their own swag styling for the van along with some complimentary lawn games. Cheers Wilson! And as a side note, we're thinking an introduction to Lola above could create some of the cutest little caravan babies we ever did see. #Wilsonforthewin
Something for Catering
Upping the game in the food truck department, we have the truly magnificent Something for Catering. Special events are these guys bag and they pride themselves on quality of service, beverage and plate-to-paddock style food. Their menu makes you wonder how purpose built the kitchen could really be to cater for such style and variety, and the truck itself, well it's gonna light up any lawn it parks its pretty little (or not-so-little) wheels on. Possibly one of the best food trucks you'll find on the Sunshine Coast.
Now you've eaten all the good food you possibly can, what about hiking some of those cals off? We've rounded up the Best Next-Level Hikes On The Sunshine Coast here. What about a swim? We've rounded up Sunshine Coast Beaches You Can't Miss.
Image credit: Something for Catering, Myrtle, Lani & Lola and Amy Higg for The Urban List.