We totally dig Vietnamese food. It's cheap, somewhat healthy, and downright delicious. Agreed?
And while this Asian cuisine is still building rapport among us Sunshine Coasters, we've noticed more and more Vietnamese restaurants popping up; ready to feed our inquisitive and cultural souls.
So whether you're looking to feast on some grilled pork vermicelli, or slurp a steamy rare beef pho, this is the only list you'll need if you're on hunt for the best Vietnamese on the Sunshine Coast.
Moom Asian Cuisine
Mooloolaba
Ok sure, Moom is a Thai food-focused eatery but their featured Vietnamese cuisine sits bang on our high vibin' taste list. Hunting for pho? Do not pass go (pho?) and definitely do not collect $200 (sorry old school Monopoly talk here). But seriously, if pho is your go-to, feel-good belly warmer, Moom is where it's at. Ahhh-mazing.
Junk
Maroochydore
With its punchy Asian street decor, and a crazy cheap menu, this Ocean Street eatery is a winner, winner, chicken dinner when it comes to your fave Vietnamese plates. Pull up a stool and gorge on some of the best in town knowing you won't be spending your entire weekly pay. We recommend trying every flavour of bao you can—the soft shell crab is simply too good for words. Junk is a fave of ours, and it will be a fave of yours too.
Cafe Nurcha
Maroochydore
If you've been to Cafe Nurcha you will know they EXCEL in their rice paper rolls. While it's not a Vietnamese restaurant per say, this vegan wholefoods café knows how it's done when it comes to those soft wrapped mouth-watering delicacies. Complete with fresh mint leaves and jam-packed with vegan-friendly ingredients, these babies will have you thirsty for more. You're welcome.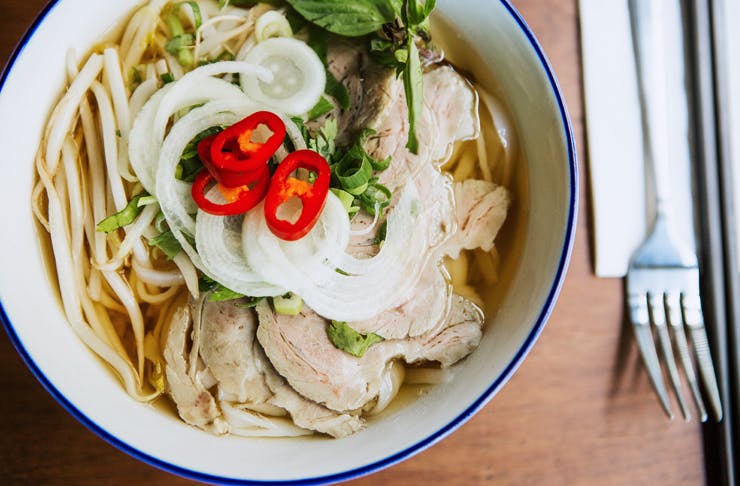 Nguyen Brothers
Maroochydore
Coast newbies, these guys are king when it comes to top notch Vietnamese cuisine. Taking over part of the swish new Kon-Tiki towers, opposite the Sunshine Plaza, this place is open-plan and sophisticated dining at its best. With restaurants in Sydney, owner Yen Nguyen relocated his family and some of his city staff to make sure this place would live up to the big city vibes. With caramelised pork, whole snapper, vermicelli salads and the best pho in town – we can't thank these guys enough for bringing big smoke dining straight to little ol' us.
Fresh Natural Asian
Noosaville
This modern Asian restaurant also moonlights as a cooking school, serving tasty, authentic eats which showcase fresh, local produce, blended with imported South-East Asian spices. Here, it's a culinary journey of home-style cooking transporting your senses through the islands of Indonesia, Malaysia, Thailand and Vietnam. No need to unbuckle your belts or that top jeans button here, the emphasis is on healthy eating. So, now you can walk out feeling satisfied that you've enjoyed one of the best meals you've ever tried, without tipping the scales. Fresh Natural Asian is were it's at folks.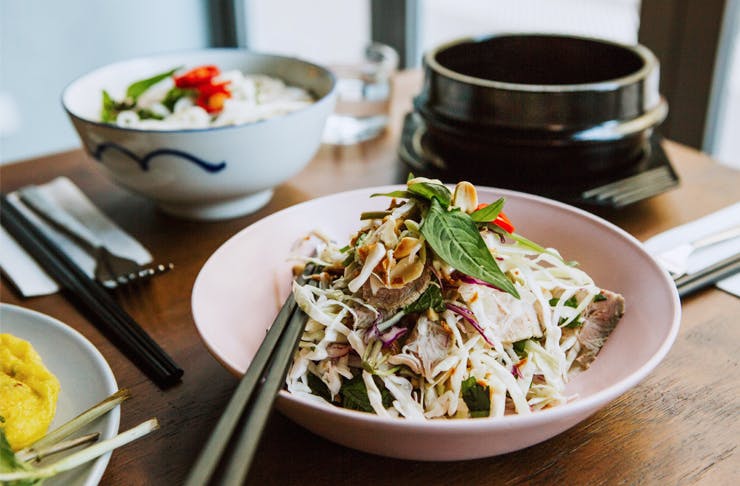 Miss Hoian
Caloundra
Don't worry south-coasters, the Vietnamese food wagon is at ever step along our spectacular coastline – including you! Miss Hoian is a local's family fave, and while it may only be small and casual, the food here is where dreams are made from. Why not try the Cha-Ca? Originating from Hanoi, this dish comprises of small pieces of deep fried fish, served sizzling and coated with garlic, ginger, turmeric and other spices. Drooling yet?
Roll'd
Maroochydore
Just over the bridge at the Sunshine Plaza boardwalk is Vietnamese street food at its best. This is the perfect pit stop for that crazed shopping spree or to fill up with your sweetheart or BFF before a movie. Roll'd tries to encapsulate the concept of how Vietnamese food is traditionally enjoyed. In Vietnam, it is very common for locals to cram in their thousands at markets to buy fresh meat, fish and vegetables to take home and cook their morning meal. They do this again just before lunch and dinner. At Roll'd you can experience this very same home-made essence of fresh Vietnamese food with a twist for modern Australia. Get your hands on the steamed bun with pork crackle and those tasty little spring rolls.
We've rounded up the best ramen on the Sunshine Coast here.
Image Credit: Yaseera Moosa and Amy Higg for The Urban List