Rewind to Thursday last week, and we were pretty excited to be sharing the news that Moffat Beach was getting a brand new cafe.
You guys went wild over on our Facebook page—planning your next jaunt to Moffs after reading little more than a snippet of what to expect and staring at one (ONE!) image of the exterior. But it was enough.
Now though, One Block Back is officially open, so we wanted to take it even further with a rundown of what to expect, plus give you a good 'ol dose of #foodporn. Because you deserve it!
We skipped the line-ups (Saturday was off the hook, apparently), and instead found our way to the sunlit deck early on Sunday morning.
Down a quiet little cul-de-sac about five minutes' walk from the village, this gem of a spot is totally off-the-beaten track—we'd forgive you for questioning our address-giving skills, even.
Since the last time we stepped inside, One Block Back has transformed from a work-in-progress to an open, rustic café—complete with stunning corrugated iron walls, a cabinet packed with delicious RAWR treats (the woman behind this cafe is also behind RAWR, remember?), herb gardens out the front and back, and a steady stream of in-the-know locals.
The space is split in to a lounge area, get-shit-done bench (hello, wifi and charging stations!), small bar tables, and huge outdoor picnic tables perfect for families or hangover brunches with your mates. Also housed in the warehouse is a coffee, sweets, and smoothie bowl station, plus two kitchens—one to pump out dishes from One Block Back's menu and the other to make RAWR Food's delicious range of guilt-free snacks, which are then sent out to a copious amount of cafes from Rockhampton to the Gold Coast. We're feeling tired just thinking about all they manage to do.
We rock up with one mission in mind: to eat and drink coffee and eat some more. And let's just say: they smashed it. And then we smashed it.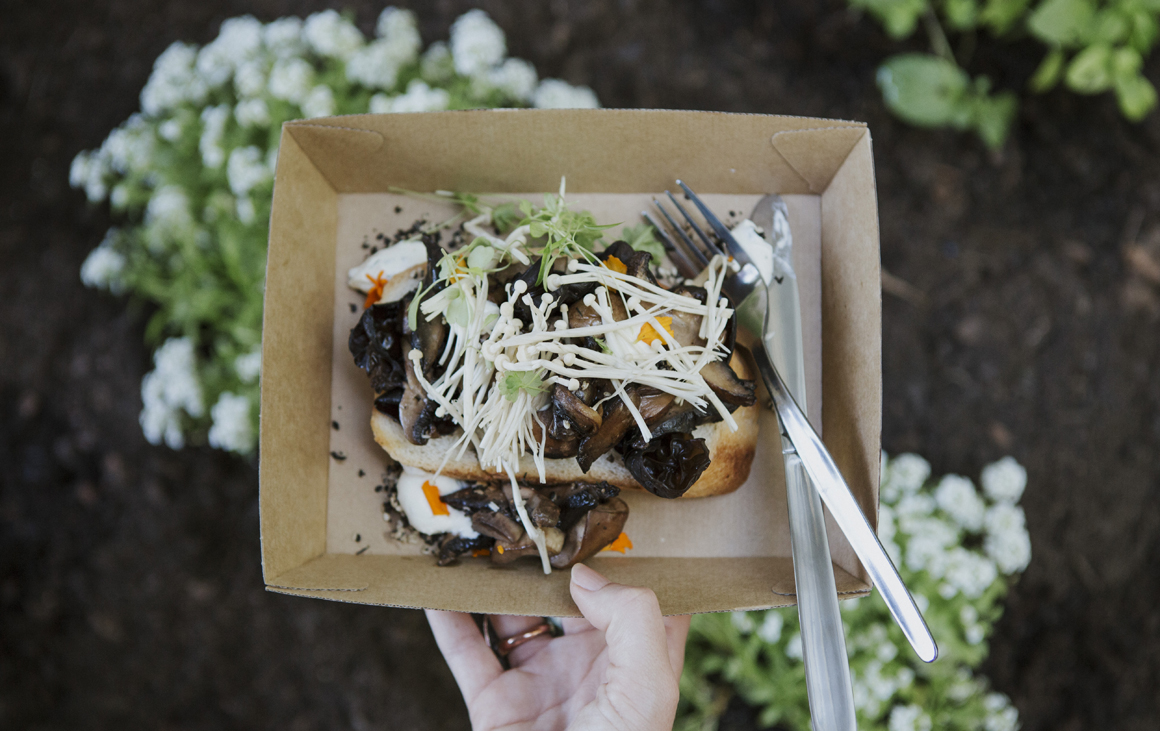 We went big and ordered the Wild Mushrooms coated in a garlic and thyme sauce, and served with freshly whipped goats cheese, garlic black sesame oil, and propped on lightly toasted sourdough, and the OBB Smokey BBQ Beef Burger—loaded with pulled beef cheek bourguignon, slaw, sliced gherkins, Swiss cheese, and caramelised onions between the softest house-made brioche.
Both dishes were delish and totally enough, but we couldn't stop there. We also tried our first ever (and correct us if we're wrong, but it's also a first for the Coast) activated charcoal acai bowl topped with nuts and fresh fruit—yep, it was black but super tasty.
Saving the best till last, the crème de la crème in our eyes—the Rocky Road Fresh Toast… OMG! This dish is almost too pretty to eat, but we're not ones to judge books by their covers, so devour it we did. There's no point holding back so I'm going to go ahead and say it… it's the best French toast we've had on the Coast. The cinnamon brioche French toast soaked in creamy coconut and paired with vanilla bean coco ice cream, chocolate ganache, marshmallows, and candied strawberries is something we could defs eat on the regular.
Only a few days young, One Block Back seriously impressed us. The coffee was strong but smooth, the food—so fresh and so freakin' good, and the atmosphere created by chilled staff and happy-to-be-there customers, just made a visit to this newbie one we'd like to replicate all summer long.
Now open seven days, 7am to 3pm (kitchen closes at 2pm), go give Jasmin and her crew a big welcome! They're ready for ya!
Where: 106 Nothling Street, Moffat Beach
Image Credit: Amy Higg for Metropolist