If you're a Noosa local (or just a Coast coffee addict like us), then you'll already be familiar with the Noosa coffee scene. But just when you thought it couldn't get any better, along comes a new coffee roastery and cafe to mix things up in the very best kind of way. Let us all say a huge hello to Flying West Coffee Roasters. A coffee game-changer on the Coast, and then some.
Situated on the outskirts of Noosa in Doonan, this hidden gem is changing Noosa's coffee game with every house roasted and carefully brewed coffee they create.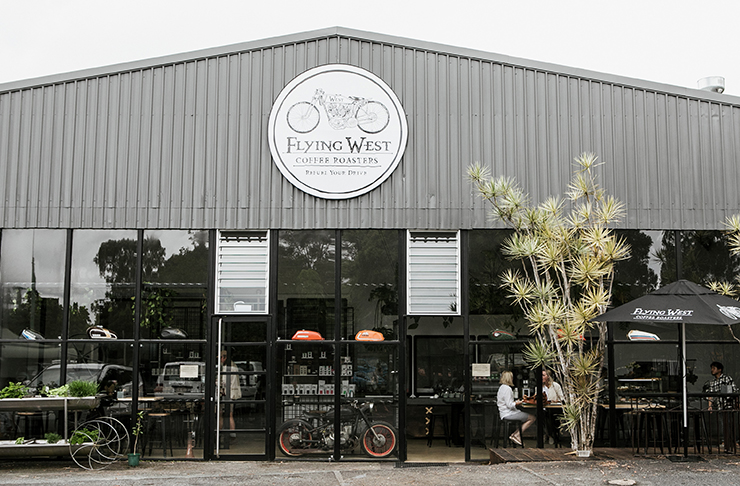 Built inside a renovated warehouse, from the outside Flying West looks like nothing more than a big shed. But once you smell the freshly roasted coffee and spiced pumpkin and maple waffles, you'll see that it's much more than just a shed.
The modern industrial décor, hanging greenery, dark timber furniture and crisp white walls make this spot one of the most Instagram-able cafes around. And the chilled music, ambient lighting and delicious smells make you want to sit in there for hours and soak up all the goodness. (We did just that).
Speaking of goodness, their menu is quite the spectacle. Yes, their coffee is delicious, fresh, and roasted in house every day, but it's the food you're going to want to stick around for. Think: French toast with caramelised banana, bacon and vanilla bean ricotta, lime and mint smashed avo served on a mouth-watering rosti, burgers dripping in delicious sauce, and even customisable Buddha bowls. Sold yet?
The best part is their menu is always changing and there are additional specials every day, so you can expect a delicious new option with every visit. All of their incredible foodie offerings are made on the premises with the best quality, locally sourced ingredients. Farm-to-table is where it's at people, and we literally can't get enough.
Owners Ben and Nina West have spent the last 20 years planning and executing their vision, aiming to bring the Sunshine Coast the best coffee experience possible. What began as 'Don Benucci Noosa', a small coffee stall at the Eumundi markets, has now turned into a successful coffee business that supplies coffee beans to many cafes across the Sunshine Coast, Brisbane, New South Wales and even Victoria. But luckily for us, we can get a taste of the magic right here on the Coast at their new Doonan spot.
And trust us, once you've tried a Flying West Coffee Roasters, you won't settle for anything else again.
Want more Noosa fun? We've rounded up the best things to do in Noosa here.
Image credit: Amy Higg for The Urban List