It seems like you can't walk through Noosa Junction at the moment without tripping over another hot little cocktail bar that's popped up, complete with bearded mixologists and tiny share plates and fabulous, statement light fittings.
Well, we're here to tell you, the bar has been set for new openings in the Junction. And it is high.
Capping off a huge year at this burgeoning hot spot is another epic addition, Pucca. Opening its doors last week, Pucca dishes up coastal Indian street food, cooked with European techniques and local produce.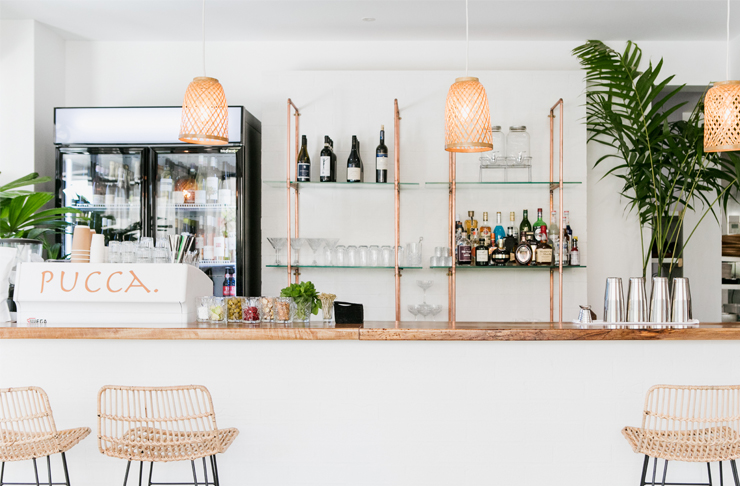 The setup screams old-school Indian luxury hotels, with lots of rattan chairs in the huge outdoor area, lush greenery and a cool, white interior. And the design team obviously took some tips from women sick of having to choose between resting their new Balmain bag on the bar or on the ground—they've furnished us with handbag hooks all along the huge, undercover outdoor bar area.
So what's in a name, you're wondering? It turns out that apart from being a Mockney chef's slightly annoying catchphrase, 'pucca' is actually a legit Hindi word meaning 'genuine'. The kitchen team have taken this to heart and they're taking their food seriously, making their own paneer and yoghurt from Maleny milk and cream, sourcing local whole fish to bake over coals, and triple-cooking their chips for a hot take on a British 'chip butty'.
On the menu you can also expect to see combos like masala-seared Maleny buffalo fillet, paneer stuffed eggplant and mango kulfi popsicles to finish. Basically, prepare to have your tastebuds blown.
We've got to be honest, if we get the chance, we'll always choose a whole lot of small plates for sharing—that way we get to try a bit of everything, right? But Dad's Puchkas—one of the standout dishes—introduce a whole new level of sharing. You get a mountain of pani puri—perfectly round, hollow little puffs of fried crispiness—delivered to the table along with a spiced chickpea filling. Then everyone fills their own snack and dives in for seconds. It's fun, social and totally delicious.
Complete with a boutique gin bar, the team are promising us 28 different gins with matched tonics, bespoke cocktails and we've heard whispers that there's even a custom-distilled 'Pucca gin' from our friends at Land & Sea on the cards.
We feel like, even though the cocktail menu is full of super sophisticated options, this is going to be the summer of the Puccalada; Pucca's twist on a classic pina colada, to be sipped while watching a perfect sunset.
We're pretty sure that Pucca will satisfy all your cravings for spice, while dishing up food that's a whole lot more interesting than the local curry house. So if you haven't already, add this unique Indian restaurant to your list of the best restaurants on the Sunshine Coast to check out this summer. It's a must-try!
The Details
What: Pucca
When: Open Tuesdays and Wednesdays for dinner, 5pm until late, Thursdays and Fridays for lunch and dinner, 12pm until late, aswell as Saturdays and Sundays for breakfast, lunch and dinner, 8am until late
Where: Shop 9 and 10, 19-21 Sunshine Beach Road, Noosa
Image credit: Lumea Photo for Urban List