Welcome to Threads. Five days, five outfits, one ultimate source of city style.
"I definitely don't connect well with the 'less is more' thing. I love colours and patterns and vibrancy, I don't like pulling things back, I like adding to it."
Sophia Athas embroiders classic cut denim jackets in the style of Gucci creative director Alessandro Michele—but there's nothing at all same-same about her approach to style.
For Sophia, fashion, art and travel are sort of bound together in one explosive creative universe, and that's the heart of Hatrik—a blog turned business she launched only a few years ago. As well as customising denim, Sophia has a swimwear label; she's a content creator, a stylist, a graphic designer and creative director, and—in her spare time—help to keep things looking radiant and delicious at her partner's Manly Beach croissanterie (and one of our favourites), Rollers Bakehouse.
Here, we do five days, five get-ups with Sophia, and find out where it all began, what she wears, who she follows and where she eats when fancy French pastries are off the cards.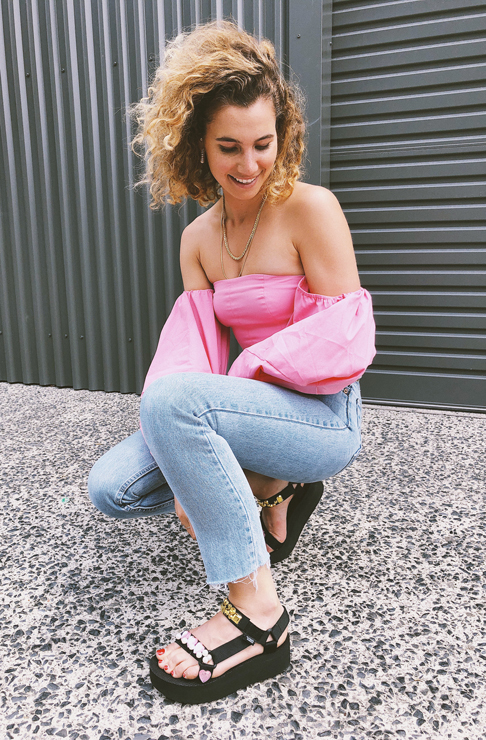 STAUD Top, Levi's Jeans, Brie Leon Necklaces, Teva sandals.
From double denim weddings to loaded croissants, you wear a few different creative hats. If you have to give yourself just the one title, what would it be?
The thing I love about being a creative is that there is no one job—one day I wake up and I'm the embroidery artist, the next I'm a stylist, or graphic designer. I suppose an over-arching role might be 'creative director', but I like being able to mould into whatever the job requires. It's never boring!
How did you land here—and how did Hatrik come about?
After high school I went straight to university, and studied combined law and communications. While I loved studying this, I found no inspiration in the workplace of that industry, and in my third year, I started Hatrik. It started out as a personal blog, I suppose a creative outlet to post my art, fashion and creations. It's funny looking back now because at the time I would never imagine it operating as it does today.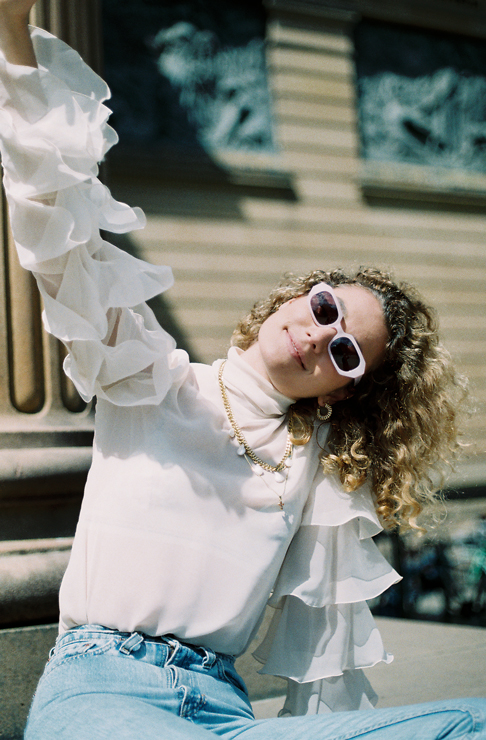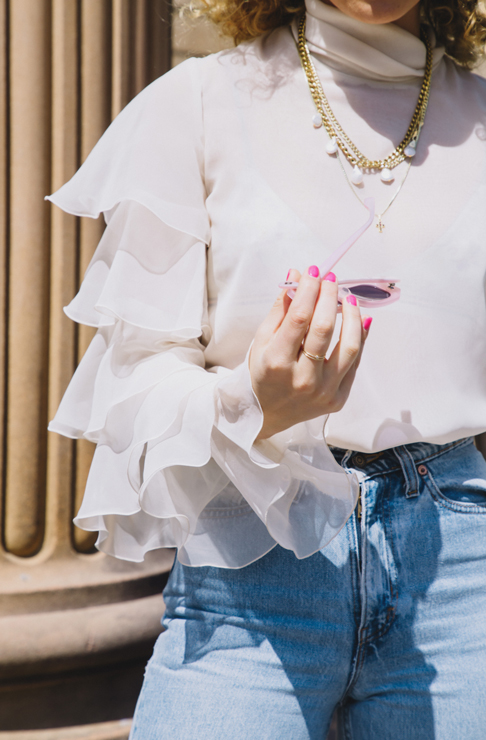 Vintage Levi's, vintage blouse from NYC, Le Specs sunglasses, vintage chains.
When did the denim thing start?
I was in NYC visiting my sister who studies art there. We went to a few shows during fall fashion week, around the time that Alessandro Michelle launched his Gucci denim campaign. I couldn't afford a $25,000 denim jacket so I made one myself! I wore it all over the city, shared it with my sisters, started stitching for my friends, and the word grew from there.
I think it was tapping into people's love of hand-made crafts. Its super old-school, totally handmade and unique. There is no way of getting the same effect by a machine!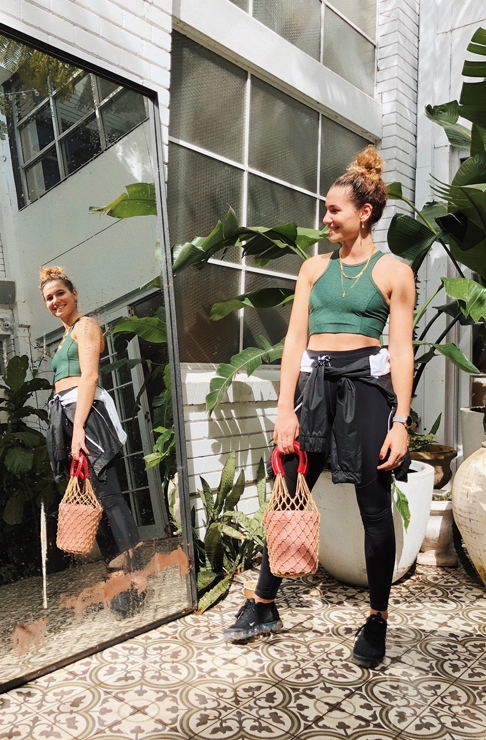 Outdoor Voices top, Nike jacket, STAUD bucket bag, Fossil Gen 4 Watch, Brie Leon necklaces.
Your swimwear label, Hatrik swim has such a great summer vibe. Where do you draw inspiration from?
There is no one place, I'm constantly writing things down, photographing and pinning, making mood boards and sticking them on my wall.
I definitely don't connect well with the 'less is more' thing. I love colours and patterns and vibrancy, I don't like pulling things back, I like adding to it.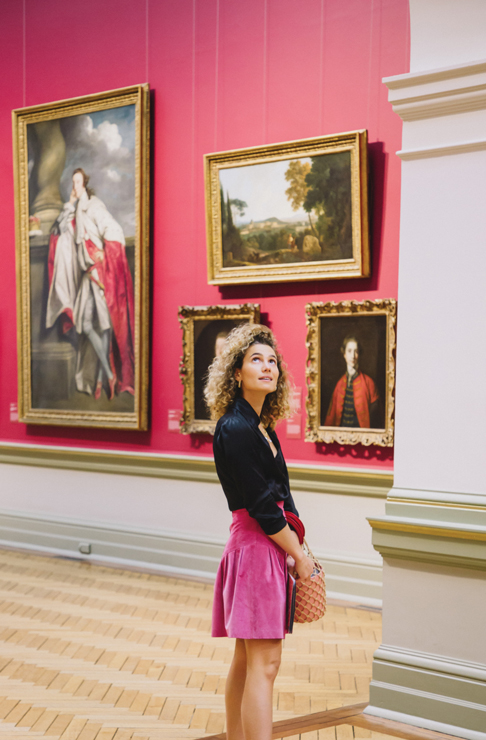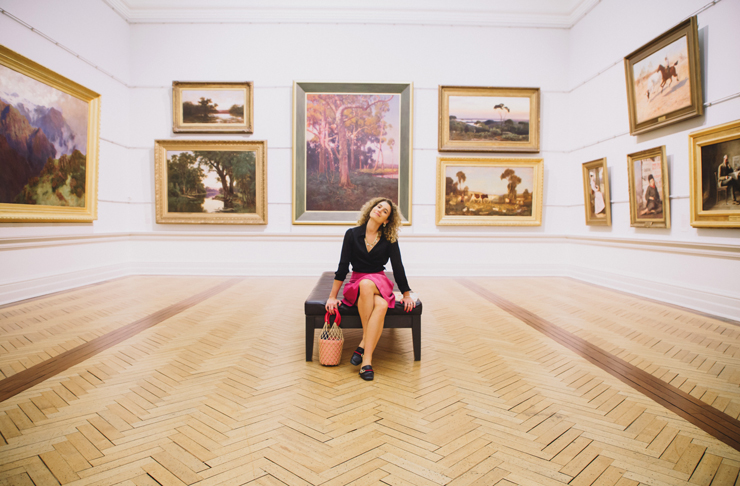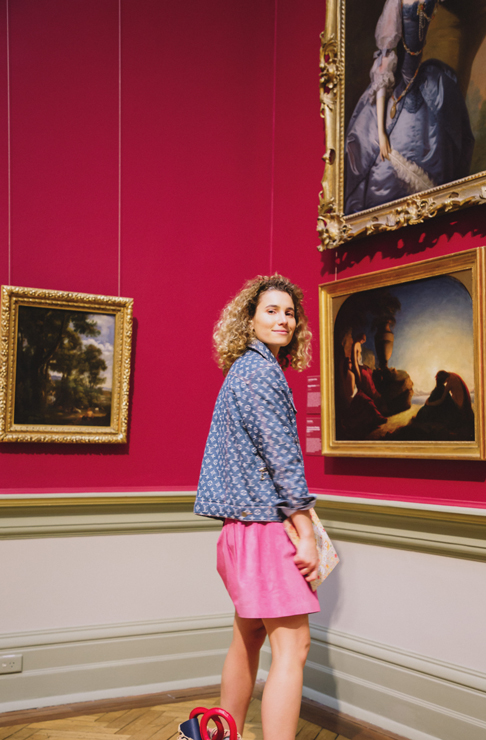 Vintage suede skirt, Reformation black shirt, STAUD Bucket Bag, vintage Louis Vuitton denim jacket.
Favourite fashion Instagrams to scroll?
I love Leandra Cohen (Man Repeller) and Patricia Manfield.
I love a trend, but I'm not really one to buy into things just because someone else has it, I prefer to buy pieces that I know are me, and I know I will wear. I share a wardrobe with my two sisters, and altogether it sparks a few fights, we're constantly swapping and changing our style.
Describe your personal style in three words?
DIY (Do-it-yourself!).
Your style is also eclectic. Where do you love to shop?
I tend to only shop when I'm overseas, I like to save my money and make it an occasion—I'm a little old school like that. I'm actually the worst online shopper. I'm super indecisive (and secretly waiting until my little sister Chesca buys it before me!)
My favourites are Reformation, Daisy and vintage in Lower East Side in NYC—especially Evil Twin.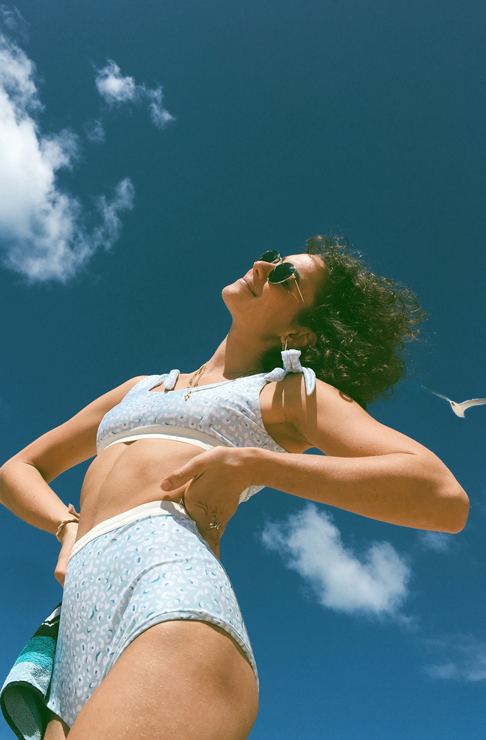 Hatrik Swim bikini and Ray Ban sunglasses.
Your partner Jimmy is a co-owner at Rollers. Where else do you love to eat, drink, hang out in Sydney?
I'm a massive savoury-tooth, give me a cheese plate over croissants any day (sorry Jimmy!) We're always trying new places. Our favourites are Cho Cho San for date night, The Dolphin with friends and Room Ten for breakfast every day.
Image credit: Kira Celine.