Nowhere in the world does breakfast quite like we do here in Oz. In fact, breakfast fare might be as close as we come to having a national cuisine, and Perth certainly hasn't missed the memo.
Whether it's down at your local neighbourhood joint (every suburb has one) or somewhere new and inventive, Perth people can be found sharing in their collective love of breakfast and brunch week-round. The only thing better? When it goes all day.
There's nothing more disappointing than sitting down to order some hearty eggs or fruity bowls only to realise that breakfast ended at 11am—that's why we've made it our business to find you these places serving the best all day breakfast in Perth.
Hylin
West Leederville
If you don't mind a slight wait, Hylin is almost unrivalled when it comes to a solid all day brekky. Not to be cliche, but the smashed avocado is insanely good. It comes with house ricotta, peas, spinach, lemon, mint, a sprinkling of wasabi peas, and two perfect eggs. Other favourites; the green veg bowl, the croquettes and eggs, the open brekky burger… the list of favourites is, well, as long as the menu itself. And the leafy, suburban vibe is just as good as the food.
Mary Street Bakery
Highgate, West Leederville, Perth And City Beach
We aren't ones to make outrageous claims, but it has been said that Mary Street Bakery's slow-cooked eggs are the best in the city… and we tend to agree. With eggs made this well, it's no wonder the MSB empire is basically taking over Perth with its five outposts. Obviously follow up your eggs with a good sweet fix; one of their infamous salted caramel doughnuts should do the trick.
May Street Larder
East Fremantle And Mount Hawthorn
A true East Freo local (and now Mount Hawthorn local), May Street Larder is as good for long, lingering brunches as it is for a quick takeaway. The crowds love the Soul Sandwich, Smoked Beef Brisket Hash and the Potato Pave. Their all day menu is rounded out by some pretty serious brunch items; think chicken schnitty sangas and ricotta gnocchi. Counts as breakfast if you ask us.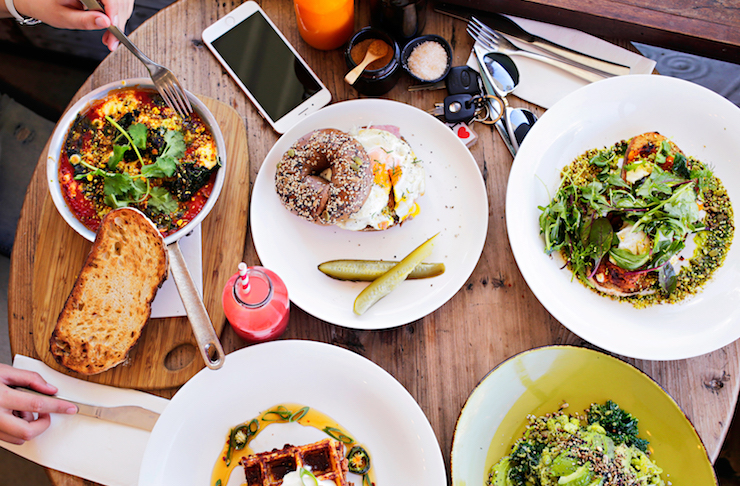 George Street Quarters
East Fremantle
Here's a place that's actually better known for its all day breakfast offering than anything else. If you can, take a massive group to George Street Quarters so you can order the whole menu and try everything. If not, settle for the (utterly delicious) açai bowl. Or the Croque Monsieur. Or the morning ramen. You can't go wrong.
Doric St Cafe + Kitchen
Scarborough
Is anyone else loving the Korean brunch trend that's been sweeping Perth for a while now? Us too. Doric St is definitely in order when the craving for a Korean beef and kimchi burger or a good healthy serving of bibimbap hits. For those who aren't so sure, don't worry, there's a bunch of classics rounding out the menu, including traditional French toast, creamy scrambled eggs, smashed avo and delicious eggs benedict.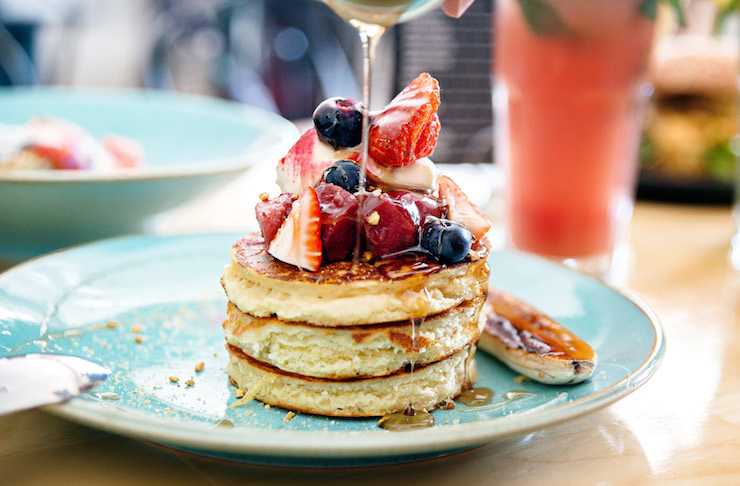 Sayers Sister
Northbridge
Sayers Sister does all day breakfast every day of the week, and they run breakfast cocktail specials too. If you don't order the Caramelised Banana Waffles with butterscotch sauce, choc chips, praline dust, chocolate custard and ice cream you are seriously missing out. But if you're a savoury tooth we'll understand if you go for the Leek & Parmesan Croquettes with poached eggs.
tbsp.
Bayswater
If you want your brunch with a side of new Instagram content, head to tbsp. where the food is a thing of absolute beauty. There's a good serving of classics like muesli and eggs, but basically everything else comes with an Asian twist. It's hard to go past the zucchini and corn okonomiyaki, but the chilli scramble and brioche French toast are just as good. For something a bit more daring, go for the chicken congee—it's rice porridge, but with poached chicken and a slow-cooked egg thrown in, garnished with pickled cucumber.
Mel & Co Kitchen
Cottesloe
Beef rendang for breakfast? We say hell yeah. Mel & Co Kitchen serves theirs with rice, deviled eggs and fried shallots. More of a traditionalist? Go the breakfast rosti which comes with a tomato and parmesan sauce, spinach, chorizo and poached eggs. Or the shakshuka with baked eggs and chorizo. Can you tell we like chorizo?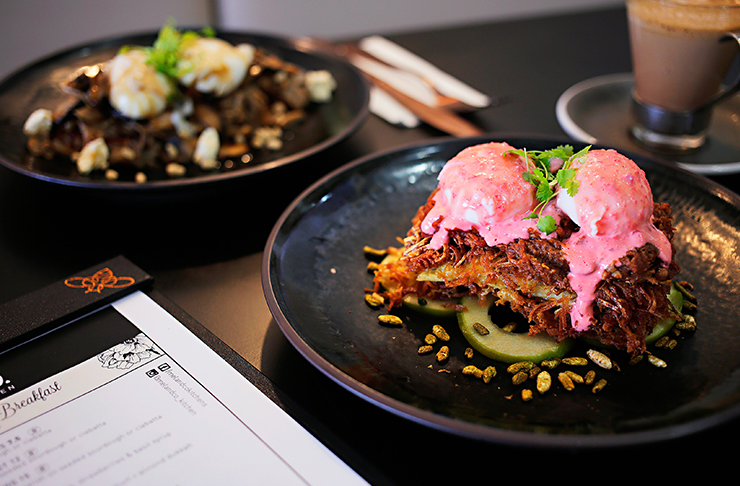 Port City Roasters
South Fremantle
Occupying the spot that once was the Roasting Warehouse, Port City Roasters' all day brekky game is as strong as that of its predecessors. For something sweet try the mango breakfast pannacotta or the French toast special. Otherwise, the potato rosti and the Asian-inspired Eggs Benny Chan are both downright delicious.
Typika
Claremont
Another O.G. of the Perth breakfast scene, Typika has a pretty inventive all day menu that has served them (and all of us) pretty well thus far—think baked breakfast gnocchi, miso pork belly benedict and buttermilk pancakes with vanilla pandan custard. But the real hero here is the Huevos Rancheros; a small pot of grilled chorizo and perfectly seasoned tomato, topped with a sous vide egg and soft goat's feta that you stir through to create a deliciously creamy consistency.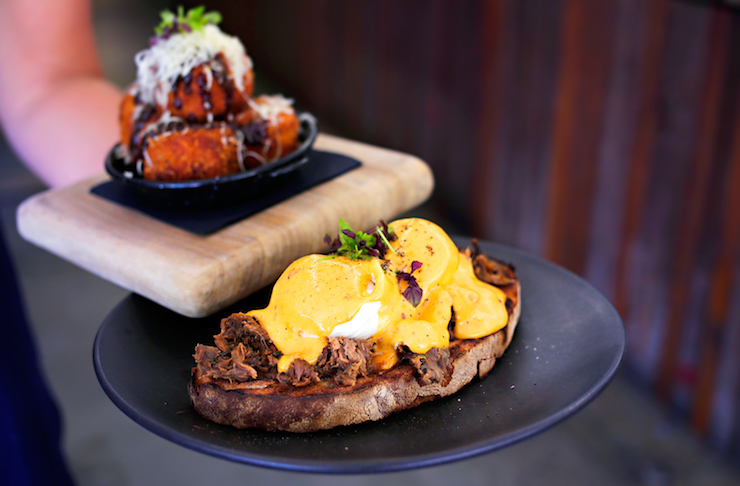 Flora & Fauna
Northbridge
The numero uno option for those wanting an all-vegan, all day breakfast in Perth, Flora & Fauna is where it's at. At only 18sqm, with half of it taken up by the kitchen, you can imagine most seating spills onto the street. From here, seated at one of their mismatched chairs, you can enjoy their perfectly moist banana bread (get it with peanut butter), delicious Baha breakfast burritos or PB&J bircher. Definitely don't skip the sweets cabinet for a take-home treat.
West End Deli
West Perth
For Perth brekky-lovers, a visit to West End Deli is rudimentary. The sort of sophisticated yet relaxed bistro that everyone wishes was their local, West End Deli serves up a much-loved all day menu that hosts simple favourites like porridge, granola and eggs, but throws a few curveballs for good measure; stretched curds, anyone? The thing to do here is order a serve of eggs and choose from the imaginative list of extras to go with (think mushroom terrine with blue cheese butter or corn and cheese croquettes). Our vote—get the thick-cut double-smoked bacon. You won't regret it.
Gill Street Cafe
Mosman Park
Perched on an otherwise quiet, leafy suburban street is bustling Gill Street Cafe, where the only thing harder than deciding what to choose off the tantalising all day menu is fighting off the school drop-off crowd for a park. Of course, if you roll in at midday, that's not an issue. The menu is long and delicious and we're not giving you any help in choosing what to have because it's all so good.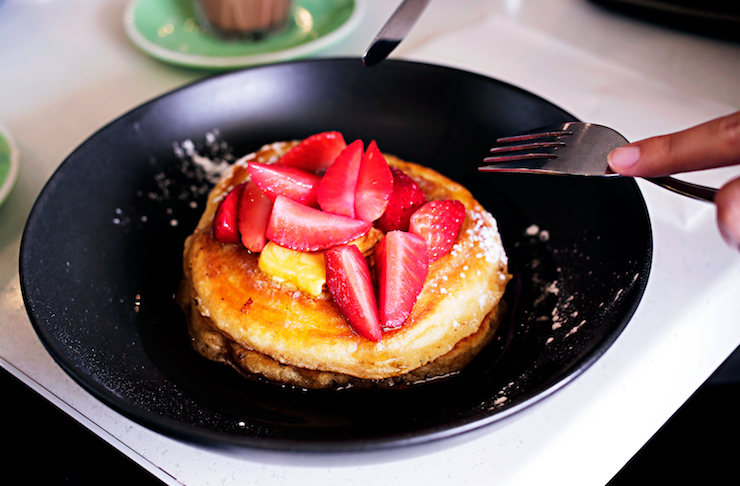 Hampton & Maley
Victoria Park
The brainchild of the fine dining heavyweights behind Restaurant Amuse, Hampton & Maley is breakfast done right—and we don't just mean because it's offered all day. Menu heroes include the grilled halloumi and guac with poachies, pine nuts and puffed wild rice, the crumpet with fried chicken wings and the fricassee of mushies sitting on creamy polenta.
Tribute
Shelley
A true gem on the south of the river, Tribute whips up some of the most Insta-worthy brekkies in Perth. Their smashed avo toast with zaatar and beetroot puree is so good that you probably wouldn't even miss the bacon and eggs. But if you do, they do a banging eggs benny and hollandaise served with either maple-glazed bacon, smoked salmon or spinach. If you're leaning towards a healthier way to start the day, don't look away yet. They do some amazing breakfast bowls, including a nourish bowl filled with a wicked medley of quinoa, fried cauliflower, falafel, roasted pumpkin and hummus, and much more to get the vegan in you jumping with joy.
Early riser? Here are all our favourite Perth cafes you should have had breakfast at.
Image credit: Elle Borgward and Nancy Hanna