It's no secret an amazing menu is enough to win us over—but it often it takes a stunning interior to create the atmosphere that will seriously impress. Whether it's bright and bold, dark and brooding or a little bit surprising—a good design makes eating and drinking that much better. Lucky for us, Perth has a talented line-up of interior designers and architects that have created some of the city's most beautiful dining spaces. Chances are most of these spots are already some of your favourite restaurants and bars in Perth (and if they're not, they should be).
Here are the 12 Perth Architects and Designers you didn't know you loved.
Space Agency
The team at Space Agency are behind some of Perth's best restaurants…and trust us, it's an impressive list. Bread in Common's converted heritage building in Freo, with its impressive open kitchen, is perfect for enjoying their seasonal (and delish) menu. We like to sit on the mezzanine level and spy on what other diners have ordered from the menu. They're responsible for not one, but two, of the restaurants in the stunning State Buildings—Long Chim and Petition (shout out to Petition's amaze cheese platter #brieislife). Yes, the list keeps going… They were responsible for the roof extension at Propeller and Strange Company is another work of theirs—don't miss the semi-outdoor bathroom.
Finespun
The team at Finespun were the original team behind Propeller, converting an old bus garage into one of North Freo's coolest eateries. They also designed Dominion League. Inspired by the 1930s movement to separate the state from the rest of the commonwealth, the speak-easy bar is an ode to WA and perfect for clinking cocktails. Another one of theirs—the restoration of the North Fremantle Town Hall into one of our favourite event spaces Guildhall. These guys are also responsible for Mrs Browns Bar, Mechanics Institute and El Grotto—a pretty impressive list indeed.
Ash & Colour
Asha Hall from Ash & Colour is the designer behind cool Como cafe Frisch and Barc. It isn't just the coffee that will have you buzzing—the cafe's name and design were inspired by the honeybee research of Nobel Prize winner Karl von Frisch. Blue and green (the only colours visible to bees) feature throughout the cafe. Settle into the hive—the bright interior makes their delicious brunch that much better.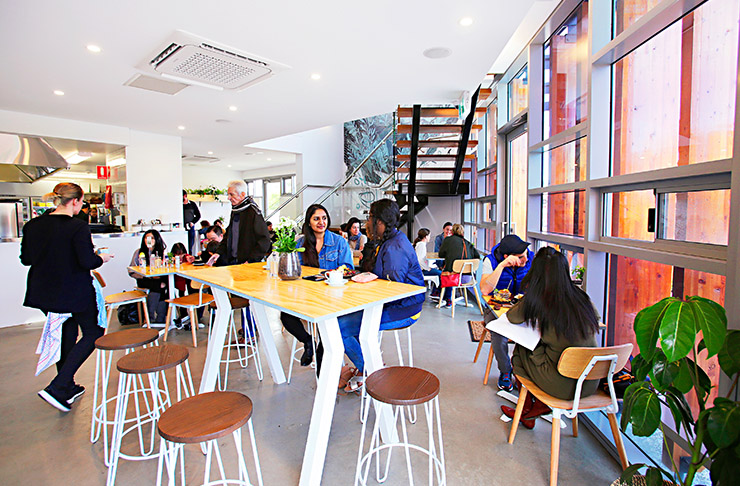 Arcadia Architecture + Interiors
This small studio is responsible for the cosmic fit out of one of our favourite pizza joints. They transformed an 1897 heritage-listed building on William Street into Comet Pizza. The delightful interior, with plenty of quirky references to outer space, makes for a dining experience that's out of this world. The lighting is a standout, with a constellation of lunar pendants and ellipses hanging from the ceiling.
Christou
Perth wouldn't be looking quite so pretty without this firm. They gave the Subiaco Hotel its multi-million dollar makeover a few years ago—complete with a retractable roof and cigar room. Christou is also behind some of Perth's most beautiful public spaces—they designed City Beach Surf Club, Allendale Square and Scarborough's new outdoor pool that's under construction.
Braham Architects
Fun and surprising—the spaces created by this firm are always an absolute delight. They're the team behind the Dainty Dowager in Mount Lawley. The restaurant is inspired by a 1920's Shanghai opium den, complete with exposed brick, neon green signage and lantern lighting. They also played a part in the beautiful Raisin' Bakery in Shenton Park and have a few exciting projects underway—we're pretty excited to see what they do with the new bottle shop and bar, Besk which will be opening in West Leederville in 2018.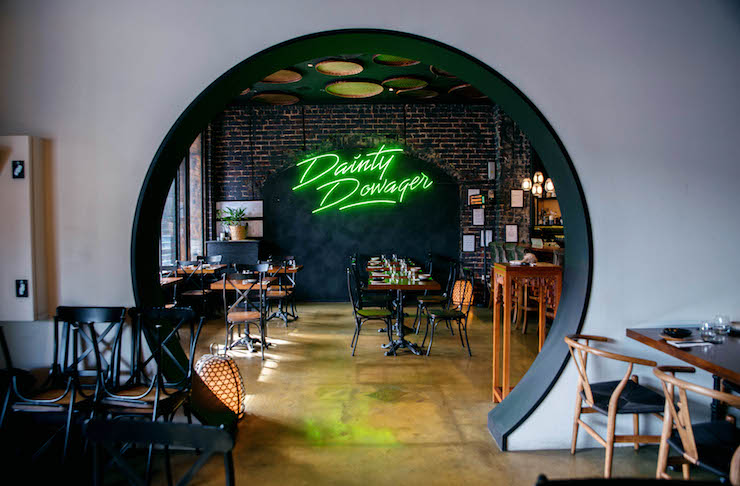 Thom Perry
He's the designer behind Perth's first dessert bar, and trust us the interior of Measure is just as good looking as its sweet treats. With low lighting and natural materials, the bar has a luxurious and intimate feel that's perfect for a first date. Thom Perry also designed Regular Coffee Company in Carine.
Fratelle Group
This firm brought the Guildford Hotel back to life—and boy, it's beautiful. Since burning down in 2008, the pub is better looking than ever. The renovation gave it a total revamp, but kept the burnt beams and charred bricks exposed throughout the pub. The massive space pays homage to the building's 130-year history, with original tiles, doors, windows and fireplaces. It's no wonder it's one of the best spots in Perth for a pint and pub lunch.
Design Theory Perth
To make way for the construction of Elizabeth Quay, the 1928 Florence Hummerston Pavilion was dismantled brick by brick and rebuilt. Design Theory morphed the heritage icon into the absolute stunner that is Isle of Voyage. This boutique studio also fitted out Young George, using reclaimed timbers, stone and leather to create an intimate space that's perfect for digging into their delicious food. Another winner is BamBamBoo. We didn't think dumplings could taste better, but their colourful dining hall will make for a very happy night.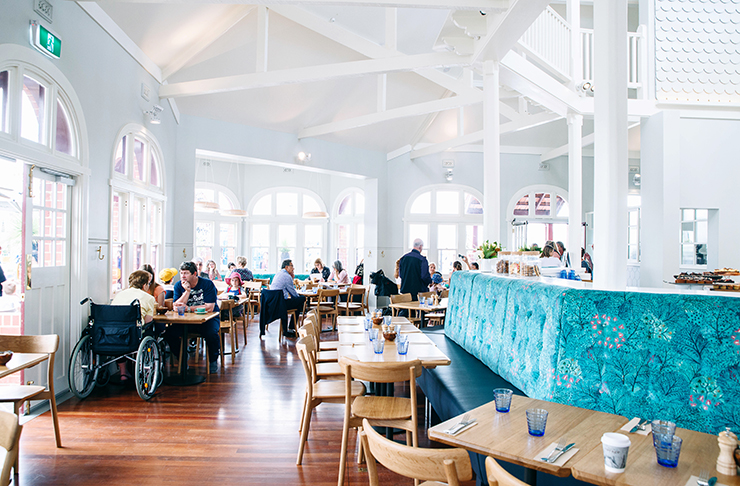 Gabrielle Scott Studio
You've probably already fallen in love with Gabrielle Scott's interiors. She's the talented interior designer behind Young Love Mess Hall—the vines hanging from the skylights are an absolute joy. She's also responsible for some of the interior finishes at The Dominion League and Guildhall.
Lazarus Studios
This talented trio knows how to create a vibe. They transformed the outdoor space at the Leedy Hotel into the tropical paradise we know and love as Blue Flamingo (hello cocktail jugs). Another one of theirs is Meat Candy. Who doesn't appreciate a nice interior when a monster serve of fried chicken is sending you into a food coma?
Mata Design Studio
We can thank this award winning boutique firm for some killer spaces. Chinese restaurant Chilli Panda in Northbridge is a standout with its cool, industrial aesthetic. Any place that sells doughnuts is going to be a winner, but Mata's makeover of Chu Bakery makes the space extra sweet. They're also behind Applecross favourite Nic and Kolo.
Ohlo Studios
Jen Lowe of Ohlo Studios is the creative mind behind Claremont cafe Hello Tiger, Cottesloe pizza joint Canteen and our beloved Chicho Gelato in Northbridge. Each venue has its own unique feeling, but think clean, minimalist fit outs with a whole lot of fun thrown in and you're on the right track.
Want more? Here are Perth's most beautiful restaurants.
Propeller By Space Agency | Image credit: Emma Bryant