Dying for a culture injection? Well, you can now get your art fix at an abandoned 80s bus terminal in Caloundra.
Sub Tropic Studio is the Sunshine Coast's latest creative space and has been designed as a testing ground for contemporary art, photography, ideas and design. Brought to us by Sunshine Coast Council and Sunshine Coast Creative Alliance, the concept sees a culmination of artist studios, an epic light-box gallery made in collaboration with Newstead Studios, a co-working space, workshops, gigs and exhibitions—all popping up in the old Caloundra Transit Centre.
Featuring a modular wave wall made from over 300 cardboard tubes, the fit-out has been given its subterranean flair thanks to interior design outfit, People Make Places.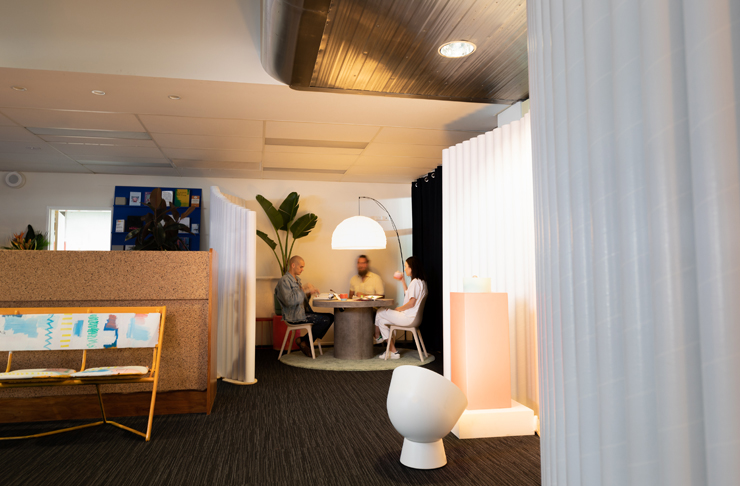 Launching with a kick-arse show titled Paper Trail (now to January 11, 2020) the exhibition is a collaboration between Northern Ireland artist Paper Amy and local Karina Sharpe. Featuring images of miniature paper sculptures of day-to-day items, from animals to nature and architecture, you'll be oohing and ahhing over these tiny little subjects.
Aside from the current show, you can pop in and check out the first lot of artists in residence, including all-rounder Jake Moss, curator Brendan Beale, letter press studio Forme Friday, and conceptual photographer Karina Sharpe.
Or, go on standby for the summer program, where you can pick up a new skill at a class or workshop. Standouts include Guru Dudu's Silent Disco Street Art Walking Tour, Ink and Drink zine-making workshop, RnB choir, Bunker Spoken Word, Podcast Club and The Slow Down; a Christmas workshop Series.
A number of new street art projects are also appearing as part of Sub Tropic Studio, including a laneway mural by Brisbane-based Leans and a new street art collective joining the space.
There are literally no bounds for this epic new creative hub, so to stay in the loop with what's coming up, give them a follow here. The future just got a whole lot brighter.
The Details
What: Sub Tropic Studio
Where: 23 Cooma Terrace, Caloundra

Image credit: Timothy Birch