The season is not upon us, but since Melbourne has stubbornly refused to inch over ten degrees, we've got to throw a (fake) celebration as an excuse to do something (anything).
If you're looking for a few budget ways to celebrate your Christmas In July, Bank of Melbourne is right behind you. In fact, if you're really strapped for cash (because we know there are weeks when you can't spare a fiver, let alone a fiddy)—you could sign up for a new Bank Of Melbourne Complete Freedom Account by 24th August 2018 and get $50 cash back if you deposit $500 ($250 for students/under 21s) within the first 45 days*.
And an extra fiddy would go a long way if you're planning on hitting each of these Christmas In July plans.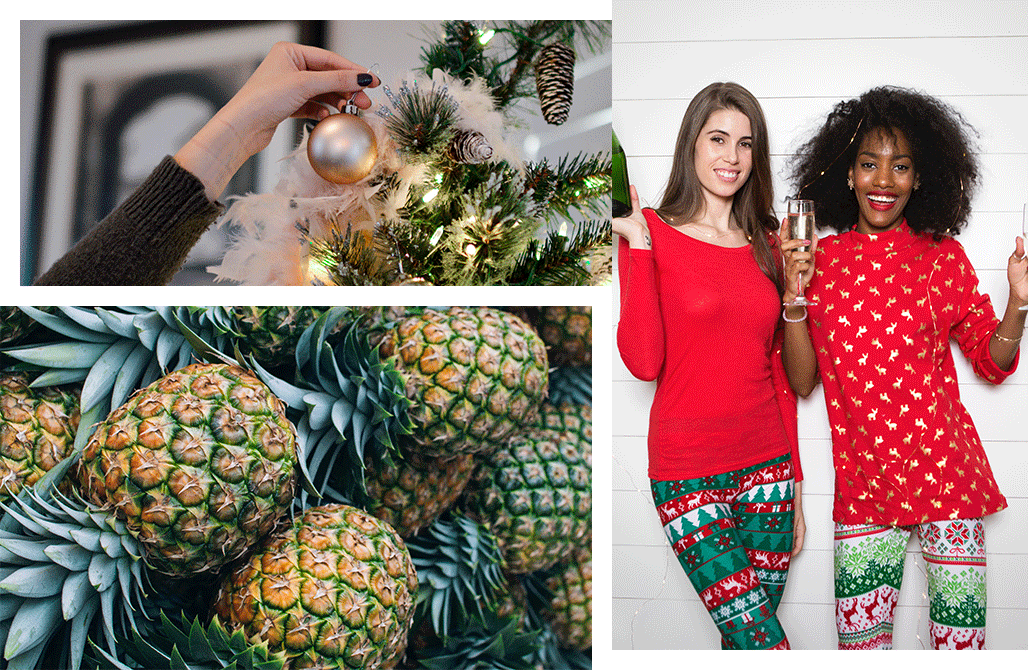 #12 Twelve Pineapples
You'll have enough pineapple to last you the year, or the week if you invite three friends over to binge watch every new television show on Netflix.
#11 Eleven Tiny Christmas Trees
Since only adults can afford fully-fledged, actual living Xmas trees, treat yourself to a small army of plastic, tiny Christmas trees that you can decorate with handmade baubles and $2 tinsel.
#10 Ten Bottles Of Aldi Wine
We recommend the $8 award-winning Aldi Côtes de Provence Rosé, because affordable wine is at the top of the Healthy Eating Pyramid. But if you can't fork out the extra three dollies per bottle, go for the slightly cheaper $5 Rosé.
#9 Nine Second-Hand Books
Hit up your local Salvos or Red Cross for a real bargain, but if you're after a specific book, you'll probably find what you're after between the City Basement Bookshop and Grub Street Bookshop.
#8 Eight Homemade Hot G&Ts
What if you could enjoy your favourite drink out, hot? Just mix gin, tonic water sugar and plain hot water in a mug to taste. Voila.
#7 Seven Adopted Cats
Why wait until you're old and alone to adopt your cats, when you could get a head start this July?
#6 Six Best Friends
You might need steps 12 down to 8 (potentially 7 too, because the more furry animals the better) to execute this one. Alternatively, make everyone bring a plate and curl up under a homemade doona fort, because sharing is caring.
#5 Five Sets Of Dog Nail Paw-lish
Celebrate Xmas in July with your one true, four-pawed love. Treat them to this schmansy dog-friendly polish.
#4 Four Overpriced Baubles
But not too overpriced, we're not Mick Jagger, and we need some dosh leftover for our diet of instant noodles next week.
#3 Three Burnt Pre-Made Turkeys
To max out on that crispy crust, don't set a timer and check it when you ~feel~ it'll be cooked.
#2 Two Tubs Of Ice-Cream + A YouTube Red Subscription
Why have one tub when you can afford two with your expansive fifty dollar budget? Add a cheeky YouTube Red Subscription and your night is sorted.
#1 One Elf Hoodie Complete With All The Jingles
We'll just leave this one here.
Image credit: Pexels
Editor's note: This article is proudly sponsored by Bank of Melbourne and endorsed by The Urban List. Thank you for supporting the sponsors who make The Urban List possible. Click here for more information on our editorial policy. Bank of Melbourne's promotion T&Cs: *New Complete Freedom customers only. Read the terms and conditions at bankofmelbourne.com.au before making a decision and consider if the product is right for you.