I've never seen such a serene kitchen.
For most top-end restaurants, service is a battlefield. You show up, strap an apron to your body and attack the shift like a well-drilled battalion of Conquistadors. Order are screamed, souls are crushed, there's flame and sweat and people running everywhere.
But not at Navi in Yarraville. At Navi, it's like having your dinner made by Tibetan Buddhists, or possibly a troupe of experiential meta-artists, sworn to silence for mysterious reasons. Most instructions are issued at a murmur.
"We like to keep things pretty relaxed in here," says head chef and owner, Julian Hills. "But what you don't see is a lot of work behind the scenes."
We've got the best seat in the house tonight, right up at the pass, perched on bar stool, watching Hills and his select team assemble the hottest 8-course degustation in Melbourne. And that's not hyperbole.
"I had no idea if it would work or not," Hills says. "But the response has been amazing. We're booked up for September, and every Friday and Saturday night till December." He pauses, calculating. "There might actually be one Saturday in October still free."
Forget Chin Chin—this quiet, anonymous, suburban backstreet in Melbourne's west is where everybody wants to be right now. Navi only opened a few months ago, but it's quietly shuffled into the conversation for Best Restaurant In Melbourne.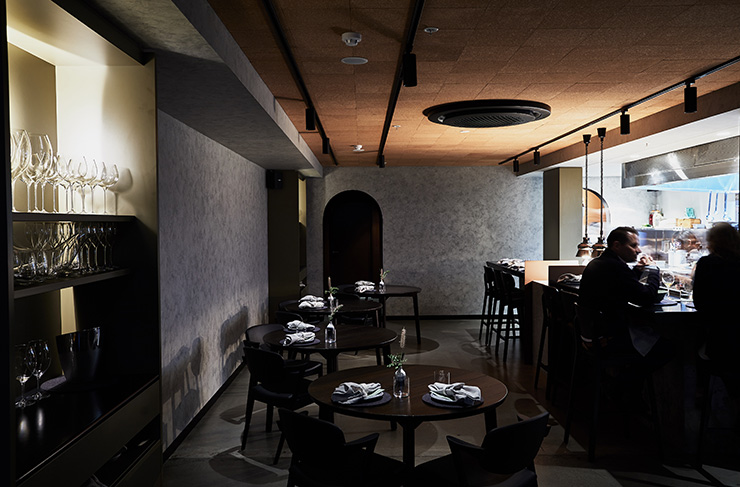 We went along on a random Wednesday to answer one question: does it live up to the hype?
It certainly doesn't look like much from the outside. Hills has taken the Ramblr approach: a couple of gauzy, grey curtains hang in the window, keeping the outside out and the inside in. The street is sleepy, residential, mostly one-storey mustard-brick 70s homes and the occasional tangled garden hose.
Inside, there's a quiet, genteel buzz. Navi only has 25 seats. A lot of the tables could fit four, but have been deliberately capped at two. Everyone's pointed towards the nerve centre, the kitchen, where mysterious chef de partie gently fry wafer-thin slices of leek, or tweeze flowers onto strawberry gum and milk sorbet. It's like watching brain surgery or atom splitting.
Talking Heads pout from the giant Bose speaker in the ceiling (not the soundtrack I expected), and Johnny Cash definitely made an appearance at one point. Other than that, the dial is set to smooth jazz and easy listening from the 70s, 80s and 90s.
The service is impeccable, as you'd expect for $120-a-head. You can choose between the 5-course and an 8-course degustation, but there's no reason to half arse it. Let Hills hit you with his best 8-course shot. It'll take about 3.5 hours, and you'll struggle to get out of your chair, but it's really the best way to experience Navi.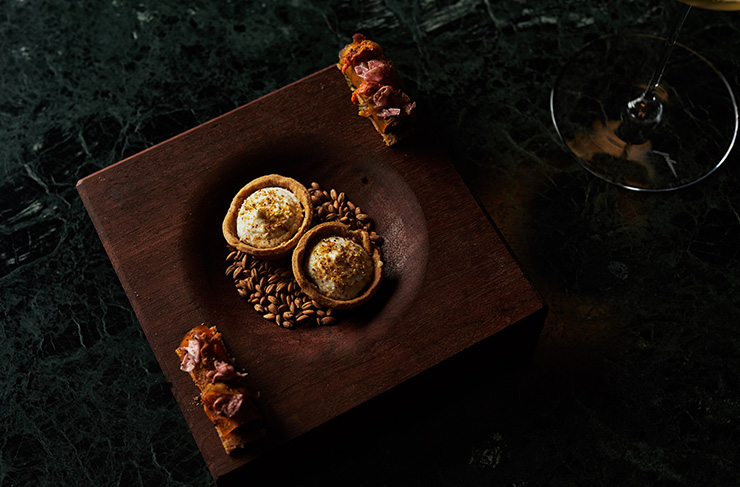 Because so much of the prep has been done during the day, dinner service is more like assembly. There's no open fire pit (practically illegal these days, with Asado, Palermo and Matilda roasting every Red Gum within 200km of Melbourne). Instead, Navi has a giant hotplate, and a revolving collection of solid-steel pans.
Most of the action involves Hills up at the pass, calmly tossing spring vegetable or gently dusting mysterious powder on butter-poached marron.
The food...f*ck, the food is pretty bloody amazing. My tongue has been scoured by a lot of soft drink over the years, so I probably missed some of the subtle flavour wizardry, but even my burger-addled brain was doing cartwheels.
If I had to scrabble for comparisons, Navi is in the same league as IDES, and that's a big compliment already. Both Julian Hills and Peter Gunn have a nose for theatrics, and the presentation is so good you feel mildly guilty for disturbing the plate. It's like attacking a Rembrandt with a fork.
Navi's menu will change seasonally. Hills get a lot of the ingredients, flowers and herbs from a neighbour's back garden, so really it's whatever she feels like growing at the time. It'd take about 2000 words to do the whole thing justice, but keep an eye out for the wallaby tartare, wrapped in cured egg yolk and preserved flowers.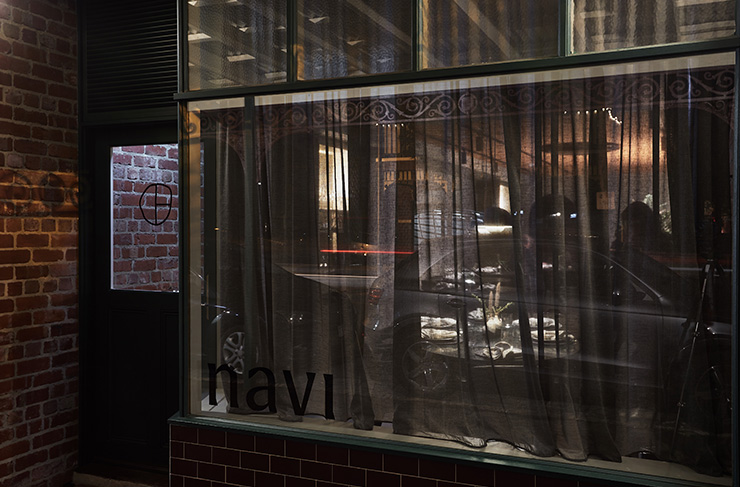 The duck in two parts was also insanely delish: one perfectly sliced breast fillet, drizzled in blood plum reduction and secret sauce, then a tiny bowl of custard, made from refined duck stock.
Strangest Dish Of The Night definitely went to the Main Ridge capriole cheese, floating in a lime-green sea of pine mead, topped with caramelised walnuts. It was one of those dishes when your brain goes searching for a reference point and stumbles back empty-handed. mumbling apologies. It tasted like cheese lost in a forest.
At the end of the night, Hills asks a question I've never heard from a professional chef: "So, what didn't you like?" He's genuinely interested in shaving off every superfluous note on the menu, pairing it back to an elegant eight-string symphony.
So what didn't we like? Err, not much. Maybe a few more tracks from Talking Heads' back catalogue? Navi is about as close as you're gonna get to a perfect meal in Melbourne.
Lock down your seat for 2019 and start counting down the days. It might be the best $120 you ever spent.
Want to learn more about Navi? Check out our Directory page.
Image credit: Griffin Simm